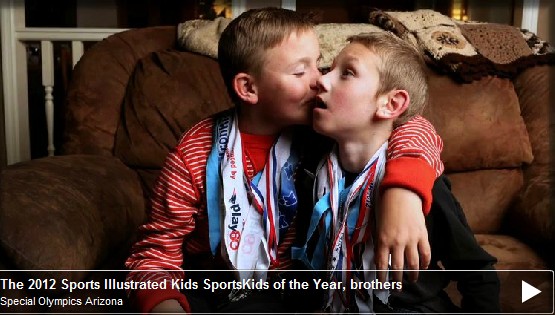 We are a little late to the game with this news but it doesn't mean these brothers won't be the best story you've heard today, this week or this year.
Conner Long, 9, competes with his brother Cayden, 6, in triathlons. While that alone is impressive, what makes this story so beautifully inspirational is that Cayden has cerebral palsy and Conner tows his little brother behind him in a raft during the swimming event, a shaded cart in the cycling portion and pushes him through to the finish line at the end.
They always finish last but to Conner, it's worth it. "When he's smiling and laughing, that means he's having a good time," said Conner who also gives insight as to why he feels it's so important for him and his brother to do this together.
"The one thing that makes me really mad is when people walk down the road, and say the 'r'-word, if you know what that is. I just tell them that it doesn't matter what he looks like on the outside, it matters what's on the inside, and he still has regular feelings like we do. And he understands what you say about him. If people could race with people that can't walk, or can't talk, or have any kind of autism — it might open the eyes of people that don't really care about it. And maybe the people that don't care in the past, will care in the future."
Keep in mind this kid is 9 years old.
Obviously their touching story became widespread when in 2012 Conner and Cayden won Sports Illustrated's Sportskids of the Year.
When standing on stage to accept their award, the entire family had tears running down their faces and little Conner stepped to the microphone to say "This is really awesome for me and Cayden to do this, because we've been waiting a very long time. A lot of people would think we'd never be able to do things. But we can do anything."
The story was so inspirational, Lebron James (who also won Sportsman of the Year that night) was speechless. He invited the boys to Miami to meet his family, team and attend a game. The boys were also told by Duke University basketball coach Mike Kryzewski that the two will have full scholarships waiting for them at Duke.
Take the time to watch the 5 minute below and get a little dose of inspiration for the day. But keep a couple tissues close…