PGA TOUR golfer, Rory McIlroy, who's ranked 10th in the world, announced today that his engagement to tennis star, Caroline Wozniacki, has been called off.
While a broken engagement is one of the toughest emotional roller coasters you could ever experience, it's certainly not the end of the world.
How do I know?
Because in March of 2010, with a little less than two months to go and after 6 years of dating, my fiance called our wedding off.
And his decision was one of the best things to ever happen to my career.
Dan and I met in 2004 when I was just 20 years old. I was a waitress at a local Jacksonville sports bar and he was a semi-pro hockey player playing at the arena next door.
We met and almost instantly, fell in love. When the hockey season was over, we weren't exactly sure what was going to happen with us. But we knew we wanted to at least give our relationship a shot.
A few months later, we moved in together, in another state, for a new team he was playing for. We spent years moving around all over the country to wherever his career took him. We were financially broke (constantly!) from all the moving, but we were always madly in love. I could spend days telling of all the great stories about living the life of a hockey girlfriend, gong-show teammates as our roommates, dealing with emotions of Dan getting traded, cut from teams, and so much more. But that's for another day, another time.
What everyone knew, and we believed, was that our engagement and eventual marriage wasn't a matter of "if," but "when."
Until it wasn't.
Dan and I were engaged around Christmas in 2008. I set the date two years out, May of 2010, because I wanted it to be around the time hockey season ended so that all of his teammates could attend, but also knew to hold a wedding in 2009 was just too soon for me.
Little did I know, setting the date that far out, was a blessing in disguise.
In December of 2009 is when I finally, and reluctantly, started planning the wedding that was about 6 months out.
I would like to add that I've never been that kind of girl who dreams of my wedding day. I saw planning a wedding as a hassle; more to add to my plate of working a full-time job as well as getting this little website, GuysGirl, off the ground.
My planner was stacked daily of things to do, venues to visit, flowers to order, crafts to make, food to serve. As well as life's daily chores.
As the wedding date drew closer, Dan and I started to bicker more. We had fought a lot in the past year. Mostly due to him being unhappy because his hockey career as a player was probably over. (Divorce rates for athletes after they are forcibly done playing their career are astronomically high)
The mental stress of working, planning a wedding and fighting at home took its toll.
I began having migraines so intense, I was nauseated daily. I was so stressed out, canker sores developed in my mouth so bad, that I couldn't speak for a week.
My body was trying to tell me something. And I wasn't listening.
On a particular Friday night in March, I went over to my parents' house after work. An entire crowd had gathered to help me work on wedding invitations that were to be sent the following week.
Dan and I had been fighting for the entire week. The kind of fighting that never ends and just continues on through to the next day.
My Memaw (another word for grandmother for you non-southern folks) took one look at me, pulled me aside, and asked "What's wrong? Are you ok?"
I kept back the tears and blamed the canker sores and migraines. I didn't want to hint at the stupid fighting that had gone on between Dan and me all week.
We didn't finish the invitations that night. Instead, Memaw took them home with her so that she could finish them for me.
I drove home and sat in the driveway for a good 10 minutes. Not wanting to go inside because I knew of the eventual fighting that would surely continue.
Eventually, I got out of my car, opened up the front door to a night that would change my life forever.
We began fighting. Again. But this wasn't like the other nights, or even a fight we had ever had. This was a volcanic eruption.
I won't go into details of what was said that night. To this day, that night still haunts me.
Not because it was the night our wedding was called off. But because we said things to each other that should never, ever, be said to someone you love.
This was the night the wedding was called off.
The next day, I called my mom to tell her the news. I barely got the words out of my mouth before she said: "I'll be right over."
I cried. She consoled me as much as a mother can. And later on that day, my dad and mom took all of the wedding decor from my house to get it out of my sight.
I didn't tell anyone else for an entire week; hoping Dan would change his mind.
I begged. Literally begged him not to go through with the cancellation.
"I don't know if I'll ever be able to forgive you," I said.
But he never changed his mind. And I had to slowly start telling close friends and family what had happened.
Flights had to be canceled. The venue was informed. Flowers, food, showers, chair linens (the f*cking chair linens), all gone. Canceled.
Thousands of dollars down the drain with an instant decision.
Words cannot express the amount of anger, embarrassment, confusion, and resentment you feel towards someone you've spent 6 1/2 years with, go through the daily grind with, loved, and supported; to now not know if this is someone who you will spend the next 6 months with.
Though everything was "put on hold," we did decide to stay together. To try and work it out.
We half-assed attempted to work on "us". Start fresh (ha).
But instead of working on us, I wanted to ignore the hurt and anger I felt every single day.
So I poured myself into GuysGirl. I wrote a book. I began to hang out with friends more than him. Anything to escape my growing resentment towards him.
During the day I could escape, but in my dreams, I knew something was growing within me.
I had a dream one night that I walked into a large house. I knew Dan was sitting in a room two down from me. In the first room, shelves upon shelves of baseball bats covered the walls. I was allowed to pick just one. I gripped it so tight that I can still see it today. I slowly walked into the room where Dan was sitting, ready to beat the sh*t out of him for everything he had put me through. I grip the bat tight and the scene fades to white without me ever laying a finger on him.
This was it. I knew I was done.
Three months after we should have been married, Dan was packing up and moving out of the house he proposed to me in.
He was angry. He didn't want to leave. And I had a sick happiness about watching him pack up his stuff and load it up into his car.
After he left, is when I felt my most alone.
Here I am, sitting in this empty, quiet house and I couldn't take it. It was in this environment, that I truly found out what I was made of.
It was in my weakest moment, that my career really began to blossom.
I took work trips to Boston, NYC, Nashville, Tampa. Took girls' trips to the Keys, Orlando, New Orleans, Charleston, and Vegas.
Traveling and really focusing on working is what brought me through a broken engagement.
And looking at Rory McIlroy's first press conference today, just days after his broken engagement, I can see the same feelings in his eyes that were once in mine.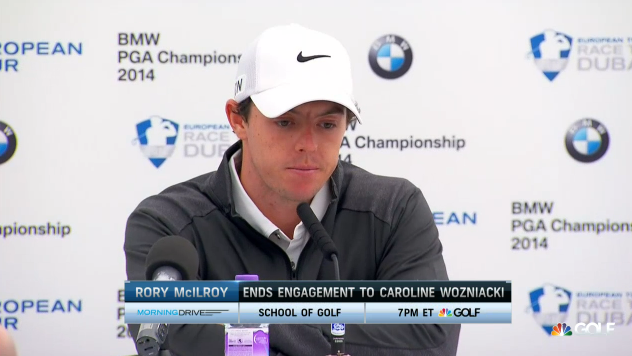 So much pressure is put on a wedding. The expectations. The party. Something borrowed. Something blue. What you are and aren't supposed to do.
It's all bullshit.
Marriage is not about a wedding. It's about two people deciding that, for better or worse, they are going to stick by your side and support you until you're old and eventually die in the same bed, holding hands, just like in The Notebook. [I kid about the last part. Slightly]
Looking back, there were numerous reasons Dan and I shouldn't have gotten married. But I was too blinded by everything I was "supposed" to do for a wedding to pay attention to.
I should have paid attention to the signs my body was giving me. I should have put more value in planning a life together, not a party that was to last one night.
A few months ago, I was going through some old storage bins in a random closet in my house. I found a little piece of paper of a questionnaire that a couple is supposed to answer prior to visiting the pastor that will marry them.
The first question stated, "Why are you getting married?"
My response? "Because it's time."
Ouch.
In the end, Dan was and is a great guy. He did many (many!) wonderful things for me. And I know he loved me as much as he could.
I wish him nothing but happiness and a part of me will always love what we had. But I am so incredibly thankful he had the strength to call off our wedding; something I would have stubbornly avoided until we would have signed divorce papers years later.
But he had the courage I never did.
Calling off a wedding wasn't the end of me. And it won't be the end for Rory and Caroline.
In both sports that require so much mental focus, they will use the court, and the course, to forget about everything that happens off of it.
Once they pour themselves into their careers, they both could finally become the dominant players we've all been waiting for. And more importantly, gain the confidence to move forward with future relationships once they are happy with themselves.