Sometimes you just have a feeling about a game or a team.  You can't explain it, you may not be able to logically defend your position, but you feel mighty sure about it nonetheless.  I had that feeling this week about Cleveland.
I just knew the Browns were going to win last night, and while I took them plus 7 against Cincinnati, and said it wouldn't "surprise" me if they won, I didn't come right out and call the upset, and I'm pissed.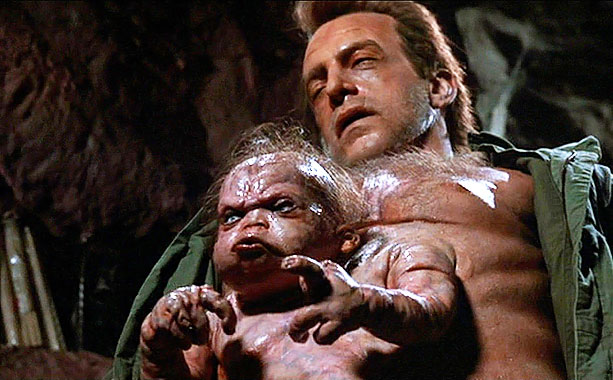 "Taaaake the Vikingsssss.  Don't ignore me, I'm your gut feeling!"
Gut feelings aren't always right, and I'm not saying you should always follow them, but you damn sure shouldn't go against them when you have one.  You will never feel worse than going against a gut feeling and being wrong.  I'll have to see if I have any more gut feelings for the remainder of this week's games.
Last Week's Picks:  9-5    Best:  4-0 Season Total:  86-69-2       Best:  19-17  
Dallas (-7) @Jacksonville (Westgate Superbook)
Tony Romo is back (well, probable), and even though Dallas stumbled without him, they're clearly in a better spot than the Jaguars to travel to London and play well.  If I knew 100% that Romo would play and stay healthy, I'd be inclined to put this in Best Picks, since the underdog is typically at a huge disadvantage in these overseas games.
Dallas Cowboys 31 Jacksonville Jaguars 20
Miami (+2.5) @Detroit (Westgate Superbook)
This figures to be a great game with two defenses that rank right at the top statistically.  I like the Dolphins here for two reasons.  First, they tend to travel well – Miami plays well on the road.  Second, the Lions are the Lions.  They're 6-2 now, but they're going to find ways to screw it up.  I bet they do that this week.
Miami Dolphins 24 Detroit Lions 20
Kansas City (-1) @Buffalo (CG Technology)
This is another game that features two good defensive teams, but there's more separation here.  Kansas City is better in all facets, and is very good at pressuring the quarterback.  I'm wondering how Buffalo plans on scoring enough to have a chance in this game.
Kansas City Chiefs 23 Buffalo Bills 17
San Francisco (+5.5) @New Orleans (Westgate Superbook)
How you view this game depends on how you view the 49ers.  The Saints are what they are.  They'll play much better at home than on the road, they will score points but get scored on.  But San Francisco? Are they ready to make a final stand this season or to fall off the map altogether.  If they lose this game, they're really done.  Are they not even gonna put up a fight?   I'm not sure I'm ready to call that just yet.
New Orleans Saints 27 San Francisco 49ers 24
Tennessee (+9.5) @Baltimore (Westgate Superbook)
I realize the Titans have two wins, but from where I sit they might be the worst team in the whole NFL right now.  I bet they won't beat the Jaguars in Jacksonville, and they definitely wouldn't beat the Raiders if they played them right now.  9.5 is a big number, but I'd rather give it than take shitty Tennessee.
Baltimore Ravens 27 Tennessee Titans 16
Pittsburgh (-4.5) @NY Jets (Carbonsports.ag)
I wish the Steelers were playing almost anyone but the Jets, and then I'd be all over this.  The Jets are so bad, they might not be able to cover this number, but Pittsburgh is just garbage as a road favorite – they are about a 25% proposition in this spot.  I don't care how good Roethlisberger looks right now, they're going to come back to Earth at some point, and I'm not bucking this trend.
Pittsburgh Steelers 20 New York Jets 16
 
Atlanta (-2) @Tampa Bay (CG Technology)
The Falcons are a pretty bad team that's notoriously worse away from home, and they're STILL giving points to Tampa.  How bad is Tampa?!
Atlanta Falcons 24 Tampa Bay Buccaneers 20
Denver (-10.5) @Oakland (Westgate Superbook)
Does this number look big?  Well guess what?  Oakland hasn't managed to lose to Peyton Manning by less than that since he got to Denver.  The Raiders have been playing better, and they're likely to win a game at some point, but it ain't gonna be this one.
Denver Broncos 31 Oakland Raiders 17
 
NY Giants (+9) @Seattle (William Hill)
Are the Seahawks still worth close to double digit points as a home team?  I'm not sure they are.  The thing is, the Giants haven't lost a game by single digits all season.  That's right, every one of their five losses was by 10 or more.  And they're going cross country after a Monday night game.  Maybe the Seahawks are worth those points.
Seattle Seahawks 21 New York Giants 10
 
Best Picks of the Week
St. Louis (+6.5) @Arizona (Westgate Superbook)
The Rams have now stunned two of their NFC West foes this season, but I doubt the same thing will happen here.  First off, the Rams are coming off that big win against San Francisco.  Two weeks ago, in a similar spot coming off the Seattle win, the Rams lost 34-7 to Kansas City.  This is also St. Louis' third straight on the road, a notorious red flag for a team.  I wish this wasn't a divisional game or I'd tell you to bet the house on it.  Instead, I'm just telling you the Cardinals are the pick.
 
Arizona Cardinals 24 St. Louis Rams 14
 
NY Giants @Seattle over/under 45 (William Hill)
The Giants haven't been scoring off their opportunities, and don't expect that to improve against the Seahawks in Seattle.  Whatever's wrong with Seattle, it's not causing them to give up tons of points.  I like the under here.
Seattle Seahawks 21 New York Giants 10
Chicago (+7) @Green Bay (Westgate Superbook)
Basically, just take Green Bay anytime they play Jay Cutler and the Bears.  It never fails.  I'd recommend the over too but I'm not convinced the Bears won't screw up their end of the deal.
Green Bay Packers 34 Chicago Bears 21
Carolina (+6) @Philadelphia (MGM Mirage)
Does it seem like I always pick against my hometown Eagles?  Not this week.  Carolina's defense is just awful, especially against the run, and that is not the way to beat Philadelphia.  The Panthers may find that they can score a bit in this game, but they'll be playing catch up.
Philadelphia Eagles 31 Carolina Panthers 22
Image Source 1
Image Source 2