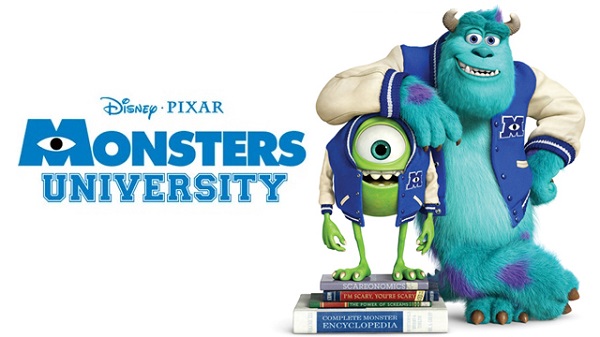 Pixar films have earned a reputation for strong characters and passionate story-telling. Cars 2 and Brave both turned profits, but didn't have the response of Toy Story 3. Monster's University returns to Pixar's entertaining, heartfelt movies, with a great message.
Monster's Inc. (2001) introduced Mike Wazowski (Billy Crystal) and James P. "Sulley" Sullivan (John Goodman), two workers collecting screams from children to power their city of Monstropolis. Pixar's first prequel, Monsters University, takes us back to the duo's college days, before they were professional "scarers".
Monsters University is the origin story of Mike and Sulley as a duo, a tribute to other college films and an important lesson about expectations.
Young Mike gets inspired to work at Monsters Inc. after taking a tour of the facility. Years later, he optimistically enrolls in Monsters University and begins his freshman year in a fraternity of rejected students, Oozma Kappa. After a fight gets them kicked out of the Scare Program, Mike and new acquaintance Sulley must lead their group to victory (and reinstatement), by winning the annual "Scare Games".
Monsters University takes cues from other great collegiate comedies with a G-rated twist. Dean Hardscrabble (Helen Mirren) is as stern as Animal House's Dean Wormer. The Oozma Kappa outcasts are a nice nod to Revenge of the Nerds' Tri-Lambs and the Scare Games contest had a montage as hilarious as the one in Old School.
The campus of MU is presented in great detail. There are other clubs and greeks on campus, a hall of notable alum, frat parties and cliques from goths to jocks. College rituals are honored, as students touch a statue on the way into a building, similar to teams on game day.
Randy Newman (Toy Story Trilogy) composes the music, boasting proud anthems and even a chorus performing the Monsters University school song.
As a prequel, Monsters University smartly works its way to showing how Mike and Sully become a team. Both characters face problems that can only be solved by helping each other, forming their friendship in the process. Other Monsters Inc. characters are also introduced, including Randall "Randy" Boggs (Steve Buscemi) and Roz (Bob Peterson).
Monsters' University entertains while teaching a very important lesson. The students' journey is a bumpy road and reminds that expectations aren't always what they seem. The characters face real obstacles that parents can appreciate and kids can learn from.
I have to give major kudos to the marketing team for this movie. Monsters University has a fully interactive website, and a recruitment video that holds up against any real-life schools', further immersing fans in this world.
Pixar returns to the heart of their films, with relatable characters and a touching, entertaining story. The 3D didn't make a real difference, so save the extra money. Pixar takes us to school in Monsters University, with a valuable lesson wrapped in a tribute to college life. This campus is full of school spirit and worth a visit.
Rating 8.5/10