HIGHLIGHTS
I suspect that reaction to The Carrie Diaries, The CW's Sex And The City prequel based on Candace Bushnell's book, mirrors my own experience.  I wasn't a big SATC fan.  I watched episodes here and there, but didn't follow the show regularly.  I love The Carrie Diaries.  My girlfriend LOVED SATC.  It may have been her favorite show ever.  She's annoyed beyond words with The Carrie Diaries because the main character, Carrie Bradshaw's personal history has been dramatically revamped for the prequel, and because the show has that overall CW teen feel to it.  In other words, Sex And The City this ain't.
Hit the title/continue reading to read more. . .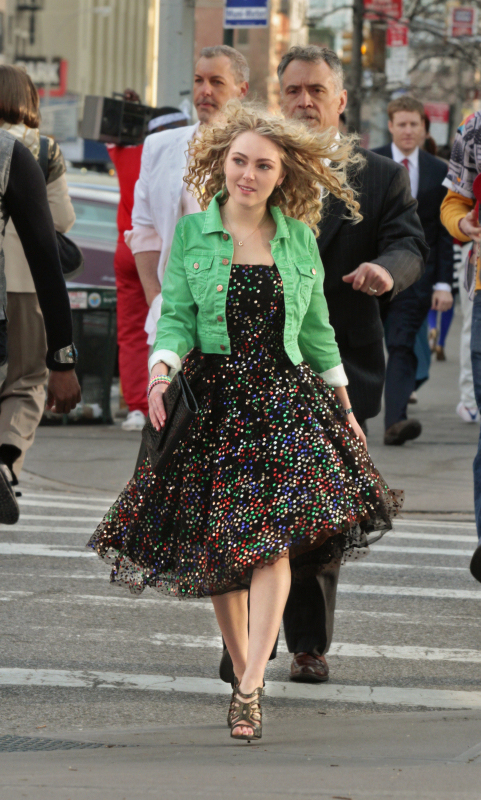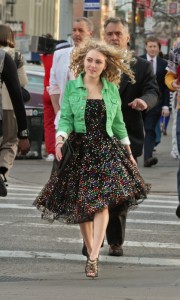 Fair enough, The Carrie Diaries does not strictly track its Sex And The City narrative (for the record, Bushnell's book contained the same revisionist history), but that doesn't mean this show doesn't have a lot to offer.  The Carrie Diaries is not as funny or sitcom-y as its predecessor, instead going for a more poignant, family-oriented feel.  But this show is smart and (for a teen family dramedy especially), very sophisticated.
AnnaSophia Robb recreates the iconic Carrie Bradshaw, and imbues her with the same irresistible charm that Sarah Jessica Parker evoked in the adult version.  The Carrie Diaries works on a number levels – as a coming of age drama, as a family comedy-drama, as a feel good show steeped in the girlfriendly camaraderie that made Sex And The City unique and revolutionary – and it has a strong supporting cast around its lead, including Stefania Owen, Ellen Wong and Katie Findlay as Carrie's sister and trusted confidants, respectively, Austin Butler as her high school crush, and Doctor Who's Freema Agyeman as Carrie's sometime mentor/sometime corruptor, and link to Manhattan, which, as in the original, acts as its own character in the show.
Sweet And The Suburbs:  Butler & Robb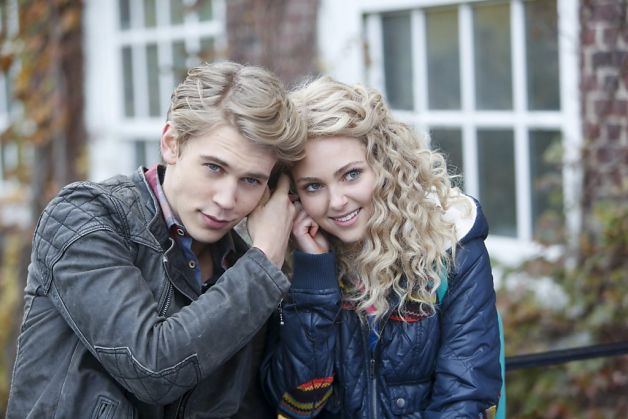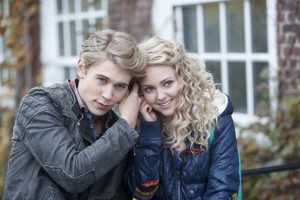 image source
If I have one complaint about The Carrie Diaries thus far, it's that the show has not taken more advantage of its obvious opportunity to be, besides everything else, a really great '80s period piece.  The Carrie Diaries has Carrie moving deftly through its various spheres:  the excitement of Manhattan, the doubt of high school, the push and pull of home.  The '80s is yet another sphere through which she moves, but thus far The Carrie Diaries has seemed content to underplay its '80s angle with a cool soundtrack and some signature fashion.  There's so much more to explore here, I'm just hoping the Reagan decade doesn't get lost in the shuffle.
WHAT CAN I say but WOW about FOX's The Following, the high tension, suspenseful thriller starring Kevin Bacon as a ex FBI-agent Ryan Hardy, in pursuit of the serial killer (James Purefoy) he caught once before.
The premiere of The Following was loaded with gritty suspense, and watching it felt like watching a cinema quality thriller compacted into an one hour format.  I think FOX is making a smart move promising viewers 13 episodes in a row with no breaks, as The Following has already established a "can't wait to see what happens next" vibe and a weekly dose of The Following with no interruptions should keep viewers coming back for more.
Kevin Bacon is absolutely perfectly cast in the role of Hardy, a burned out agent who is pressed back into service to try to take down his greatest nemesis a second time.  Word has it that when the showrunners were talking about casting Hardy, someone said "we need someone just like Kevin Bacon" to which someone else replied, "Well, what about Kevin Bacon?"  As fortune would have it, Bacon was in the market for the right role on a weekly TV show, and this one is undoubtedly right.  James Purefoy exudes charming malevolence as Joe Carroll, the serial killer with a poet laureate's sensibility and an Edgar Allan Poe fetish.
Bacon skillfully combines intensity and mental exhaustion for The Following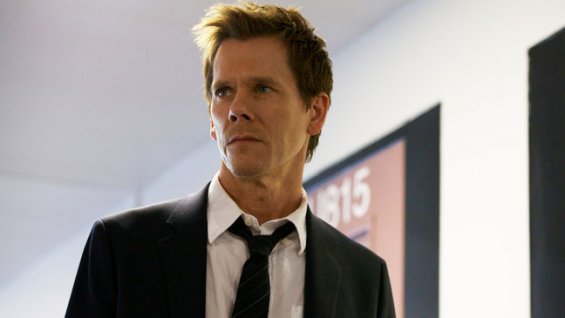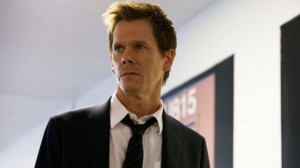 image source
Looking to stretch a suspense thriller plotline over 13 hours and 13 weeks is no easy feat, but The Following  appears to have crafted a great formula, letting the action drive its characters hard, and weaving in character reveals along the way, both through dialogue, action and flashback action, to fill in the missing pieces as the story progresses.  This show has just about everything going for it, and unlike many that get overhyped before they debut, The Following, so far, has lived up to every bit of it.
BEING THE ONLY midseason comedy to debut, NBC's 1600 Penn seemed to be a sure hit based on credential's alone.  Its creative team includes Jason Winer (an emmy winner for Modern Family) and Book Of Mormon's Josh Gad, who also stars, along with heavyweights like Bill Pullman and Jenna Elfman.  Sad to say, however, that this show does not connect for me at all.
The show's premise – a sitting president (Pullman) deals with his wacky family – doesn't resonate.  1600 Penn positions itself as a potential political comedy and as a family comedy, but instead chooses more of a screwball comedy vibe.  The result is stale characters (Pullman as the successful but emotionally unavailable dad, Elfman as the stepmother overly desperate to win the children's affections, Gad as the screw up son who just wants approval) that seem to be drawn out of last century's sitcom discard pile, and a too-big setting in which they have to operate.  Gad's loveable loser Skip is way to over-the-top for the White House, and while I'm supposed to be watching a show about the President and his family, I'd be more ready to buy in if this show was about gruff pizza parlor owner (Pullman), his snarky waitress wife (Elfman), and the goofball delivery boy who keeps screwing up (Gad).
1600 Penn also relies too much on Gad acting like a five year old for laughs when it has a proven comedy veteran in Elfman playing the straight man, er straight mom, and a sizeable ensemble milling about in the background.  This show would greatly benefit from a reboot, scaling down the cast size (or making better use of them) and changing the tone substantially or, as I suggested, maybe Pullma's President could get impeached, open a pizza parlor, and let the laughs ensue.
QUICK TAKES
I'm very disappointed to note that Emily Owens, M.D. hasn't been picked up for additional episodes beyond its initial 13 episode run.   The character driven medical drama has consistently delivered interesting stories and great performances, especially from Mamie Gummer who, I hope, will turn up again soon.  What the show couldn't deliver was viewers, and The CW clearly has no willingness to let a quality show hang around for more than one season if it doesn't pick up a lot of steam right away.
With just two episodes left to go, 30 Rock went big time sentimental this week, as Kenneth (Jack McBrayer) was rewarded for his loyal naivete by being named president of NBC while Liz (Tina Fey) and Criss (James Marsden) met their adoptive children. . .a pair of twins who mirror Tracy (Tracy Morgan) and Jenna (Jane Krakowski).  Hey, I said they went sentimental, not that they stopped being hilariously funny.
Educational TV.  Things we learned from watching TV this week: 1) "F*ck you Arizona"  is the state motto of Nevada (The Daily Show); 2) FYI sea lions are not the kings of the ocean (Raising Hope); 3) What does a lesbian bring on a second date?  A U-Haul.  (Apparently, lesbians are clingy) (Emily Owens, M.D.).
Parenthood concluded a heavily dramatic and nerve wracking season 4, probably its best season to date, on a highly uplifting note.  I'm hoping part of the uplift includes a renewal for Season 5, which the show so richly deserves.  NBC hasn't announced it formally yet, although executives are reported to be "excited" about the show, and, lest we forget, Parenthood was name-dropped by NBC as an example of good dramatic viewing with no gun violence during the recent discussion about violence on TV.  It would be rather shallow to trot the show out as an example of excellence and then cancel it.  Step up, NBC.
One of the best things about Syfy's use of Canadian import shows is the guarantee of additional seasons.  Even if Syfy didn't pick up Continuum for season 2 or Lost Girl for Season 3, those seasons exist, and if you're invested in the shows, I'm sure you can find a way to watch them.  Call it "built in viewer security."
Looking Ahead
The Screen Actors' Guild Awards air on TBS on January 27.
Dallas returns to TNT on January 28.  The first half dozen episodes of the new season are the last work by the late great Larry Hagman.
Jimmy and Sabrina get married on Raising Hope in a two-part episode on FOX on January 29.
The Americans airs its series premiere on FX on January 30.
The series finale of 30 Rock airs on NBC on January 31.
Do No Harm  debuts on NBC on January 31.
House of Cards, a political drama adapted from a BBC series and starring Kevin Spacey and Robin Wright, debuts on February 1, available from Netflix.  Netflix outbid no less than AMC and HBO for this series, so I'm kind of thinking it's going to be something special.
TV's a big place and I haven't been to all of it yet.  Got a favorite show you'd like me to comment on?  Post a comment below, contact me on twitter @RobLazlo. or shoot me an email:  [email protected].  I welcome your input!