Game of Thrones wrapped season 3 this week, and in the aftermath of last week's "Red Wedding" shocker, there was a natural expectation that the finale might be a bit of a letdown. That was only true if you watch Game of Thrones solely for action sequences and aren't invested in the story, which is sort of like watching baseball and only watching the homeruns and not caring about the score. Game of Thrones perfectly set up its storylines for what will be an eagerly anticipated season 4.
Hit the title/continue reading to read more. . .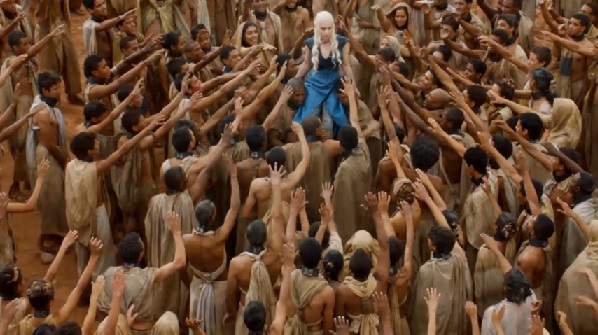 Season 3 took the story about two-thirds of the way through George R. R. Martin's third book A Storm of Swords, and there is plenty of intrigue heading into the next installment.
At Dragonstone, Stannis (Stephen Dillane) has learned of the danger at The Wall, and was surprised to see Melisandre (Carice Van Houten) suggest that he forgive Ser Davos (Liam Cunningham) because he will need him in the coming fight.
At King's Landing, tension continues to build between Lord Tywin (Charles Dance) and King Joffrey (Jack Gleeson), with both Tyrion (Peter Dinklage) and Cersei (Lena Headey) grousing about their reduced roles in running the kingdom. We also got to see Cersei's initial reaction at the return of a much-changed Jaime (Nikolaj Coster-Waldau).
On the road, the Hound (Rory McCann) and the audience saw Arya (Maise Williams) make her first kill. While near the Wall, Sam Tarley (John Bradley) ran into Bran (Isaac Hempstead Wright) and his party, one of the few times any Game of Thrones characters had such a run in. Later, Sam saw Jon Snow (Kit Harrington) return to Castle Black with three arrows in him courtesy of an angry Ygritte (Rose Leslie).
Finally, in Yunkai, Daenerys (Emilia Clarke) has gone from ruler to messiah, as she led another of GoT's memorable visuals, crowd surfing across a sea of freed slaves all chanting "Mhysa" (mother).
Season 3 was possibly the best season of Game of Thrones yet (and it's only "possibly" because the other two seasons were excellent as well). This is a show that only gets better and more engrossing as you go along (much like the books), and it's quickly cementing its place as of one of the finest television shows ever made.
AFTER A BACKLASH that crushed ratings in Season 2, The Killing got a surprising reprieve and was brought back for a final run by AMC. I was happy to get a chance to connect with these intriguing characters again, and Season 3 has been quite a bit more gripping than either of the previous 2.
At first this seems like a happier, lighter version of The Killing. Sure, it's still raining all the time, and there's a hooker with her head nearly cut off, but Holder (Joel Kinnaman) is a rising star at the Seattle PD and Linden (Mirielle Enos) is smiling and has a boyfriend. Fooled you, didn't they? The show remains as darkly intense and airily creepy as ever, but with a bit more pace to it (lesson learned from Seasons 1 and 2, apparently).
Happiness is of course short-lived for Linden, who before long is smoking and crying and freaking out her boyfriend with grisly crime scene photos. She's also re-entangled with her previous undoing – a twisted murder investigation with the Seattle PD. Adding pressure is working with her ex-partner and ex-lover Skinner (Elias Koteas).
There are also some new characters introduced. Peter Sarsgaard plays Tom Seward, a convicted murderer whose crime is eerily reminiscent of the current string of murders (homeless underage prostitutes are the target). Bex Taylor-Klaus is an eye opener as Bullet, a vulnerable but cocky androgynous lesbian street girl. Aaron Douglass from BSG is a welcome sight, as well, as one of Seward's death row prison guards.
Bex Taylor-Klaus and Joel Kinnaman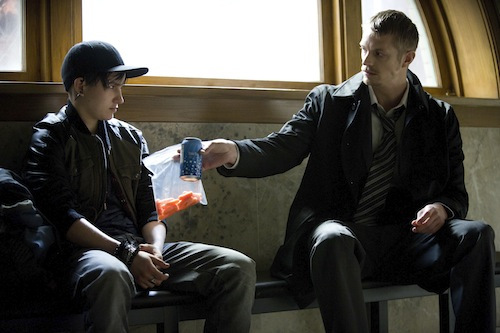 The Killing, in some respects, has come full circle. Fans were initially disappointed by its slow pacing, complaining that its wasn't Breaking Bad (what is?), then angry when it stretched its storyline beyond its first season. Fans willing to give the show another look this season were likely pleasantly surprised. The Killing was never as slow as people thought, and now that it's picked up the pace, it will seem to move more quickly than it actually does. The strength of the show remains its creepy atmosphere and outstanding characterizations, however, and that hasn't changed. It's a fine way to use summer viewing time.
MY USUAL COMPLAINT about new shows on USA Network is that they're all variations on the same show. You won't hear me say that about Graceland, however, a serial drama about undercover FBI and DEA agents posing as locals on a California beach.
There is a Point Break feel to the locale here, and it serves the running theme of never breaking cover well. There were also some occasional instances of falling into over-used cop movie cliches which hopefully won't continue because this show really doesn't need them. This is an interesting premise with some potentially well drawn characters and plenty of storylines to explore. As long as they avoid silly cop catch phrases and too many car chases (the pilot had none, thankfully), this could be a real keeper for USA.
There was also a major plot twist at the end of the first episode which was continued on into the second and will obviously be a running theme throughout at least the first season made me much more eager to see where the story would go.
Aaron Tveit & Daniel Sunjata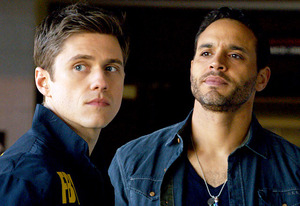 One complaint I have is that the show, despite some effort to create unique characters, hasn't seemed to get much out of its young cast just yet. The nominal leads, Aaron Tveit and Daniel Sunjata, have blended into the scenery far too often. The show doesn't seem to know what to do with its female characters (one early standout among the group is Vanessa Ferlito, however), and the show's most interesting characters so far are the sidekicks played by Manny Montana and Brandon Jay McLaren. I'm hoping the character development will catch up to the interesting plot points within the next few episodes.
QUICK TAKES
Steven Colbert probably called it right. His audience on Wednesday was the luckiest studio audience ever – they were treated to a 150 seat one hour long free Paul McCartney concert. Top that, Oprah!
I was worried about John Oliver taking over for Jon Stewart on The Daily Show, but I needn't have worried. He's been hilarious and very capable.
Educational TV. Things we learned from watching TV this week: 1) The best transgender super heroes are The Ex-Men (Real Time With Bill Maher); 2) The NSA still can't trace a finger phone (The Colbert Report); 3) When in Rome, visit the zoo (The Daily Show).
Note to So You Think You Can Dance. You're the best talent competition show on television. PLEASE stop the annoying phony "you think we're saying no but surprise we're saying yes" gimmick that you do 15 times a show. Let your fantastic dancers and choreographers provide the drama. It's plenty.
I know very few people care about Broadway, but The Tony Awards basically serves as an annual reminder that Broadway can pack more talent into one show than The Oscars, The Emmys and The Golden Globes combined.
Looking Ahead
The season premiere of True Blood airs on HBO on June 16.
The season finale of The Voice airs on NBC on June 18.
The season premiere Franklin & Bash airs on TNT on June 19.
Hot In Cleveland and The Soul Man return to TV Land on June 19.
The final season of Futurama begins June 19 on Comedy Central.
The season premiere of Wilfred airs on FX on June 20.
The season finale of Hannibal airs June 20 on NBC.
TV's a big place and I haven't been to all of it yet. Got a favorite show you'd like me to comment on? Post a comment below, contact me on twitter @RobLazlo. or shoot me an email: [email protected]. I welcome your input!