I woke up Monday morning ready to brag about how PG Chris Paul of the Los Angeles Clippers won the 2013 NBA All-Star MVP award. I was going to insert my opinions on how much the Lakers sucked this season and poke fun at Lakers' fans. I was going to make my case about why the Clippers were legitimately shining stars in L.A and no longer the little brothers on the JV team in the big house that we call Staples Center.
Well it looks like the Basketball Gods saw it differently, and they called one of their own home. Los Angeles Lakers owner Jerry Buss died Monday morning at age 80. He was battling cancer and his liver failed. It's a sad day in the NBA but his untimely passing also gave me a slight chuckle because we all know that Jerry Buss has never been out done. He is and always has been the MAN and he will not be out done by any team, especially not by the Clippers so even in his passing the spot light shifts and Buss wouldn't have it any other way.
The Los Angeles Lakers organization is a basketball empire that he built in an exceptional fashion and basketball is what it is today because he transformed the way NBA organizations are run.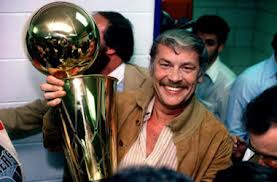 Buss was a business man and a visionary. He put a product on the floor that was bigger than basketball; it was entertainment. He earned a doctorate degree from USC in physical chemistry and later created the formula to keeping fan's attention and staying relevant in Tinseltown.
Dr. Buss was a mad scientist of sorts, bringing glitz and glam to the game of basketball with the addition of the Laker Girls. He spent top dollars on players and those investments yielded big returns; 10 NBA titles and 16 NBA Finals appearances to be exact.
He signed Magic Johnson to a 25-year, $25 million contract that later produced 'Showtime' and in 1996 he signed Shaquille O'Neal to an unprecedented $121 million contract that brought the 'Big Fella' from the Orlando Magic to Los Angeles where he and Kobe Bryant won three titles together.
Kareem Abdul-Jabbar, Bill Walton, James Worthy, Jerry West, Pat Riley, and Phil Jackson are also apart of Buss' genius; they are what put A-List celebrities in the stands on a nightly basis.
Jerry Buss purchased the Los Angeles Lakers in 1979 for $67.5 million in a deal that included the Los Angeles Kings, the Forum sports arena and Cooke's California ranch. In January, Forbes listed the Lakers organization as being worth $1 billion just second to the New York Knicks.
In 2010 Buss was elected to the NBA Hall of Fame and his legacy will live on as the championship flags wave from the raptures of the Staples Center.
Dr. Buss made basketball more than a game; he created a brand that gave sports fans an experience with every ticket purchased.
Love or hate the Los Angeles Lakers, sports fans everywhere respect how Jerry Buss helped the NBA evolve; after all he was much more than an owner he was an innovator.