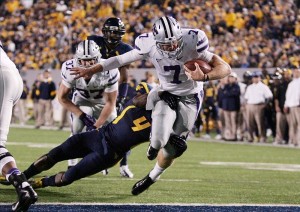 On the morning of November 17, Kansas State and Oregon appeared headed for a titanic matchup to end the season.
That indeed came to pass, just not in the manner both teams would have preferred.
Both the Ducks and the Wildcats were undefeated and sitting at 1-2 in the BCS standings. However, both teams suffered shocking upsets that evening that knocked them out of the running for the national championship. Instead, they'll have to settle for what should be a compelling Fiesta Bowl and one of the most-anticipated games of the bowl slate.
#4 Oregon Ducks (11-1) vs. #5 Kansas State Wildcats (11-1)
These two teams could not be more diametrically opposed. Oregon is flashy—seemingly debuting a new uniform combination every week—and all about speed. The Ducks operate at a frenetic speed and utilize an explosive offensive attack that leaves opposing defenses shell-shocked and gasping for air. Oregon eschews the old conventions of ball control and time of possession. The Ducks want to score as fast and as often as possible.
Oregon's potent offense is led by running back Kenjon Barner and his 1,624 rushing yards and 21 touchdowns. His backup, De'Anthony Thomas, is the Ducks' second-leading receiver and is a dynamic return man. He has contributed 16 touchdowns total on the season. Quarterback Marcus Mariota became the first freshman quarterback in 23 years to earn Pac-12 first-team all-conference honors after throwing for 2,511 yards with 30 touchdowns and only 3 interceptions to go along with 690 yards and 4 touchdowns on the ground.
Kansas State is far from flashy. The Wildcats epitomize their head coach, Bill Snyder. They are not outstanding in any one area, but they are competent at everything. Kansas State is disciplined and tough, and the Wildcats don't make mistakes. Their offense isn't innovative or cutting edge like Oregon's, but it is highly effective, averaging 40.7 points per game.
K-State is led by senior quarterback Collin Klein, this season's second runner-up for the Heisman trophy. He threw for 2,490 yards and 15 touchdowns, with 7 interceptions, but he is a tremendous runner, tallying 890 yards and a whopping 22 touchdowns. He's joined in the backfield by running back John Hubert and his 892 yards and 15 touchdowns. Both guys will look to exploit an Oregon defense what was leaky against the run down the stretch.
On defense, the Wildcats are led by Big 12 Defensive Player of the Year Arthur Brown. The linebacker led the team in tackles and was named a second-team All-American. He keys a stout run defense that held opponents to under 100 yards rushing a game but will be severely tested by the country's third-ranked rushing offense.
Keys to the Game
Kansas State must exploit Oregon's defensive vulnerabilities and keep the Duck offense off the field. That means running the football and sustaining long drives. Chew up some clock and allow the defense time to rest. When the Wildcats get down close to the end zone, they have to score touchdowns; Kansas State can't settle for field goals. On defense, K-State must stay disciplined and not give up the big play. Oregon has tremendous quick-strike ability and can change the momentum of a game in an instant.
For Oregon, the Duck defense must shore up its recent holes against the run and figure out a way to bottle up Klein and Hubert. Klein isn't the most effective passer, so the Ducks must force him to try and beat them with his arm. On offense, Oregon has to stay patient and not get anxious. Kansas State is going to want to slow the game down and limit the Ducks' offensive possessions. If that happens, Oregon must resist the temptation to try and score all at once on every play. The Ducks mustn't get frustrated about their lack of offensive possessions.
The Verdict
This is a tough game to call, which is why it's such a highly-anticipated matchup. Oregon has an abundance of offensive firepower and speed. Kansas State is disciplined and rugged. Which style will win out in the end?
Oregon's tempo and speed may be too much for Kansas State—after all, the Wildcats were thrashed by Baylor's up-tempo attack—but I think the Wildcats can handle it. There are plenty of explosive offenses in the Big 12, and Kansas State was up to the task against them. Klein will be able to find some running room against a smaller Oregon front seven, and the Ducks won't be able to capitalize on the Wildcats' mistakes because Kansas State simply doesn't make any. Bill Snyder will have his team focused and ready to play, while the rampant rumors of Chip Kelly's departure to the NFL may be a distraction for Oregon. Kansas State wins a barn-burner.