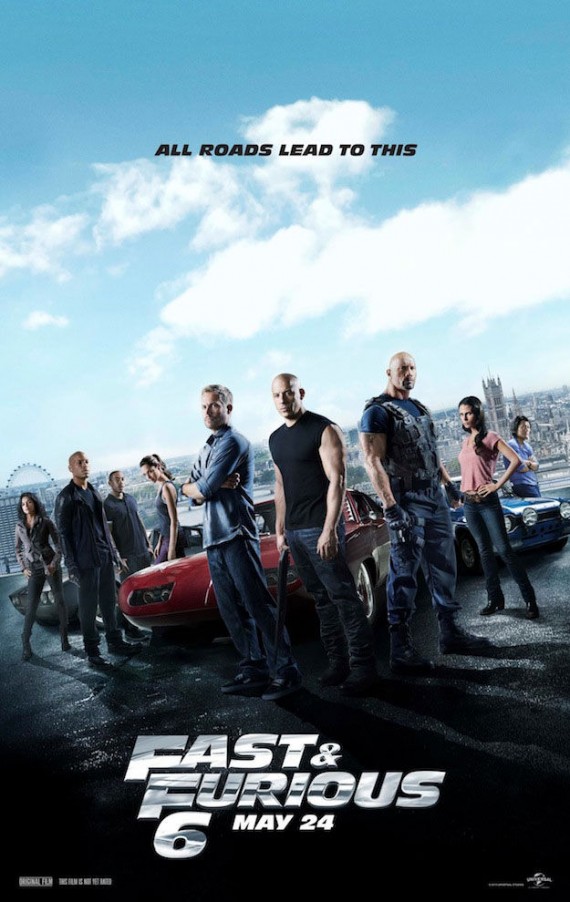 The first Fast and the Furious movie in 2001 introduced a world of crime, undercover cops and tricked out cars in the subculture of street racing. Twelve years and five sequels later, the Fast franchise has evolved into a summer juggernaut. Fast 6 exceeds the series' expectations and kicks the adrenaline to ridiculous heights.
The first three Fast movies were about street racing criminals. Director Justin Lin has turned this property into an A-Team style, root for the outlaws, episodic adventure. He's also created the only film franchise I can think of where the 5th and now, 6th installments, were so highly anticipated.
Federal  Agent Hobbs (Dwayne "The Rock" Johnson) needs help taking down a ring of European thieves, led by a mercenary named Shaw (Luke Evans), who makes daring escapes with precision driving. To hunt this team, Hobbs enlists another, namely, Dominic Torretto's (Vin Diesel) band of street racing, law dodging, heist professionals.
Why would a band of outlaws work for a Federal Agent that pursued them in the previous film? Dom's previously assumed dead girlfriend, Letty (Michelle Rodriguez), appears very much alive and running with Shaw's crew.
If they succeed, they get pardons of all crimes and a chance to reunite Letty with her family. The group has shifted their focus on family, wanting to leave the criminal life behind, but need Letty in the fold.  It's enough to pull them together for another job.
And what a hell of a job it is.
Fast 6 promises action and delivers plenty of it. Hobbs has a new female sidekick, Riley (MMA fighter Gina Carano) who gets into some violent girl fights. Dom, Brian (Paul Walker) and Hobbs show their chops in car chases, gunfights and a giant melee on a cargo plane with a load of henchman.
Even Han (Sung Kang) and Roman (Tyrese Gibson) mix it up in this one. Rapper/actor Chris "Ludacris" Bridges as Tej and Tyrese steal scenes as a great comedic duo. Their banter makes this one of the funniest films of the year.
Fast 6 never slows down. A tank tears up a freeway, Shaw's crew ruins London in  F1 "flip cars," and so much insanity in the last 20 minutes, you wouldn't believe me if I told you. The only way this finale can be topped is if they go into space.
The theater I was in cheered for every punch to a bad guy, gasped at every perilous stunt and laughed at every joke. Fast 6 is a crowd pleaser and the reason we love movies.
Fast and Furious 6 does some things so well, we forgive things that would ruin other movies. Bringing a character back from the dead from two films ago? Sure. The longest airplane runway we've ever seen? Whatever.
Fast 6 takes everything that made the previous film a hit and amps it up, when that seemed an impossible task. The franchise seems to have enough for one last outing, which the credits sets up in a brilliant way. If Fast and Furious were a sports franchise, these last two are a back to back championship, and poised for a three-peat.
Rating 9.0/10