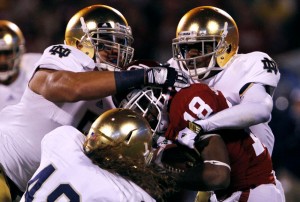 Well folks, it's finally here.
The last 60 minutes of college football for the 2012 season. One last game to determine who will be crowned national champions, and we couldn't have asked for a better matchup.
#1 Notre Dame (12-0) vs. #2 Alabama (12-1)
Two of the sport's most storied programs square off in this year's national title game. The second-ranked Alabama Crimson Tide are seeking their third national championship in four years while the Fighting Irish of Notre Dame are looking for end a 24-year drought and claim their first title since 1988.
Prior to the start of the season, many people expected Alabama to be here. The Tide were fresh off their second title in three years and returned sophomore quarterback AJ McCarron after his breakout performance in the BCS championship game victory over LSU. Despite losing a plethora of talent to the NFL, Alabama simply reloaded and once again boasted one of the best defenses in the land.
The Tide were rolling along until being upset by Heisman winner Johnny Manziel and Texas A&M, seemingly out of the race until both Kansas State and Oregon lost on the same day, vaulting Alabama back into the top two of the BCS standings.
Unlike Alabama, nobody expected the Irish to be here. Sure, Notre Dame was an improved team with some talent, but an undefeated season and national title game appearance? No way.
In fact, most college football pundits believed the days of Notre Dame contending for national championships were over. The school's stringent academic requirements were viewed as too difficult to attract top-tier recruits, and the aura of the Fighting Irish had been diminished as other schools rose to prominence.
However, Notre Dame surprised everyone by basically becoming Alabama. Head coach Brian Kelly is known for his powerful offense, but this year's Irish team is carried by its dominant defense. Led by Heisman runner-up Manti Te'o, the Irish are tops in the nation in scoring defense, yielding a miniscule 10.3 points per game.
Keys to the Game
Two major factors will determine the outcome of this game: whoever wins the battle up front between Alabama's stellar offensive line and Notre Dame's stout front seven, and whether or not Everett Golson and the Irish offense can move the ball of Alabama's vaunted defense.
Alabama's offensive line is the best in the nation, and the unit is arguably the main reason for the Tide's offensive prowess. Center Barrett Jones and his comrades pave for the way for a powerful ground attack that features two 1,000-yard running backs who combined for 27 touchdowns. The Tide average nearly 40 points a game.
They may have met their match, though. Notre Dame's front seven might be the best in the land. Te'o gets most of the publicity—as well he should considering his 103 tackles, 7 interceptions, and multitude of awards and accolades—but he's not alone. End Stephon Tuitt has 12 sacks and 13 tackles for loss, and linebacker Prince Shembo chipped in another 7.5 sacks and 10.5 tackles for loss. Mammoth nose tackle Louis Nix anchors the middle of the line and ties up opposing blockers, allowing Te'o the room to roam and make plays.
If Alabama's line can win that battle and open up holes against the Irish front, the Tide will win this game. If Notre Dame's defense can hold up against the Alabama ground game, it will go a long way towards an Irish victory.
On the flip side, Notre Dame has to find a way to generate some offense against one of the best defenses in America. Golson has steadily improved over the past several games, but he has yet to face a defense like Alabama's. The Tide are second in scoring defense, behind Notre Dame, at 10.7 points a game and lead the nation in total defense, surrendering a measly 246 yards per contest.
The Tide are going to try and take away the Irish rushing game and force Golson to beat them through the air. However, the Tide have been vulnerable to mobile quarterbacks. If Golson can make some plays through the air and with his legs, Notre Dame has a good shot of pulling off the upset. If not, then Alabama will win.
The Verdict
This should be a close, hard-fought game with little to no scoring. These are the two best defenses in the country, so yards and points will be at a premium.
On paper, Alabama has the edge. Their defense is about as good as Notre Dame's while their offense is far superior to that of the Irish. Common sense dictates that while both teams will struggle to move the ball, Alabama will have a little more success. If Notre Dame can't sustain drives, then its defense will get tired and wear down after getting continually bludgeoned by that tremendous Alabama offensive line.
However, if things went according to paper, Notre Dame wouldn't even be here. The Irish have that "team of destiny" feel to them. They just refuse to lose.
Furthermore, Notre Dame isn't like any other opponent a SEC team has faced in the national title game. The Irish aren't a flashy offensive team like Ohio State, Oklahoma, and Oregon were. They rely on their SEC-caliber defense. They aren't going to be cocky and complacent like LSU because they haven't beaten Alabama once already and spent the weeks leading up to the game hearing about how good they are. Te'o is going to have his teammates focused and determined.
Notre Dame finds a way to cap off its dream season with the school's first national title since 1988.