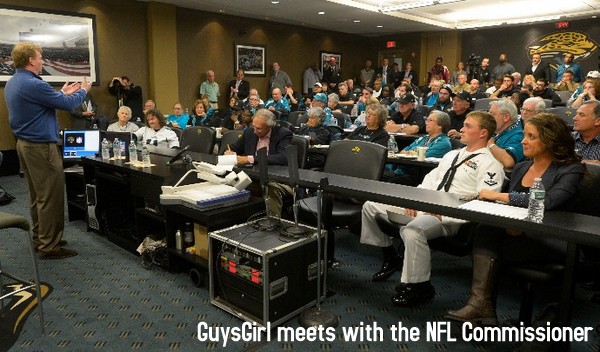 Roger Goodell is arguably the best Commissioner is all of the major sports. While you won't agree with every decision he has ever made, the personal outreach he does for fans is pretty impressive with his most recent including participating in a "Town Hall" style meeting with local Jaguar fans. And GuysGirl was honored enough to be invited.
During the forum, about 60 Jaguars season ticket owners were invited to hear Goodell answer any questions the crowd had planned for about 30 minutes prior to the game. Goodell was asked and answered so confidently and with command on subjects such as the Jaguars national ticket sale perception, the London games, player protection and more.
While we ran out of time before we could get our question in, I was thoroughly impressed at the respect Goodell commands. His presence alone is intimidating but coupled with the issues he handles on a frequent basis, it's impressive how he keeps it all together so well. Even if you hate Goodell, put yourself in the shoes of a NHL fan for a second and think of what life would be like to have Gary Bettman as your Commish.  Now you can be quiet.
I came away from the fan forum while a new found respect for Commissioner Goodell and the way the NFL handles the fan relationship so much better than any other league in pro sports.
And  for the curious, our question to the Commish "How are you prepared to expand the female fan base of the NFL that currently sits at 44%" is being emailed to both the Commish and NFL PR team for comment, which we will of course update accordingly.
Special thanks to the Bold City Brigade for the invite and Andrew Mallory for the photo.