There can be no doubt that the gaming industry is entering a new era packed with groundbreaking titles set to push the boundaries of what's possible to new levels.
The recent show-stopping E3 conference in Los Angeles provided a real insight into what the future holds for console gamers, (particularly for those who own an Xbox One) as Microsoft were much more prominent in their showcase events compared to their fierce market rivals. They'll take the opportunity to be at Gamescom 2015 from August 5-9.
Sony, however, will be absent from the upcoming Gamescom 2015 event, widely regarded as the world's largest gaming event with well over 300,000 visitors and over 700 exhibitors packed into the Cologne Exhibition Centre, which provides Microsoft with a free run to show off exclusive gameplay footage and demonstrations that they were not able to at E3.
They may have to go some way to topping upcoming releases such as Halo 5: Guardians, Gears of War 4 and Fallout 4 which have already received huge acclaim across the gaming community, but although Microsoft have revealed there will be many surprise announcements in store for Xbox console and Windows Phone users, certain game developers have already revealed their hand ahead of Gamescom 2015.
Console games
Unlike E3, Gamescom is open to the public which is arguably why it has become the most important consumer exhibition in the gaming industry in the world.
The seventh year of the trade fair will once again see a huge number of exhibitions spread across the Cologne Exhibition Center to enable avid gamers and journalists to have an opportunity to see and play upcoming games that come with huge promise and may dominate the market.
Microsoft will once again exhibit Halo 5: Guardians in all its glory, but they have revealed that Crackdown, Quantum Break and Scalebound — three games that were announced at last year's E3 conference but were not featured at E3 2015 — will receive exclusive coverage at the upcoming Gamescom 2015 in August.
It will be the first time that gamers are able to get a feel for what Crackdown and Scalebound are like having been previously teased with cinematic trailers, while Quantum Break will feature more in-depth coverage, following a narrated 16-minute demo released by Remedy last October.
Konami will also feature prominently at Gamescom 2015 by bringing Pro Evolution Soccer 2016 and Metal Gear Solid V: The Phantom Pain to the show. Although both games have generated considerable interest through gripping trailers that reveal the latest gameplay features and integration of next-generation graphics, Konami will enable gamers who attend the event to play both titles at their booth on the show floor.
Other game developers, such as Square Enix, Nordic Games and EuroVideo Medien, will also be present at Gamescom 2015 which promises to be bigger and better than ever before.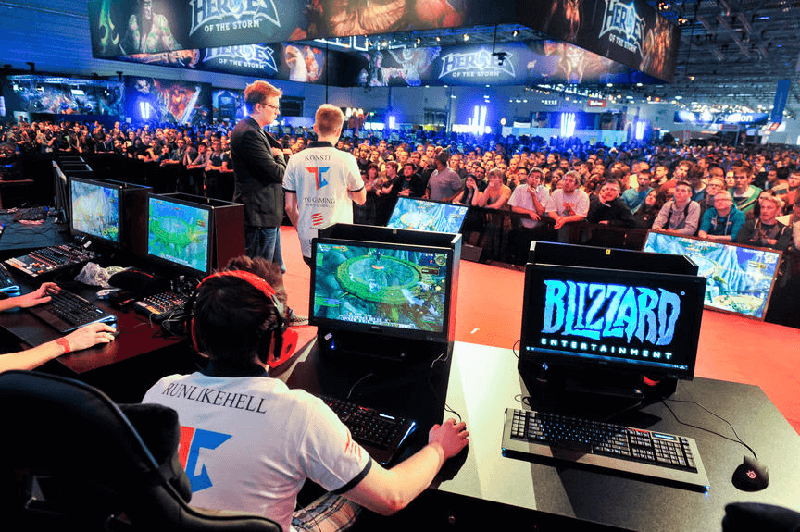 Mobile games
Although console and PC gaming look set to dominate Gamescom 2015, the show floor will also be occupied by mobile game developers who will announce their upcoming game apps. They'll also be able to open a business-to-business booth in order to meet game developers and publishers in the hope of creating partnerships that lead to hugely successful games.
It will be a clear indication of the major increase in popularity that mobile gaming is currently enjoying, with its ability to provide a huge variety of games and a number of free-to-play titles across a number of genres. The beauty of mobile gaming is that Android and iOS users are able to enjoy the very best online slots, racing, puzzle and adventure games while on the go wherever they are, thus providing the option to play games at their own leisure and convenience.
Microsoft have yet to reveal any details over the list of mobile game producers who will be present at Gamescom 2015 and may choose to leave that a secret until the event, but one company has revealed that they are in attendance.
South Korean developers WEBZEN have quickly developed into one of the leading mobile game publishers in Korea since making the move into the market in April. While their first MMORPG mobile release, MU: Origin, was a huge success in South Korea and around the world, they are looking for new games and potential business partners to work with.
Pocket Gamer is also hosting their own event called Pocket Gamer Mobile Mix on the evening of August 5th, which is purely for mobile gaming developers to network and make new contacts following a 25 minute-long discussion on the most important issues facing mobile gaming.
It is an ideal way for developers and game producers to come together and form strong partnerships towards producing gaming apps that will make a real impact on the market and ensure the mobile industry continues to go from strength to strength.