After the NFL regular season ended, we started collecting data on the role of the woman within all aspects of the NFL. In this series we are going to explore the many varieties that make up the female NFL fan.
In the first article, we covered the remarkably low number of women in an executive leadership role among NFL teams. and in the second article we looked at how the NFL is reaching out to the fanbase that makes up 45% of their viewership. Now we are looking at the role of fantasy football on this ever growing segment and the women who play a key role behind that growth.
Before the 2012 NFL season, it was estimated that over 32 million people are playing fantasy sports worldwide. And of that population, 5.8 million of those playing, were women. An amount that equates to almost 20% of the fantasy football marketplace.
And that amount of women playing last year, was twice as many as the year before so it can only be assumed that when the 2012 numbers are released, women will again be the segment helping the fantasy sports empire to grow into an even bigger behemoth than it already is.
Over four years ago, that included a training session on the basics of fantasy football. There was so much initial interest in the league that we had to stop taking requests for invites. Since 2008, 90% of the girls who have played in our leagues, continue to play fantasy football to this day and most have branched out to play in multiple leagues.
So why the growth with women?
As with tailgating before games, women love the camaraderie of sports and playing fantasy football is no different.
Fantasy football provides a way for women (as well as men) to learn more about the game than just their favorite team. They can get involved in office water cooler chats and probably have a horse in the race for games played on Thursday, Sunday and Monday. It's a social connection to a sport they already love, so it should be no shock if one day women hold a significant share of the market as they do with the real world of football.
Katie Aselton who plays the fantastic character Jenny from The League was asked by the Huffington Post "Jenny is really into football, and she's also very feminine. Was it important for you to show that women can be both? To which Katie replied:
"I don't think I really thought about that. I just thought about being as natural as I possibly could and having fun with it. I'm sort of a guys' girl anyway, and it's fun to play both sides of that. Jenny's got a lot of wish fulfillment in her. She's like every guy's dream and every girl's dream. She's not intimidating to girls because she's not devastatingly beautiful and unattainable. She's friendly and sweet and funny and sassy. [And] guys want a girl who wants to watch football and drink beer."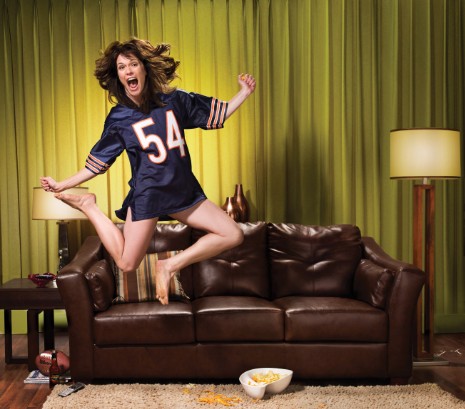 But women in the fantasy football world aren't just playing in leagues. They are also playing key roles in how you get that information to make those start/sit decisions.
When everyone is scrambling at the beginning of training camps to find that perfect ranking system, little do they know one has already been in place for years. This person visits the top sites like Yahoo, NFL, ESPN, CBS, Rotoworld etc…and combines all of these player rankings (11 total) into one spreadsheet that averages each players suggested draft position into a perfectly positional, color-coded spreadsheet of glory.
And it's all done by a woman….
Her name is simply known as the "Fantasy Football Librarian" and for several years, has been the GuysGirl go-to website for all things fantasy football. Her Average Football Rankings has been hugely successful not only because of her method used, but the fact she adds in the bye weeks next to the player's name and also lists the 11 sources she has on other tabs within the spreadsheet.
Best news of all? She provides it for free and you don't even have to give her your email address.
Another woman who provides some of the best rankings GuysGirl has ever used is ScoutPro founder Diane Bloodworth. ScoutPro is a widely known website used by fantasy football addicts to assist with their start/sit advice. Having used the software all of last season, I can safely say it was the only reason I made it to the Superbowl and playoffs in 3 out of my 4 leagues. (and no, ScoutPro didn't pay me to say that)
The software can manage multiple teams and once your lineup is inputted into the system, it can give educated guesses as how that player were perform based on his past performance, the opponent and even considers things like the weather and stadium where the game will be played.
As the founder, Diane's no stranger to the male dominated world of sports as she has spent over 25 years in another male dominated industry-the Tech industry. Her skills in that arena led directly to founding one of the out there for the billion dollar fantasy football industry.
Women and Fantasy Football have no where to go but up
With women already making up 20% of the fantasy football market place, it should be a no brainer that more and more women will soon be stepping into the game.
Fantasy football offers a way to get more involved with the game of the football rather than just cheering on your favorite team. It allows us to fully immerse ourselves into the culture that is football, creating lifelong fans that know the game inside and out.
Couple images from the 2012 GuysGirl Fastasy Football draft…