Pathos has been a tried and true American comedy staple for about as long as there has been American comedy, and runs the gamut from classic Looney Tunes cartoons to Richard Pryor to Louie.
In the world of sitcoms, it has been a more hit or miss proposition.
Some subjects have worked, like economic hardship (Good Times, Sanford and Son, Roseanne) or familial discord (The Honeymooners, Married With Children), but others, like substance abuse (The John Larroquette Show) death (Dead Like Me) and the horrors of the high school social pecking order (Freaks & Geeks) never caught on.  In an overused descriptive phrase, supporters claimed audiences didn't "get it."
On the contrary, I believe, audiences got it all too well but were made conspicuously uncomfortable about being asked to laugh at familiar and painful subjects.  That's the rub.  How to get viewers to accept laughter they need.  It is, after all, the best medicine.
Getting On
No current sitcom asks for more of its audience than Getting On, HBO's adaptation of the BBC show of the same name, about doctors and nurses in the elder care unit of a second-rate California hospital.  If you can't laugh at sick, suffering old people, who can you laugh at, right?
The patients invite a variety of  family members, who range from overwrought to indifferent, with each extreme eliciting laughs for different reasons.  These characterizations lend themselves to guest appearances, and this season Jean Smart has stood out as a woman attempting to manage the end of life needs of her former mother in law, who, due to dementia, doesn't remember that she loathes her. It's as funny/not funny as it sounds.
But Getting On is primarily driven by its leads – Laurie Metcalf as particularly cynical and greedy doctor Jenna James, Alex Borstein as Nurse Dawn Forchette, a poster child for low self-esteem, and Niecy Nash as Nurse Didi Ortley, our audience window into the sitcom world.  This season Borstein, in particular, has been marvelous.  Dawn Forchette is possibly the most pathetic character I have ever seen on television and yet Borstein manages to create a believable person.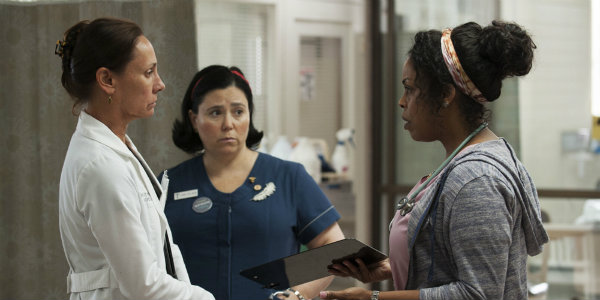 Getting On plays with as much fire as it possibly can, showing us a terrifying view of mortality, with forgotten elderly patients shunned by society and left in the care of a medical system that unabashedly discusses how to make money off of them until they become unprofitable, with direct care provided by preoccupied self-loathing incompetents in the meantime.  Death, greed and cruelty have occasionally been funny on other shows, but never in such a dingy, real-life setting.  The show deserves a medal for having the guts to show what it does and then dare you to laugh.  After all, this could happen to YOU.
The amazing part is that if you go in with an open mind, laugh you will, in spite of yourself.  Getting On is certainly not the funniest show on television, but for stretches during every episode I watch, I'm convinced it's one of the best shows on television.  HBO will keep it around longer than most networks without an overage of viewers, but this show deserves an audience.  It's that good.
Mom
Returning for a triumphant second season, you probably don't need me to tell you how funny CBS' Mom is, but I'm going to do it anyway.  Allison Janney deserved her Emmy, and apparently wants another.  Bonnie is the single funniest character on television right now.  She's aided by the addition of Kevin Pollak as her foil in a love/hate relationship.
And the chemistry between Janney and Anna Faris as the put-upon Christy continues to grow and fuel the show's fire.  Faris is redefining how a dumb blonde can be funny.  Christy is many ways her own worst enemy but she's not the traditional wifty dumb blonde character like the ones Faris played in the Scary Movie franchise.  Instead, she's angry, resentful and at constant war with her alcohol addiction.  Christy is the TV character most likely to appear on The Jerry Springer Show.
Mom also succeeds at making substance abuse much funnier than it's been in the past.  The sharing sessions at the 12-step meetings are among the show's funniest moments and simultaneously serve to set up the theme in each episode, like Jerry Seinfeld's stand-up intros to each episode of Seinfeld.  Instead of being a show about nothing, however, Mom is a show about rebuilding from the bottom, and the plethora of obstacles preventing you from doing so.  It's hilarious.
Benched
Seeing the mighty laid low is a popular theme these days, and 2 Broke Girls is probably the gold standard for how to get the most laughs per minute out of it.  Attempting to cash in on it as well is Benched, a new sitcom from USA Network.
I'll be honest, if this show didn't star Happy Endings'  Eliza Coupe, I may not even have watched it.  But with Coupe and supporting players like Maria Bamford and Oscar Nunez, I felt it was worth a look.
Coupe plays Nina Whitley, a corporate lawyer who as an Enlightened worthy meltdown after being passed over for a promotion at her firm and finding out that her boyfriend is cheating on her.  She winds up doing pennance in the public defender's office.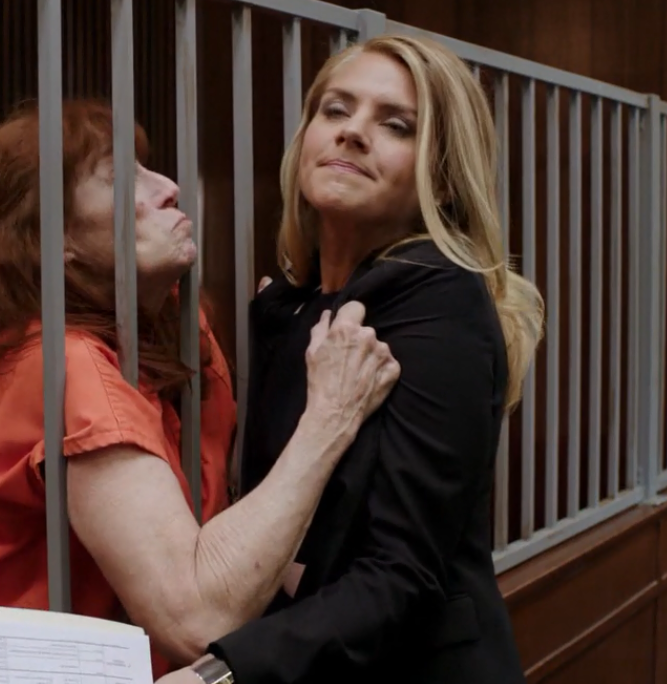 Coupe is still as funny as ever, despite being given a character who's supposed to be a shark in the water attorney yet falls apart every time her ex looks funny at her.  I'm hoping the writers get over this particular affectation quickly, because it has already worn itself out 10 times over.  Bamford is woefully underused, basically being given one or two lines an episode as the office loser/weirdo, apparently what The Breakfast Club's Allison Reynolds did when she grew up.
Benched does get some laughs out of the attorney client relationship and the stacked against it nature of the criminal justice system, and it would be wise to mine that aspect in the future, assuming the show lasts at all.  If it doesn't, I can only hope Eliza Coupe, who is completely awesome and funny, will be given another show to headline, although I know there are only so many arrows in the quiver (some of us still remember you longingly Alison La Placa).  Pity.  I mean:  Pathos.
Quick Takes
If you missed it Thanksgiving Day, Comedy Central's Non-Denominational Christmas Special is still running and is a great way to peek in on some of the network's less well-known but seriously funny shows and stars.
Fans of Gotham, including me, will be pleased to hear that FOX has ordered a full season of the show, a strong indicator that it will be around not just for the remainder of this year, but into the future as well.
Educational TV.  Things we learned from watching TV this week:  1)  Whitening toothpaste is racist (Late Night With Seth Meyers); 2) HBO loves the F-word (The Comeback); 3) That thing you take pictures of yourself with is also a phone (Jimmy Kimmel Live).
In between the avalanche of overproduced performing shows on TV, take a moment and check out AXS TV"s The World's Greatest Tribute Bands.  Hosted by an enthusiastic Katie Daryl, these classic-rock themed acts are presented as they can be really seen out in the wild, making this show the closest thing on TV to going to a bar to hear live music by a cover band.
Looking Ahead
The Soul Train Awards air on BET on November 30.
The midseason finale of The Walking Dead airs on AMC on November 30.
A Charlie Brown Christmas airs on ABC on December 2.
The Flash and Arrow will air crossover episodes (too soon, too soon!) on December 2 and 3 on The CW.
The midseason finale of Chicago Fire airs December 2 on NBC.
Following up its live Sound of Music broadcast, NBC airs Peter Pan live on December 4.
The season premiere of The Taste airs on December 4 on ABC.
TV's a big place and I haven't been to all of it yet.  Got a favorite show you'd like me to comment on?  Post a comment below, contact me on twitter @RobLazlo. or shoot me an email:  
[email protected]
.  I welcome your input!    
Featured Image Source
Image Source 2
Image Source 3
Image Source 4