As midseason kicks into gear, your standard fare of eagerly anticipated half-way start ups and not so appetizing looking sad sack replacement shows start making their way onto a local screen near you.
But with Better Call Saul, Fresh Off The Boat, and Allegiance this season, these show are providing some particularly interesting concepts with eagerly tantalizing origin stories.
Better Call Saul
No one who thrilled as Breaking Bad counted down its masterpiece run on AMC could contain their mixture of fall over the sides anticipation and please-don't-screw-this-up dread at the prospect of a Breaking Bad spinoff, especially this Breaking Bad spinoff, an origin story focusing on the show's comic relief attorney called Better Call Saul.
So much could go wrong.  Saul Goodman (belovedly brought to life by the ingenious Bob Odenkirk) was a near perfect foil to the vicious intensity of Bryan Cranston's Walter White, but a whole show about him?  Was Vince Gilligan about to produce the TV equivalent of Jar Jar Binks, the Tatooine Years?  
Shame on you for thinking so.  Instead of the thousand missteps this show could have taken, Better Call Saul is, quite simply, the single best roll out of any television show I have ever seen.  It seamlessly wears its Breaking Bad cred like a cloak of invincibility, while simultaneously giving Odenkirk the chance to stretch his performance to offer up a Saul who's still funny, but is now vulnerable, scheming, ambitious, and more than a little rough around the edges.
Add in the fact that creators Vince Gilligan and Peter Gould, instead of learning their way as they go, are in 100% all-star form here.  Breaking Bad's gorgeous luminescent omnipresent co-star, Albuquerque, New Mexico, is on hand, along with Bad's Jonathan Banks (worked into the plot at a perfectly leisurely pace) along with a Breaking Bizarre supporting turn from Michael McKean.
Saul appears to be in absolutely no rush to get to where you know it must eventually go, but as with its predecessor, the joy of the ride is more than you can even stand. Monday night just became the best night on television, and this show's only aired half a dozen episodes.
AMC, Vince Gilligan, Bob Odenkirk:  thank you for this absolute GIFT of art to all of us.  TV's best new show ever.
Allegiance
I suppose it was only a matter of time before someone decided to try to rip off The Americans and make another Russian spy hiding in plain sight show, I just thought it wouldn't suck quite this bad.
Allegiance does not even try to recreate any of the half-dozen dramatic or atmospheric nuggets of gold embedded in The Americans' DNA, instead offering up a boring, plodding, spy came in from the cold type thriller (thriller?  don't we have another word?) with '80s sensibilities crammed into a present-day setting that doesn't fit in either genre. Even the villains here are so cloying they appear to have been blackmailed into their wrongdoing.
Gone are any semblance of familial tension, patriotic zeal, and the intense pressure of keeping secrets.  In their place the best you'll find is a particularly weak episode of a show like NCIS.  Skip this one.
Fresh Off the Boat
Some shows seem to have everything going against them.  Fresh Off the Boat would seem to fit that list, but surprise! don't judge too hastily.
Perhaps an ethnic sitcom (the Asian Black-ish) is strike one, but instead, Fresh Off The Boat keenly dispels stereotypes in favor of universal American truths, like being the new family in the neighborhood puts you on display like zoo animals and the endless competition between family members to one-up each other leads to nothing but trouble.
Strike Two, a '90s period piece?  That was certainly true of Hindsight, but not here, where the hip-hop soundtrack helps remind us how we all lived through the Clinton years and came out the other end.
Final analysis?  Stellar performances from Constance Wu (as a decidedly un-tiger mom who didn't want to move in the first place) and Hudson Yang (updating the whole Wonder Years kids point of view with a fresh take) give Fresh Off The Boat a Fresh look at the traditional family sitcom, and one that you'll definitely want to add to your weekly viewing.
Quick Takes
This week saw the final episode of Parks & Recreation, and the show that combined the impossibly sunny disposition with a cutting edge intelligence about its humor went out on top.  This one will be missed.
A fond farewell to Leonard Nimoy, who played one of the most iconic television characters of all time in Star Trek's Mr. Spock.  I can't resist but share this anecdote here – when Gene Roddenberry first submitted his Star Trek pilot, Mr. Spock was only the science officer, not the second in command, but the network refused to air the show with what it viewed as a "ridiculous" premise of having a female second in command (played by Roddenberry's eventual wife Majel Barrett) so Spock the alien took over as the C.O. as well.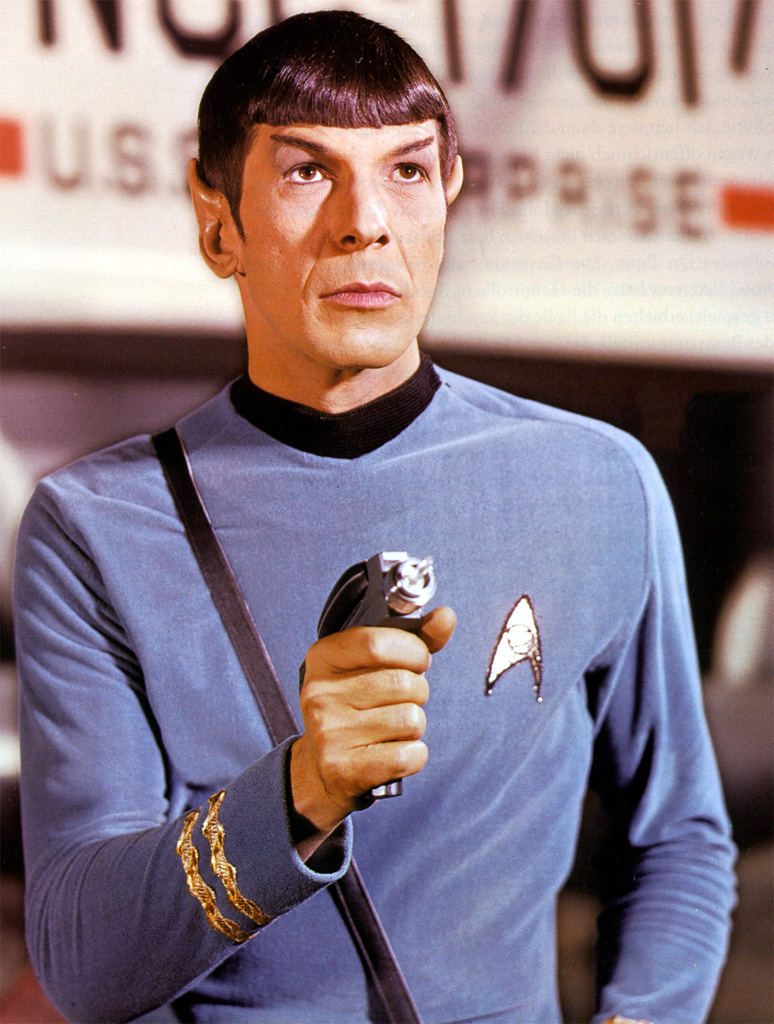 Reality Check
It's been a good year for Larry Wilmore, whose Black-ish is the best new sitcom on television, and who has taken over for Stephen Colbert on The Nightly Show, part of Comedy Central's eventual rebuild of its nightly comic lineup.   Rather than follow The Colbert Report and Daily Show formats of set-up, interview, Wilmore's show is a panel show more akin to Real Time With Bill Maher.  Wilmore himself is quick and funny, and more geared to a roundtable than interviewing guests anyway.  This one is more than funny enough, now Comedy Central just has to figure out how in the world to replace Jon Stewart.  Good luck, guys.
Educational TV
Things we learned from watching TV this week: 1) When a woman swallows a pill, it does not end up in her vagina (@Midnight); 2) Pickling = maximum bonding (American Dad); 3) Billionaires just won't let multi-millionaires compete in this country (The Daily Show).
Looking Ahead
The series debut of The Last Man On Earth airs on Fox on March 1.
The series debut of Secrets and Lies airs on ABC on March 1.
Battle Creek premieres on CBS on March 1.
The Following returns to Fox on March 2.
The season premiere of Broadchurch airs on BBC America on March 4.
The series premiere of American Crime airs on ABC on March 5.
TV's a big place and I haven't been to all of it yet.  Got a favorite show you'd like me to comment on?  Post a comment below, contact me on twitter @RobLazlo. or shoot me an email:  [email protected].  I welcome your input!
Featured Image Source, Image Source 2, Image Source 3, Image Source 4