The phrase 'podcast' is becoming one of those words you no longer have to explain to grandma over and over again. How do we know? Well…stats. But also because Jacksonville, Florida hosted their first podcasters networking + educational event and I'm pretty pumped about it.
The modern day form of podcasting has been around since 2004 but only in recent years has the medium started to see significant audience growth.
In 2013, roughly 12 percent of the U.S. population listened to a podcast.
Flash forward to 2018, nearly 45 percent have hopped on the podcast bandwagon.
With more demand comes a greater need for hosts willing to put in the work to create a great podcast experience that keeps a listener coming back. The majority may share the entrepreneurial spirit but many podcasters feel like they're all alone in a medium where most family and friends haven't fully grasped. Hence why networking and the ability to brainstorm with fellow hosts has become a growing need all over the country.
That's no longer a problem in Jacksonville.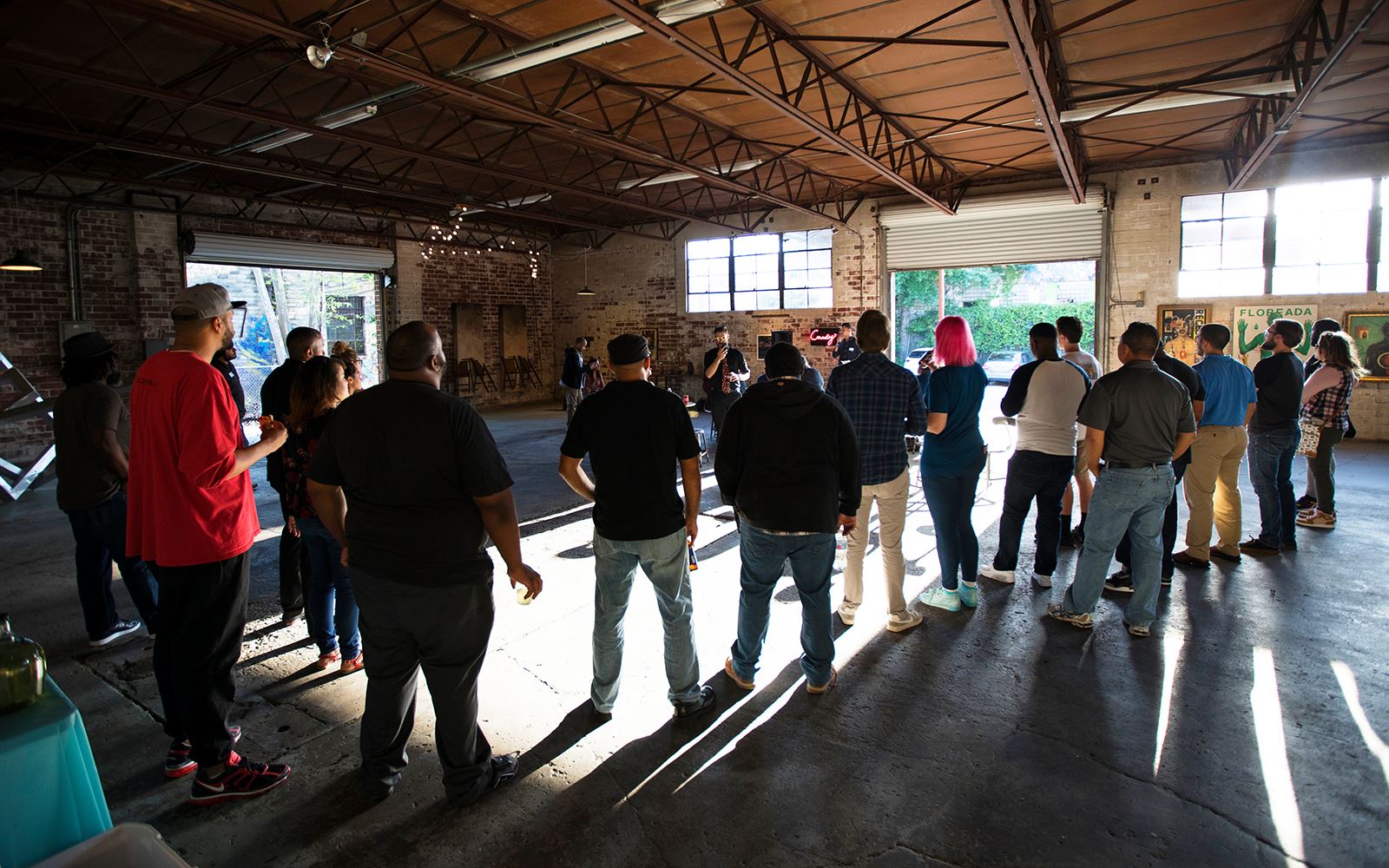 This photo and the featured photo were both shot by Toni Smailagić, founder of Cre8Jax.
Hosted by Badr Milligan of 'The Short Box', Ryan Thompson of 'GAAM', and myself,  Jacksonville's first podcasters networking + educational event was held at a creative spot dubbed Space 42.
If 10 people showed up, I feel confident in saying that'd be considered a success. I always liked smaller crowds, anyway.  But to our surprise, more than 30 Jacksonville podcasters showed up to the two-hour session with more hoping to attend in the future.
Niches such as sports, art, comics, music, and more were all represented as the group introduced their shows, discussed challenges, and endgame strategies. The plan is to discuss these topics in greater detail at future events to help us all grow together. A rising tide lifts all boats, as they say.
Key takeaways from the Jacksonville Podcaster's Event
Hosting accounts such as Buzzsprout and Libsyn can be great at getting your feed to other providers such as Apple Podcasts, Spotify and Google Play. They also have built-in analytics so you can track your audience metrics. I've personally used Buzzsprout for years and love the simplicity of it. Get a $20 Amazon gift card for giving them a shot.
Promoting your podcast is just as important as the research and recording time you put into it. Think about where your listeners are at and problems they currently face. Search hashtags and Facebook groups around those topics and promote your show to that target audience. It's perfectly acceptable to promote one show several times to a variety of social platforms and other distribution methods like email marketing.
If marketing your podcast is a hassle, you can also use a free tool like Zapier to automate sharing. I recommend a mix of automation to a platform like Twitter and Facebook pages but if you're posting to personal Instagram/Facebook profiles, you don't want to annoy your audience with too much self promotion in a short time span.
You can also experiment with marketing methods like sending your podcast audio to YouTube. Some episodes can get triple the engagement simply by using a visualizer that turns your audio file into a video file. Though I haven't personally tried this method, a site like RenderForest can do this for you with both free and paid options.
In need of audio + editing help? One of the meeting attendees can assist. Just hit his Twitter DM's and set something up.
Jacksonville Podcaster Resources
Not in the Jacksonville area?
Not a problem. You can always search for a podcasting networking group in your area but after each event, I'll keep track of key takeaways to share as most of our challenges aren't exclusive to the Jacksonville market.
More Stats

Infograph via Podcast Insights