Within the past year or so, the term 'privilege' has been thrown around to various demographics. One of those demographics is hot girls. And on the privileged hierarchy list, hot girls have and remain at the top of the power rankings.
A bit of background on me as I feel it's relevant to this story—I did not grow up as a hot girl. I grew up as a tomboy who didn't start wearing girl clothes until I was almost in high school. Around the age of 13, I first tried makeup and when my mom witnessed my glittery lipgloss and mascara, she immediately threw all my hand-me-down makeup away. Hell, I didn't even flatiron my hair for my senior picture because I didn't know how.
But the summer after high school is when I dumped the longtime boyfriend, started going to college and learned hair and makeup tricks along the way. Point is, I feel confident in saying I'm an attractive woman present-day, but it took a looooooooooong time to get here. Therefore, experiencing "hot girl privilege" while on a recent Vegas bachelorette party, it was like a whole new world opened up.
Allow me to elaborate…
Video is from a recent episode of Helmets and Heels
Over Labor Day Weekend, both the bachelor and bachelorette parties of a bride and groom were held in Vegas. While most of the two groups traveled together, we all split up once we landed to go about our business.
When we met back up to catch our return flights, the stark differences in how the two groups were treated, at the same places, proved how much Vegas has this whole life-thing figured out.
In our group of 7 girls, which any of them are smoking hot by themselves, but together we formed some kind of united shield like a contoured makeup Spartan army.  Two of the girls were put in contact with different Vegas club promoters who promised us the world—after we sent them pictures of what we looked like.
If your group is hot enough, the promoters battle it out to set you up with VIP services complete with private tables and high-end bottle service at any club of your choice. Completely free.
Academy Award winner Jamie Fox at Jewel Nightclub? We got a table by the stage with a giant bottle of Belvedere vodka. Real life: money dropped from the ceiling of this place.
Pool party at Marquee Day Club? We got a giant bed to layout on (or dance on depending on the time of day) complete with a table of food and drinks. All free.
And after we were inside each of these places, the upgrades kept coming where you could actually witness the business model of these clubs.
Because where ever hot girls are, guys with money will follow.
Think about this: At Marquee Day Club, there was the main pool surrounded by single chairs you could rent. Surrounding those chairs were bigger areas with a large bed to lay on with a side table to hold drinks and food (that's where we were at). Above that is the upper echelon packages which included a private pool and cabana. The idea is promoters will put a group of hot girls in the middle in order to up-sell the single chairs as well as the upper echelon packages.
We were at our mid-tier level for a whole 30-seconds before a group of guys in the $10k per day private cabanas asked us to join them. This is around the time bottles of Dom Perignon and Belvedere vodka started flowing so my memory gets a little fuzzy after that. But I know our group ended up in the penthouse suite of the Cosmopolitan overlooking the strip getting hand fed sushi and champagne and did I mention this was the best day ever? God, I love Vegas.
Hot girl privilege is something I've never experienced on a level like this. Sure, guys have been nicer to me or sent a round of shots based on looks.
But in Vegas? Hot girl privilege is an economically viable business model.
We skipped lines, got free shit and saved a ton of money by working a well-oiled machine simply based off our looks. The bachelor party on the same trip didn't get VIP, had to wait in line, pay $15 per drink and stand shoulder to shoulder next to other dudes on the dance floor. Don't get me wrong— they had fun, but no where near our level of free fun.
I've gone on a lot of bachelorette parties in my time and let me just tell ya, places like Miami and Nashville can learn a thing or three from Vegas.
I've always said men and women should use their looks to get a foot in the door but it's your talent that will earn you a promotion. It's not a sexist way of thinking. It's reality in the purest survival-of-the-fittest form.
And Vegas' hot girl privilege business model is something I will forever take advantage of—in both life and business— now that I know to the extent it exists.
Viva Las Vegas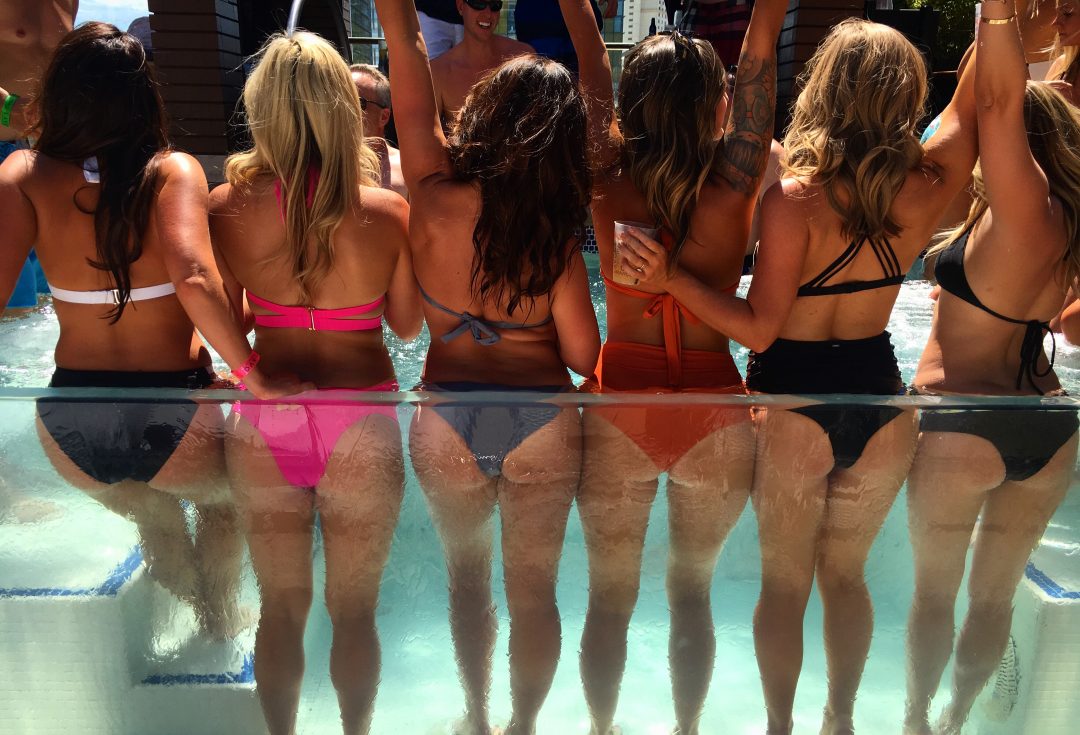 As a side note: Don't feel left out, fellas. Because I can tell you hot guy privilege is also a real thing. You should have seen the amount of women throwing cash at the Thunder From Down Under guys just for the right to take a picture with them.
*raises hand*
Ask a female stripper when the last time she got $20 just for a picture! Think about it.