Fantasy football running backs. The most important position in all of fantasy sports. Having a workhorse back (or two, if you're lucky) can singlehandedly make a team. Someone that's guaranteed to get 20 touches a game could fill gaps among your entire roster.
A great fantasy back is going to average anywhere between 15 and 20 points per week on a consistent basis. But their value is directly tied to their scarcity.
At the end of the year, there are only going to be five or seven running backs that put up those types of numbers. Quarterbacks and wide receivers are a much deeper position crop. More and more teams are going to follow the running back-by-committee approach. You have to find the guys who aren't involved in that and receive the large bulk of the carries.
Earlier this week, we gave you the top 10 fantasy football quarterbacks for 2015. Here are the top 10 fantasy football running backs — players who can singlehandedly carry you into the playoffs.
1. Lesean McCoy
After a giant 2013, LeSean McCoy was somewhat of a disappointment fantasy-wise last season, even though he still rushed for 1,300 yards with the Philadelphia Eagles. Now he's on the Buffalo Bills and head coach Rex Ryan has already been talking about how often his team will run the ball. Just look at the quarterbacks — they don't have much of a choice. The Bills could hand it off 40 times a game or so. McCoy's going to get plenty of touches and catches out of the backfield, which is only going to increase his scoring potential — the single most valuable trait for running backs. If you draft him No. 1 overall, you're doing it right.
2. Jamaal Charles
Charles has averaged at least 5.0 yards per carry throughout his entire career. He's 28 and in his prime. He's great catching out of the backfield, with 12 touchdown receptions over the past two years. The only concerning part is his carries dropped last season. The Chiefs will get him back to his 250 carries this year, and he'll be a top back. No. 2 overall pick? Absolutely.
3. Marshawn Lynch
Lynch is still only 29 years old and over the last four seasons he's rushed for double digit touchdowns and at least 1,200 yards. The addition of Jimmy Graham to the Seahawks is only going to open things up even more for him. A top-three pick spent on Lynch is going to give your team a reliable 15 to 20 points a week.
4. Eddie Lacy
After the top three picks, things start to open themselves up for interpretation. Lacy's not going to be the type of back with 300 or more carries. The Packers have already said they'll work to limit his load. However, he will have plenty of red zone opportunities and like I said, that's what's important. Think of it this way: Eddie Lacy with 12 touchdowns and 700 yards will average more points per game than LeSean McCoy with seven touchdowns and 1,200 yards. The powerful runner has only missed one game in his two seasons in the league and with Aaron Rodgers and their powerful offense, they'll be in the red zone a lot.
5. Le'Veon Bell
Another third-year back, Bell could even be higher on this list except for a three-game suspension to start 2015. This is a runner that was in line for 300 carries and 50 more receptions, but it'll certainly be less with the three games he misses. That all said, the Steelers offense revolves around him. They looked out of sorts without him in the backfield during their playoff game. Bell will still get over 1,000 yards easily in his 13 games.
6. Arian Foster
Foster is the first player on the list with a backup that may take some touches. Alfred Blue is going to get some action as a occasional third-down back, but the Texans should run the ball enough to get Foster at least 20 or carries per game. (Not to mention their quarterback situation is awful.) As long as he stays healthy and on the field, he has been a steady producer and a good fantasy pick.
7. Matt Forte
Forte averaged just under 4.0 yards per carry and barely topped 1,000 yards in 2014. But he also had over 100 catches for more than 800 receiving yards. He had just six games where he rushed 20 or more times, but with a new coach and offensive system, the Bears will likely use him more. The three-down back will see a rise in his numbers again and will be a bargain anywhere after the No. 10 overall pick.
8. Adrian Peterson
.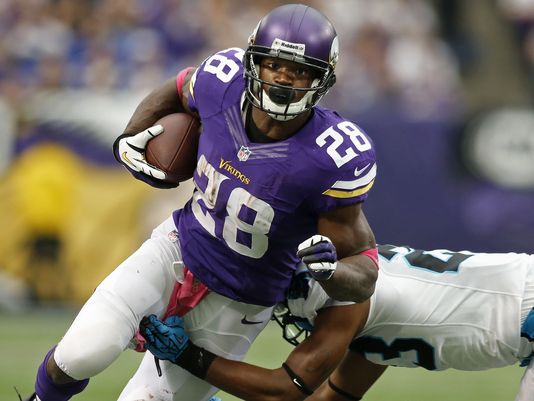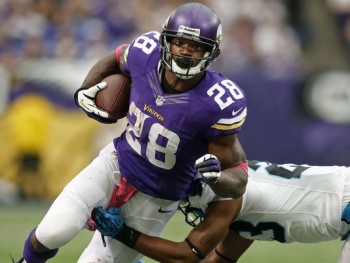 After last seasons debacle, the 30-year-old Peterson is back and with a new rising quarterback in Teddy Bridgewater. If the offense is the best he's been a part of in years, Peterson may have more space to run than he's had in a while. The Vikings are trying harder to incorporate him in the receiving game, something he hasn't had a giant impact on. If it all works he out he could out play this ranking, but after sitting out almost a full year, we need to see how long it takes to get up to speed.
9. Alfred Morris
With 1,000 yards each season he's been in the league, Morris has been a reliable option. The only concerning fact is that his yardage total has gone down each of those three years. The Redskins have a new offensive line coach and will look to reverse that trend. He'll continue to enough his touches and goal line carries to warrant a pick in the late 20's and early 30's.
10. Melvin Gordon
Yup, a rookie. Gordon is giving the Chargers the running back they've been looking for since LaDainian Tomlinson. Early reports are that he looks great and ready to have a huge rookie year. Danny Woodhead will accompany him in the Chargers backfield, but won't take many of his carries. 1,000 or more yards and seven to nine touchdowns is in his realm this year.
Other fantasy football rankings
Top 10 fantasy football quarterbacks of 2015
Top 10 fantasy football wide receivers of 2015
Top 5 fantasy football tight ends of 2015