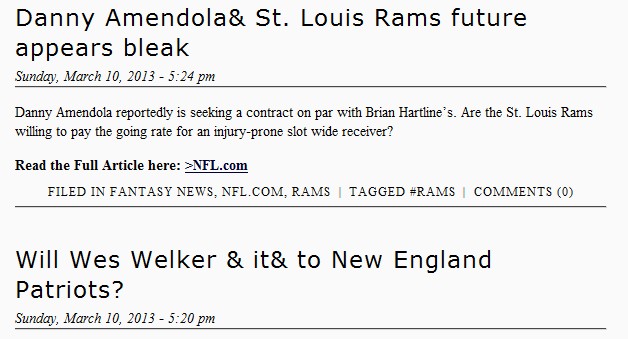 Most NFL fans know, there really is no offseason as far as coverage is concerned. And for fantasy football addicts, you always want to get a leg up on the competition.
Therefore, I would like to introduce you to one of the best fantasy football finds since the Fantasy Football Librarian and it's called Mr. Fantasy Football.
Mr. Fantasy Football is a one-stop shop when it comes to fantasy football news. And for those tired of checking 6 or 7 different websites, you're going to love this site.
MFF is an up to the minute sites takes the top fantasy news from all the major websites (NFL, Rotoworld, Pro Football Talk etc..) and puts that news in one spot. And when we live in a world of hundreds of fantasy football tidbits, it would probably help to be able to have just one that you can check that's always updated.
So save yourself some time and check out Mr. Fantasy Football. And no, they didn't pay GuysGirl to say that.