Most sports fans are well aware of the ticket challenge for South Florida teams, no matter the sport. But the recent $13 ticket deal offered by the  Marlins and Groupon isn't reason to pile on the Miami Marlins franchise before the season even starts.
Mark Townsend of Big League Stew said in a recent article:
"Fans can spend — or waste, depending on your perspective — as little as $13 dollar for a ticket in the Vista Level seating area and redeem it for a complimentary ticket of equal value to a future game in April or May, excluding games on April 5 or May 2-4. There's also a $20 ticket in the Bullpen Reserved section and a $33 ticket in the Lexus Legends seating. Again, both come with the same redeemable conditions for a future home game.
It's Groupon's sports deal of the week! But it's only available until midnight on Tuesday. Well, unless it's slow moving and they offer an extension.
In other words, look for an extension."
I like a lot of Townsend's writings, but it's not entirely whoaful as he paints it.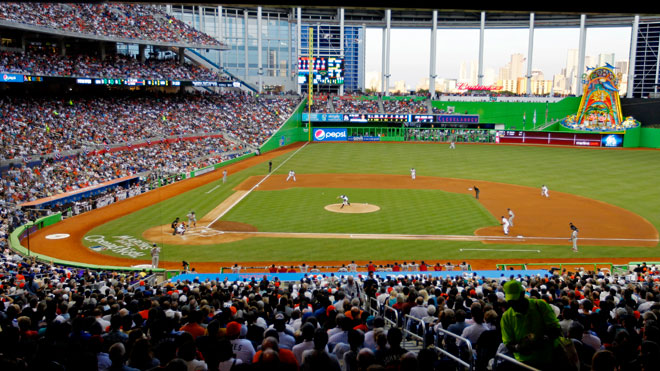 Sure, 2013 was rough when the team drew an average of just under 20k fans a game, ranking 29 out of 30 in all of baseball. But just the prior year, the team ranked 18th in overall attendance average, better than almost half the league.
The trickery of the Marlins' ownership, who got taxpayer money for the new stadium, didn't help to attract fans last year, either.
While it isn't financially practical for a team to survive on low ticket sales, going to a game that isn't a sell out can actually be rather nice. The bathroom lines short enough to go between innings/timeout, leaving after the game is a breeze, and the amount of time you're waiting for a beer almost justifies paying $10 for 12 ounces. Don't even get me started on the awesomeness of being able to stretch out in your seat or move closer to the action–for a fraction of the cost.
The diehard Marlins fans that do show up to the game, are probably enjoying themselves. And since no championship-caliber team is built in a day, these fans know the Marlins are famous for building it up, winning it all and selling it off, only to wash, rinse and repeat.
That's proven by their two World Series wins in '97 and '03. The team was challenged by trying to get a new stadium from 2006-2012, but after a new stadium and the emergence of future stars, Fernandez and Stanton, the team, and it's fans, have reason for hope–will will probably result in an up-tick in attendance.
Most sports teams don't have a problem attracting the diehards.
It's the casual fans and corporate America, the ones who don't come in the  [rain/heat/parking insert excuse here] that gives real sports fans a bad name.
So let's wait to pile on the Marlins for offering a ticket deal. Teams are supposed to put butts in the seats, and if that means getting creative, then so be it.