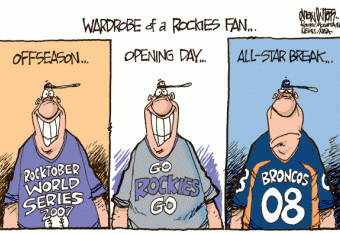 It's always fun to support teams that are successful and competent. They win and do all they can in pursuit for a championship. Goals are clear, and failure is not tolerated.
Must be nice.
Throughout the 2013 MLB season, Adam Stevinson will show you what it's like to live in a world without hope or chance of success, where even the strongest hallucinogens couldn't produce dreams of a championship. A world where you know the season is over before it starts yet can't stop yourself from watching and believing.
The world of a Colorado Rockies fan.
Spring. A time of hope and optimism.
For baseball fans, spring means the slate is clean. Hopes are high, and every team is in first place. Every prospect looks like a potential all-star. Every veteran who had a rough year comes back in the best shape he's ever been in. Pitchers have added new weapons to their arsenals, and the balls explode off of bats in spring training. Fans are full of hope and thinking, "You know, if we catch a few breaks and these guys pan out, we can make a run at it!"
Except for Rockies fans.
We have no hope.
The Rockies are by far the most inept organization in baseball, and to make it worse, the ownership doesn't have a clue. The marketing tagline for last season was "Year of the Fan", and how were we shown thanks? With the worst season in team history as the Rockies lost a franchise-record 98 games behind the most atrocious starting rotation in baseball.
General Manager Dan O'Dowd thought that signing 50-year-old Jamie Moyer would boost the rotation. He traded away the staff ace, Ubaldo Jimenez, for prized prospects Alex White and Drew Pomeranz. White has since been traded while Pomeranz is in AAA. Partway through the season, O'Dowd's brilliant solution was to institute a "piggyback" system and a pitch count Little Leaguers routinely surpass. Starters were yanked after 75 pitches, and the ball was handed to a designated "piggyback" reliever. The result was an overtaxed bullpen that threw over 650 innings.
O'Dowd's solution? Basically use the exact same rotation and hope they suck less.
The Rockies went into spring training counting on a quintet of guys who combined to go 13-26 with a 5.23 ERA last year. Jhoulys Chacin, the Opening Day starter, posted a spring ERA of 8.44. Jeff Francis was 6-7 with a 5.58 ERA last year yet led the team in starts and innings pitched (113) despite not joining the team until June. He's the rotation's most reliable starter. Jorge De La Rosa had elbow surgery in May of 2011 and missed almost all of last year.
Luckily, O'Dowd signed some reinforcements in the form of Chris Volstad, who couldn't stick with the pitching-poor Cubs, and Jon Garland, who sat out all of last year with an arm injury yet still replaced Pomeranz in the rotation.
O'Dowd has been at the helm since September of 1999. Under his watch, the Rockies have only had three winning seasons and two playoff appearances. They have never won the NL West.
Despite this lackluster showing, team owner Dick Monfort said, "I think he's a tremendous asset. I can't think of a general manager in baseball that's as good as him. Granted, I don't know all of them, but I just think he's heads and shoulders above everybody else."
Uhhhh…. I can think of a few. How about Brian Cashman? Theo Epstein? Kevin Towers? Andrew Friedman? Former Rockies pitcher Jerry DiPoto? Brian Sabean? Jon Daniels?
Hell, even Roger Dorn would be a better option.
Pretty much everyone is picking the Rockies to be abysmal this year. ESPN's Keith Law predicted 109 losses. Even the most optimistic of prognosticators still think the Rockies will finish last in the division.
Yet the power of Opening Day provided a glimmer of hope. Chacin worked into the 7th inning, Troy Tulowitzki and Carlos Gonzalez homered, and the Rockies took a 3-1 lead into the 8th before handing the ball over to the back end of the bullpen, considered one of the team's strengths.
Reliever Wilton Lopez, O'Dowd's big offseason acquisition, promptly gave up three runs. Rising star Dexter Fowler tied it in the 9th with a home run, but the bullpen faltered again in the 10th, resulting in a 5-4 loss.
It's going to be a long year.