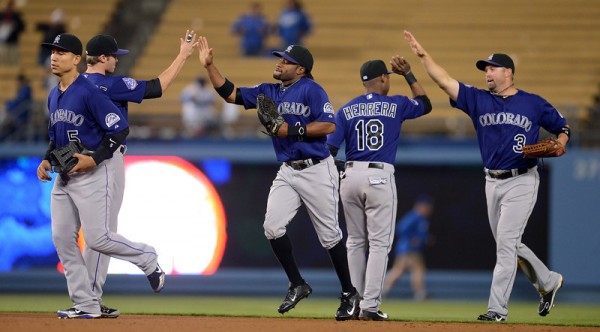 There's a saying in baseball that "you can't win the World Series in April but you can lose it" and that certainly applies to the Colorado Rockies.
April has not been kind to Colorado over the years. In the franchise's 20 years of existence, they have only had three playoff berths. Most of the time, the season was over after a dismal April with the Rockies buried at the bottom of the standings.
Even the best Rockies teams, the 2007 and 2009 squads, struggled in April. Both units struggled out of the gate and had to go on ridiculous winning streaks and catch fire in the second-half to claim a wild card berth.
This year was supposed to be more of the same. The Rox were universally picked to be one of the worst teams in baseball, yet they woke up on May 1 leading the NL West.
What's even more surprising is how they've done it. Colorado has always been known for a prolific offense at home that sputters on the road away from the friendly confines of Coors Field, but that's not the case thus far this season.
Despite playing 14 of their first 27 games on the road, the Rockies entered May tied the Major League lead in road home runs with 21, third in the NL in on-base percentage, third in hits, fourth in average, and fourth in runs. Combine those numbers with a pitching staff that has been surprisingly stout, and it adds up to first in the NL West.
The big question is, can the Rockies keep this up? It's hard to tell–after all, every team gets hot–but years of misery and mediocrity make even the most ardent fan take pause.
The rotation is fragile with Jhoulys Chacin already on the DL and Juan Nicasio and Jeff Francis struggling. The team recently signed Roy Oswalt, but he's 35 and injury prone. Can he hold up over the course of the season?
It's still early, but the most promising sign thus far is the competitive fire and bounce-back ability the Rockies have shown under rookie manager Walt Weiss. After every stumble so far, whether it's blowing a late lead on Opening Day or getting swept on the road by San Francisco, the team has shrugged it off and rebounded nicely. Last year, they would have spiraled out of control and let one loss turn into many.
This team can hit with anyone, that's for certain, but the key is the pitching staff. If the Rockies can keep getting quality starts out their starters, they'll make things interesting.
Of course, right as I say that, Francis can't make an early 3-0 lead over Tampa Bay hold up, and the Rockies lose 7-4 in extra innings.