For many athletes in all sports, they only have one plan, and that's to work their butt off until they make to the pros. Sometimes it works out and a lot of the time, it doesn't.
40 year old Ramon Ortiz was one of those athletes. He was drafted by the Angels in the 1999 and since bounced around to numerous farm teams and even had a couple stints in Japan until the Toronto Bluejays decided to give him a shot where he's gone 1-2 with a 6.07 ERA this season as a spot-starter.
But last night, Ortiz took the mound in the 3rd inning and after a pitch to Chase Headley, immediately knew something was wrong; threw his glove to the ground, took a few steps off to the side where he was joined by teammates.
In that moment, it's safe to assume Ortiz feared the worst as the tears started flowing. That his MLB dream has probably come to an end.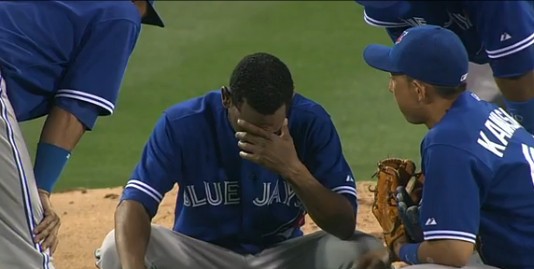 Jays Manager John Gibbons told MLB.com that "it doesn't look good" after confirming that Ortiz was placed on the 15-day DL until a MRI could reveal the severity of the injury.
"I saw him after it happened, in the training room," Gibbons said. "He has been at this game a long, long time. He has been a pretty healthy guy and this game takes its toll on you. He's a winner, he's a champ. I feel for him."
Infielder Mark DeRosa said it was a sombre game for the Jays after an 11th inning win.
"Watching him reflect on his career, hopefully he didn't throw his last pitch".
It's so tough for many of these athletes who, like Ortiz, only have Plan A of playing baseball for as long as they can. Plan B is not in the picture until it's forced upon them. And even then, many athletes choose another career in the same sport because they don't know life without it.
You can watch the heartbreaking video below of what happened before, during and after Oritz hurt his right elbow…