The Winter Finales are here!  AKA your favorite shows are all going into hibernation until next month and you'll get nothing but sappy Christmas specials and reruns in the interim.
Hey, don't feel bad.  Back in the day there were no "finales" when shows went on hiatus, it was just the next episode in the run and then screw you until January.
At least now, shows put in an effort to build intrigue before they take a break.  So let's recap the first wave.
.
Agents of S.H.I.E.L.D.:
The Big Plot Twist:  Evil organization Centipede isn't really after Mike Peterson (J. August Richards), they're after Agent Coulson (Clark Gregg)!
The Big Plot Jump:  Not much of one.  Skye (Chloe Bennet) gets dissed by May (Ming-Na Wen) in her quest to learn about her past.
The Cliffhanger:  Agent Coulson is taken hostage.
Overall:  This was really just an OK finale.  For the first 95% of it it was just another S.H.I.E.L.D. episode, although the resolution promises a big reveal about Agent Coulson's resurrection story, thus answering one of the big questions at the series' outset:  how is this guy walking around after he died in The Avengers?
.
Nashville:
The Big Plot Twist:  Juliette (Hayden Panettiere) shows up at Avery's (Jonathan Jackson) apartment ready to reveal her true feelings for him, only to see that he's with Scarlett (Clare Bowen).  Poor Juliette! Every time she has honest emotional moment, life kicks her in the head for it.
The Big Plot Jump:  Rayna (Connie Britton) is finally able to buy out her contract from evil Edgehill Records.
The Cliffhanger(s):  Closeted, tortured Will Lexington (Chris Carmack) is ready to commit suicide by train; Peggy Conrad's (Kimberly Wiliams-Paisley) been shot!
Overall:  This was a great finale.  Nashville managed its storylines perfectly so that a bunch of them all came to a head at once.  Can't wait for this one to come back, although I sincerely hope they haven't done away with Will, one of the most interesting characters on television right now.
Don't die Will; you're way too interesting to die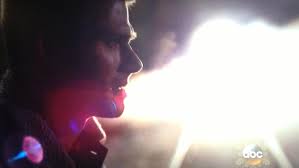 .
Parenthood:
The Big Plot Twist:  Ryan (Matt Lauria) can't handle civilian life anymore and re-enlists for another tour in Afghanistan.
The Big Plot Jump:  Julia and Joel (Erika Christensen, Sam Jaeger) make an effort to improve relations, but she is realizing she has feelings for Ed (Joel Denman).
The Cliffhanger:  Drew's (Miles Heizer) exgirlfriend shows up at his door, just as he's rethinking his emotionally unsatisfying relationship with his FWB.
Overall:  Big plot twists and jumps go against the grain of Parenthood's slow burn slice of life, but there are worse ways to spend your winter finale than highlighting one of your best actors (Mae Whitman) and letting her run the gamut.
The incomparable Mae Whitman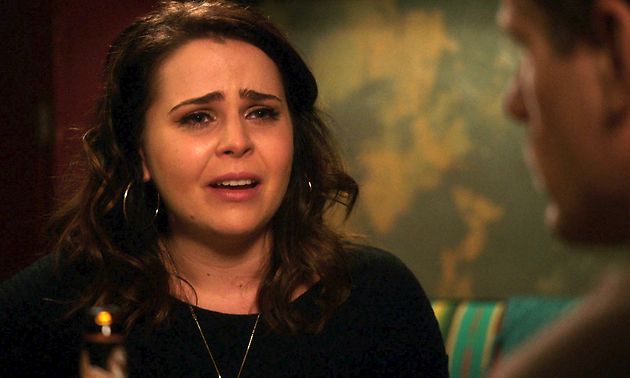 .
Arrow:  
The Big Plot Twist:  The villain behind the super soldier serum plot is actually Oliver's (Stephen Amell) old friend Slade (Manu Bennett).
The Big Plot Jump:  We learn Shado's (Celina Jade) ultimate fate on the island
The Cliffhanger(s):  Roy (Colton Haynes) has been injected with serum; Barry Allen (Grant Gustin) just got struck by lightning, which is the trigger for him to become The Flash.
Overall:  This was mostly just another episode, but Arrow is enjoying such a tremendous second season that is easily forgivable.  This show has really hit its stride.
.
Scandal:
The Big Plot Twist:  Rowan Pope (Joe Morton) is out as the chief of super secret spy organization B613; Jake Ballard (Scott Foley) is in.
The Big Plot Jump:  A complete rundown of what Maya Pope (Khandi Alexander) did to get locked up for 22 years.
The Cliffhanger(s):  Maya ditched her flight (and apparently killed the flight crew) and is already back in Washington.
Overall:  Scandal arguably needed to deliver the longest lasting punch since it won't be back 'til late February, but the show moves at such a breakneck pace all the time, this episode actually served to tie up a number of loose ends from the fist half of Season 3 and to set up the remainder of the season when the show returns.  As a stand alone finale it was just OK, but as the finishing touch on a brilliantly played series of story arcs it was just right.
.
Grimm:
The Big Plot Twist:  Giant snakemen who live in the sewers.  Demonhead Santa who abducts the naughty and leaves coal at the scene of the crime.
The Big Plot Jump:  Renard (Sasha Roiz) has formed an alliance with the resistance in Europe.
The Cliffhanger:  What's gonna happen when Adalind (Claire Coffee) has that baby?
Overall:  Grimm isn't quite as serialized as these other shows, so the winter finale was basically just two episodes back to back, but we did get to see this!
Ho Ho Hooooly Shit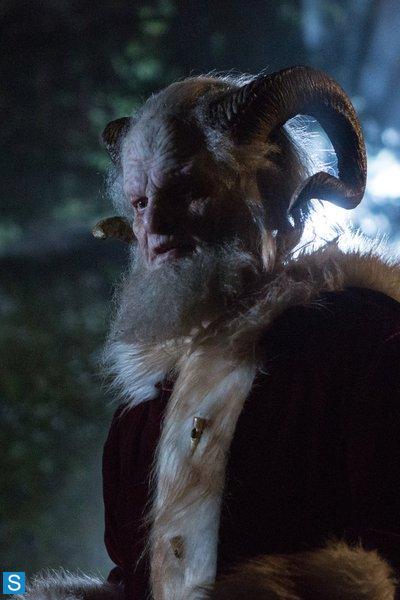 Quick Takes

This week's "Starbucks across from a Starbucks" moment:  on Monday night at around 11:45, you could see Stephen Colbert hosting The Colbert Report and being interviewed as the guest on Late Night With David Letterman.
Educational TV.  Things we learned from watching TV this week: 1) Chris Paul is no relation to RuPaul (Olbermann); 2) Without photoshop and airbrushing, Kim Kardashian has the body of a hobbit (South Park); 3) Heroin whores get insulted if you call them crack whores (The Tonight Show); 4) Christmas horny is the most dangerous horny (The Millers).
If you missed, HBO's Six By Sondheim this week, do yourself a favor and catch it on demand.  The documentary provides some of the most intriguing insight into the creative process I've seen, and features wonderful archived and new performances of classic Sondheim compositions.
.
Reality Check:  Blink and you'll miss Season 4 of The Sing Off, which premiered December 9 and will finish up on December 23.  In between, however, is the most unique singing competition television, which features top notch a capella talent  and a panel that includes the best judge on television Ben Folds.  If the only a capella you ever heard was in the movie Pitch Perfect, check this show out and you'll be pleasantly surprised.
If you didn't already want to see Saving Mr. Banks, any of Emma Thompson's appearances on the late night circuit this week had to have convinced you.  For an actress who typically plays such stuffy and serious roles, she is delightfully funny and engaging.
.
Looking Ahead
Homeland & Masters of Sex air season finales on Showtime on December 15.
The winter finales of Once Upon A Time and Revenge air on ABC on December 15.
Psych The Musical airs on December 15 on USA Network.
Almost Human airs its winter finale on Fox on December 16.
How I Met Your Mother, 2 Broke Girls and Mom air winter finales on CBS on December 16.
The season finale of The Voice airs on NBC on December 17.
Person of Interest airs its winter finale on CBS on December 17.
The X Factor airs its finale on Fox on December 19.
The Returned airs its finale on Sundance Channel on December 19.
The Carrie Diaries airs its winter finale on The CW on December 20.
.
TV's a big place and I haven't been to all of it yet.  Got a favorite show you'd like me to comment on?  Post a comment below, contact me on twitter @RobLazlo. or shoot me an email:  [email protected].  I welcome your input!