If you grew up in the 90's, chances are you're pretty pumped that Girl Meets World, a storyline focused around the child of Corey and Topanga from Boy Meets World is set to hit our tv's soon.
But if you had the hots for Topanga, you're even more in luck because she's this month's cover girl for Maxim magazine and boy….does she look smokin' hot.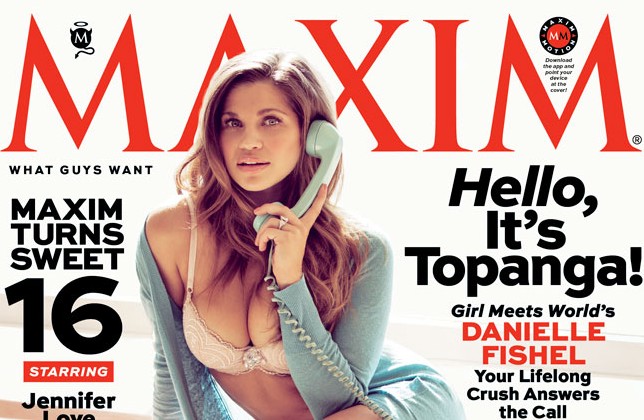 In the interview with Maxim, Danielle Fischer (Topanga's real name) dropped some knowledge on the old crew from Boy Meets World, her new engaged life and what she hopes to get out of Girl Meets World.
Couple of our favorite lines include…..
On why she thinks people feel an attachment to Boy Meets World…
"We were in people's family rooms every Friday for seven years. When I watch old episodes, it's like watching home movies, so I imagine that other people feel the same way. ABC's TGIF lineup was probably the one time a week when parents and kids all watched TV together."
On who her first girl-crush was…
"Kelly Kapowski was my first-ever girl crush. I re­member watching her and thinking, Nobody in the world could possibly be as beautiful as she is. She's still stunning."
On her musical taste…
"I'm huge into '90s rap. It's my jam. My all-time favorite album is Snoop Dogg's Doggy­style. And if you ever really want to see me embarrass my­self, put on some Notorious B.I.G. and watch me grab my crotch and mouth all the words. It's really embarrassing, but I can't help myself."
If her answers are any indication as to how great Girl Meets World will be, you can bet your bottom dollar this show will be a success with both past and current generations.
See the full interview here along with some pictures in her Maxim spread.