What a difference a year makes.
No conference is happy to see 2013 arrive than the Big Ten. Last year at this time, the conference was reeling, dealing with the aftermath of scandals at two of its most prestigious institutions. Both Ohio State and Penn State were banned from the postseason, and the Nittany Lions were hammered by the NCAA as a result of the Sandusky sex abuse scandal.
The additions of Maryland and Rutgers were panned, and Rutgers was embroiled in a scandal of its own that led to a shakeup of the administration.
On the field, things didn't go according to plan.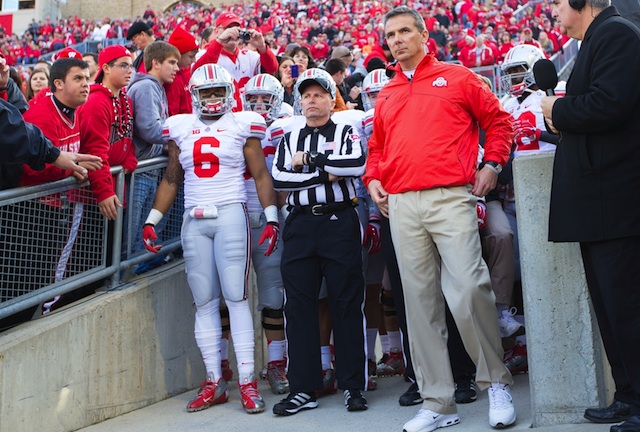 No Big 10 team was in the national title discussion, and the conference was absent from the top of the rankings. Only two Big Ten teams finished the year ranked in the USA Today/Coaches poll, and neither were ranked higher than 16.
Four teams cracked the final AP Top 25 poll, but other than Ohio State, all were ranked 17th or lower.
The Buckeyes finished the year 12-0 but were shut out of postseason play thanks to NCAA sanctions. Preseason favorites Wisconsin, Michigan, Nebraska, and Michigan State all failed to live up to expectations.
Michigan began the year in the top ten but finished 8-5. Wisconsin and Michigan State were in the top 15, but both finished with six losses and were unranked. Wisconsin made it to the Big Ten title game because both Penn State and Ohio State were ineligible. The Badgers then pummeled Nebraska 70-31 to keep the Cornhuskers out of the Rose Bowl.
On the bright side, Northwestern won 10 games for the first time since 1995 and just the second time in over a century.
Penn State defied all expectations and won 8 games in Bill O'Brien's first year despite all the NCAA fines and sanctions, and Ohio State went undefeated in its first season under Urban Meyer.
Entering 2013, Ohio State is a top-five team and national title contender.
Quarterback Braxton Miller is a Heisman contender.
Michigan is on the rise, and Northwestern is primed for its best season in years.
There's optimism at Indiana, and Purdue and Wisconsin are excited about their new head coaches.
Overall, things are much more positive for the Big Ten heading into the upcoming season than they were a year ago.
Cream of the Crop
Ohio State, Northwestern, Wisconsin, Michigan, Nebraska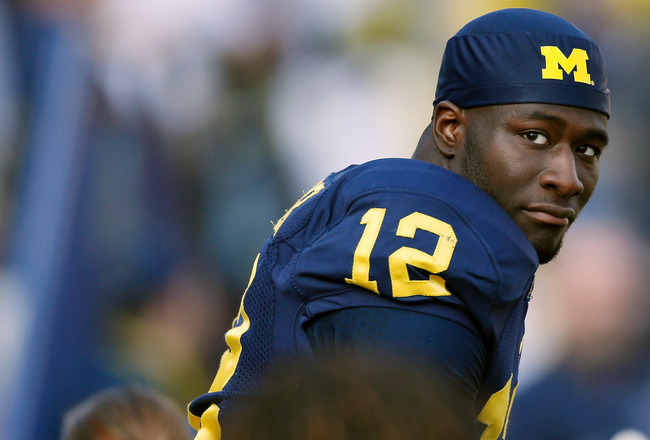 Ohio State enters 2013 with high hopes and even higher expectations. People expected big things from the Buckeyes under Urban Meyer, but it wasn't supposed to happen this quickly. In Meyer's first year, Ohio State ran the table and finished as the nation's only undefeated team.
Quarterback Braxton Miller was sensational, throwing for over 2,000 yards with 15 touchdowns while adding another 1,400 on the ground with 13 rushing touchdowns. He is one of the Heisman favorites for 2013. The offense will be in good shape as Miller is joined by a loaded backfield and experienced offensive line, but the passing game does need to improve. Miller must become more consistent and better in the pocket, and the team could use one or two guys to step up at receiver.
Ohio State loses a lot on defense but has a number of highly-ranked recruits coming in to plug the holes.
Their potential is huge, but will they live up to it?
If they do, how long will it take? The Buckeyes are good and will certainly win 10-12 games, but they are overrated. Much was made about last year's undefeated season, but it came against a soft schedule.
This year's slate isn't any tougher, so Ohio State has a good chance of running the table again. However, if they have to face an SEC team in the title game again, they'll be exposed again. Meyer is bringing in a lot of talent, but the Buckeyes aren't there just yet. Still, this is the beginning of another great run in Columbus.
Northwestern has been successful under Pat Fitzgerald, but 2012 was the school's best season yet under its former linebacker.
The Wildcats won 10 games for the first time in nearly 20 years and just the second time in over a century.
In a remarkable stat, the Wildcats trailed for under five minutes combined the entire season last year.
If it wasn't for some late-game collapses, Northwestern would have run the table in the Big Ten and played for a Rose Bowl berth. That, and the fact that most of the key players from a year ago return, has Northwestern thinking big this year, as in Big Ten title-big.
Quarterbacks Kain Colter and Trevor Siemian and running backs Venric Mark and Mike Trumpy return to lead a powerful running game that was 19th in the nation last year.
The defense did well in limiting opposing teams to points (22.5 points a game) but was vulnerable to the pass. As a result, Northwestern's defense struggled to get opposing offenses off the field. The special teams unit is solid, especially with accurate kicker Jeff Budzien and Mark returning.
The schedule is tough, but at least Northwestern gets Ohio State, Michigan, and Michigan State at home. Another 10-win season is a definite possibility, as is a Legends division title, but with a few lucky breaks, Northwestern could go even higher.
Bret Bielema took the keys to the Wisconsin program from Barry Alvarez and kept things humming. Under Bielema, the Badgers were 32-8 from 2009-2011 and have played in the past three Rose Bowls. Bielema's teams ran all over opponents with bruising tailbacks like Montee Ball piling up yards behind a mammoth, road-grading offensive line. Then, in one of the more surprising moves of the offseason, Bielema left Madison to take over at Arkansas.
It's hard to upgrade from such a successful coach, but Wisconsin may have done just that when they hired Gary Andersen away from Utah State. Andersen took Utah State to unprecedented heights, and the Aggies were not just the best mid-major team last year, they were one of the best in the entire country. Of course, that doesn't guarantee success, but if anyone can do it, it'd be Andersen. He's also brining defensive coordinator Dave Aranda with him, and if they can create a defense like the one they had in Logan, the rest of the Big Ten should be very, very afraid.
Wisconsin's 8-6 record in 2012 was a big misleading, as each of the Badgers' six losses was by a touchdown or less. Wisconsin has long had an identity as a power run team–the Badgers put up an incredible 640 yards rushing against Nebraska in the Big Ten title game–and that trend should continue under Andersen and new offensive coordinator Andy Ludwig. They'll have to replace all-time great Montee Ball, who set the NCAA career record for touchdowns–but that is not as daunting a task as it seems. James White had over 800 yards rushing and averaged 6.4 yards a carry while Melvin Gordon added another 600 yards at 10.3 a pop. Jared Abbrederis is back and the only standout at receiver, but that's not a big issue since Wisconsin doesn't throw it much anyway.
Wisconsin's defense played well last year, and most of it returns. Combine that experience with the defensive acumen of the new coaching staff, and you have a lot of excited fans in Madison. Even better, the players seem like a good fit for the new scheme. The one concern is that the team lost its top two cornerbacks from a year ago.
The schedule sets up nicely for the Badgers, as well. Arizona State provides an interesting out-of-conference matchup, as does BYU in a matchup of unstoppable offense meets immovable defense (seriously, watch that game if you can. It's going to be fun), but the Big Ten schedule is pretty easy. Wisconsin avoids both Michigan teams and gets Northwestern at home. Wisconsin does play at Ohio State, but that is the only game in which Wisconsin will clearly be the underdog, and they are capable of pulling off the upset. Wisconsin will rebound in 2013 and win a ton of games, that much is certain. Ten wins seems like a given, but 11-1 or 12-0 are definite possibilities. If Wisconsin can get past Ohio State, they'll likely play in the Rose Bowl for the fourth-straight year.
Michigan entered 2012 with high hopes–the Wolverines began the year ranked in the top ten–but did not meet those expectations.
A season-opening blowout loss to Alabama dashed Michigan's national title hopes, and the Wolverines went on to lose to Notre Dame, Nebraska, Ohio State, and South Carolina.
Star quarterback Denard Robinson battled with injuries, and with his departure, Michigan is implementing a more conventional, pro-style offense after running the spread for a number of years.
How quickly will the players adapt to the new scheme?
Devin Gardner filled in admirably for Robinson last year, and how well he performs as the full-time starter this year in a new system will go a long way towards determining how successful Michigan will be. He needs to be more accurate, but he also did a good job of taking care of the football as he threw over twice as many touchdowns as interceptions a season ago.
On defense, the Wolverines were solid against the run but vulnerable to the pass. Michigan's schedule shapes up nicely, too. The Wolverines get Notre Dame at home in week two, but the rest of the non-conference slate should produce no challenges. Michigan avoids Wisconsin and gets Nebraska and Ohio State at home. Road trips to Michigan State and Northwestern are potential pitfalls, but both games are winnable. Michigan is a tough team to predict.
The Wolverines have talent and a favorable schedule, but they are switching to a new system with a quarterback who has yet to be a starter for a full season. While Michigan could certainly win 11-12 games, the most likely total is 8-10 wins.
Nebraska has been consistently good under Bo Pelini, but the Cornhuskers haven't been great. Nebraska has won nine or ten games for five consecutive seasons but failed to win a conference title. Nebraska fans expect more. Senior quarterback Taylor Martinez returns, and while his throwing ability is questionable, he did throw nearly twice as many touchdowns (23) as interceptions (12) last season and has his top three receivers back.
A phenomenal runner, Martinez was Nebraska's leading rusher with 1,255 yards and 10 touchdowns. With fellow 1,000-yard rusher Ameer Abdullah at running back, Nebraska should have one of the most potent ground attacks in the country this season.
The defense has been in decline ever since Ndamukong Suh left.
The front seven was unspectacular last year and is riddled with untested players this year. On the plus side, the secondary should be good.
With eight home games (seriously, how is that possible?) plus road games again Minnesota and Purdue, the schedule is there for another 10-win season. The only tough games appear to be Northwestern, at Michigan, and Michigan State. Another 10-win season is almost a certainty, and odds are good that Nebraska will go 11-1 or even 12-0.
However, that easy schedule means the Cornhuskers are likely to get exposed in postseason play yet again.
Middle of the Pack
Penn State, Michigan State
Penn State had a wildly successful season in 2012. Considering all that had transpired in Happy Valley, expectations were low for Penn State. There were considerable doubts about first-year coach Bill O'Brien, but he was masterful. His tenure started out rocky with losses to Ohio and Virginia, but Penn State rallied to win five-in-a-row and eight-of-ten to finish the year 8-4.
Despite all that, things are about to get harder for O'Brien. Transfers and scholarship reductions left the Nittany Lions with an already thin roster, but now they have to replace numerous players and backups, including their starting quarterback, all-conference center, and top tacklers at every level of the defense. A few injuries could really decimate this team.
The defense was solid and should be again, although like the offense, depth is a concern. Of all the teams in the Big Ten, that makes Penn State the wildcard and hardest to predict. O'Brien is a fantastic coach, and a glance at the schedule reveals eight games in which Penn State should be favored. Of the remaining four, Penn State could pull out another one or two wins.
On the other hand, what happens if a key player goes down? Penn State has no margin for error. Some unlucky breaks could put this squad into 5-6 win territory.
Michigan State had a disappointing year last year. Under quarterback Kirk Cousins, the Spartans were one of the best teams in the country and went 22-5 in his last two seasons, but when Cousins graduated, the offense faltered under replacement Andrew Maxwell.
After going 11-3 in 2011, the Spartans dropped to 7-6 last season. The biggest culprit was the offense, particularly the passing game. Maxwell only completed 53 percent of his passes–in his defense, he wasn't helped by 66 dropped passes by his receivers–and only threw 13 touchdowns against nine interceptions. Workhorse running back Le'Veon Bell departed for the NFL, leaving an untested crop of running backs and converted linebacker Riley Bullough to pick up the slack.
An experienced offensive line will help, but with Michigan's State style of play, someone needs to step up big time in the backfield. Luckily, Michigan State doesn't have to worry about the other side of the ball as the defense is one of the nation's best. Six starters return, including linebacker Max Bullough and corner Darqueze Dennard, from a defense that is equally good against the run and the pass.
With such a stout defense, the Spartans will be in every game, but their mediocre offense doesn't give them any room for error. With some improvement from Maxwell & Co., the Spartans could easily contend for the Big Ten title. However, I just don't see that happening. The Spartans will certainly win 8-9 games, but that dreadful offense is enough of a concern to doubt they'll reach higher than that.
Bottom of the Barrel
Purdue, Iowa, Illinois, Indiana, Minnesota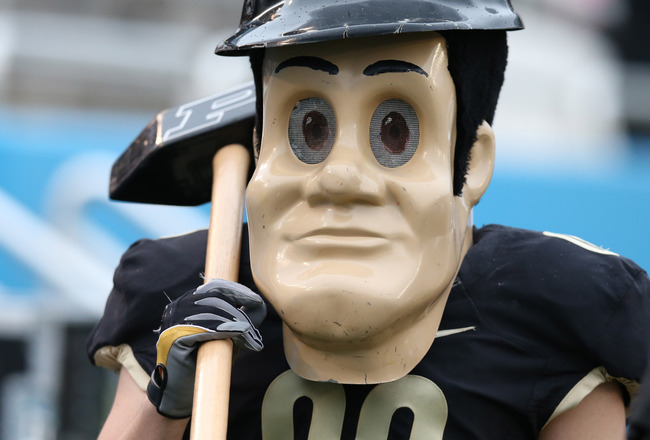 This season marks the first year of the Darrell Hazell era at Purdue. Hazell guided Kent State to its best season in decades, leading the Golden Flashes to an 11-3 record and AP ranking while narrowly missing out on a MAC title and BCS bid.
He turned around the Golden Flashes in two years; the Boilermakers are hoping he can do the same for them. Hazell will have to break in a new quarterback and replace last year's top running backs and top two receivers.
The situation is better on the other side of the ball, as plenty of experience returns in the front seven, although the loss of Kawann Short hurts.
The secondary is experienced and did a decent job last year. While Purdue is more talented and a better team than the rest of this list, the Boilermakers' schedule does them no favors. Non-conference games against Cincinnati, Notre Dame, and Northern Illinois will be tough, and the first four conference games are against Wisconsin, Nebraska, Michigan State, and Ohio State. Purdue could easily start the season 1-7.
The Boilermakers will certainly be better than their record indicates, but with a new coaching staff and new systems, 2013 is going to be a transition year.
Iowa has been in decline for a few seasons now. After finishing 11-2 in 2009, the Hawkeyes have gone 8-5, 7-6, and 4-8. The Hawkeyes lost to Iowa State and Central Michigan before closing the season with six-straight losses.
Head coach Kirk Ferentz isn't going anywhere soon, much to Iowa fans' dismay, but he has turned this program around before.
The offense was abysmal while the defense fell apart. Unfortunately for Iowa fans, things don't look like they'll get any better this year. The run game should be better, but the annual decimation of Iowa's running back corps will likely leave that unit depleted once again. James Vandenburg wasn't great last year, but he was experienced.
Breaking in a new quarterback is rarely easy, and Iowa doesn't have a lot of weapons to help with that transition.
On defense, the Hawkeyes are capable against the run but awful against the pass. To make matters worse, the Hawkeyes lost about half of their top defensive backs from last year as well as the best pass rusher. At best, this team could win six games and become bowl-eligible, but that requires everything going right.
On paper, the only winnable game in the second half is at Purdue, and of the non-conference games, Iowa State beat the Hawkeyes last year while Northern Illinois is coming off a BCS appearance. Two to four wins seems likely.
It's apparently going to be a rough year for 'I' schools in the Big Ten. Iowa's struggling, and Illinois is just as bad, if not worse. The Illini went 2-10 in Tim Beckman's first year and looked pretty bad along the way. The offense was bereft of big plays while the defense gave them up.
Senior quarterback Nathan Scheelhasse returns, but he only threw four touchdowns while tossing eight interceptions and was sacked a staggering 22 times. He doesn't have any legitimate playmakers.
The defense faces a major rebuilding project, especially up front, so don't look for any help on that side of the ball. On top of all that, Illinois has a difficult schedule with Cincinnati, Washington, Wisconsin, Michigan State, Nebraska, Ohio State, and Northwestern. Looking at the schedule, only the opener against Southern Illinois is anything close to a sure-win.
This team could go winless at worst and win maybe three games at best.
Unlike the other two 'I' teams on this list, Indiana has hope. The Hoosiers won four games, including their first back-to-back Big Ten wins in five years, and nearly made the Big Ten championship game (due to Ohio State and Penn State being ineligible, but still).
There is no way Indiana will compete for a spot in the title game, but a bowl game is a distinct possibility. Indiana lost close games to Michigan State and Ohio State. The Hoosiers return most of the starters from a productive passing attack that averaged over 300 yards and 31 points a game.
The defense was dreadful and won't be much better, but there is help on the way. Indiana has recruited well, but it's going to take time. The Hoosiers somehow have eight home games, and most are winnable.
Indiana will certainly win at least four games, and could very well reach six victories and a rare bowl appearance.
Minnesota won six games in 2012 and made a bowl game, but after starting the season off with a schedule full of cream puffs, the Golden Gophers went 2-7 the rest of the way. Minnesota wasn't really great at anything and was bad at a lot of things.
Touted prospect Philip Nelson is the presumptive favorite to start at quarterback, and he'll be helped by an offensive line that returns eight players with starting experience. The skill positions need to become more explosive, though. The defense needs to tighten up against the run, but it should be solid against the pass.
The schedule does Minnesota no favors, either. The first five games are winnable, but of the remaining seven, only the Indiana game gives Minnesota a chance, and that game is on the road. Figure 4-6 wins for the Gophers.
Legends Division Champion
Northwestern
The Legends Division is by far the deepest of the two Big Ten divisions–only Iowa doesn't have a shot–but its champion will also be the underdog in the Big Ten title game. Each of the contenders is flawed. Michigan State has the best defense, by far, but the Spartans' offense is atrocious. There is currently a four-man competition going on for the starting job, and that's never a good sign. Sparty also lost its best offensive weapon in Le'Veon Bell. Michigan has to adjust to a new offensive scheme with a quarterback who hasn't been a starter for a full season. Nebraska has an above-average running attack, but Martinez is erratic throwing the ball while the defense has declined in recent years. The Cornhuskers have been lit up fairly often on the defensive side of the ball, most notably in last year's Big Ten title game.  Northwestern nearly ran the table last year and returns an experienced, talented team. They have the toughest schedule but also the fewest question marks.
A case can be made for any of these teams, but I feel that this year, the ball bounces the Wildcats' way. Colter and Mark lead the way on offense, and the defense doesn't cough up late leads like it did a year ago. The Wildcats finally break through and make the Big Ten championship game.
Leaders Division Champion
Wisconsin
Look, I know Ohio State is overwhelming favorite here. The Buckeyes went undefeated last year, they have Braxton Miller and Urban Meyer, and they are recruiting like gangbusters, I know. That being said, they remind me a lot of Florida State the past couple years. Everyone touted them and built them up yet ignored some red flags. Ohio State won 12 games last year, but it was against a fairly easy schedule. Even more, they struggled in quite a few of them. Plus, the Buckeyes have to replace much of last year's front seven. That's not a good sign when you have to play a Wisconsin team that will run right at the new guys. The Badgers are experienced and have the confidence born from playing in three consecutive Rose Bowls. Andersen and Aranda are phenomenal coaches, and they're inheriting personnel well-suited to their scheme. Ohio State will face the pressure of national title hopes every week while Wisconsin will not.
In the end, an experienced, battle-tested Wisconsin team pulls off the upset in its one big game of the year and wins the Leaders Division.
Conference Champion
Wisconsin
The Legends Division is deeper, but the top of the Leaders Division is much stronger. Whoever wins between Wisconsin and Ohio State will be heavily favored in the Big Ten championship game. As much as I like Northwestern, I just can't see them holding up for long against the powerful ground attacks of Wisconsin and Ohio State.
Since I picked Wisconsin to win the division, the Badgers are the pick to represent the Big Ten in the Rose Bowl.