Hollywood Foreign Press, we beg you: please never, ever let Tina Fey and Amy Poehler go. Ever. #FeyPoehler2014
As expected, their opening monologue did not disappoint, and they even slayed a couple actors (cough, Clooney dig). You can watch it here.
But I guess it wasn't good enough for Julia Louis-Dreyfus, though, who smoked an e-cig during the monologue.
The quirky and always endearing JLaw giggled throughout her acceptance speech for Best Supporting Actress in a Motion Picture for "American Hustle," but only after she could get in a Taylor Swift photobomb during the red carpet.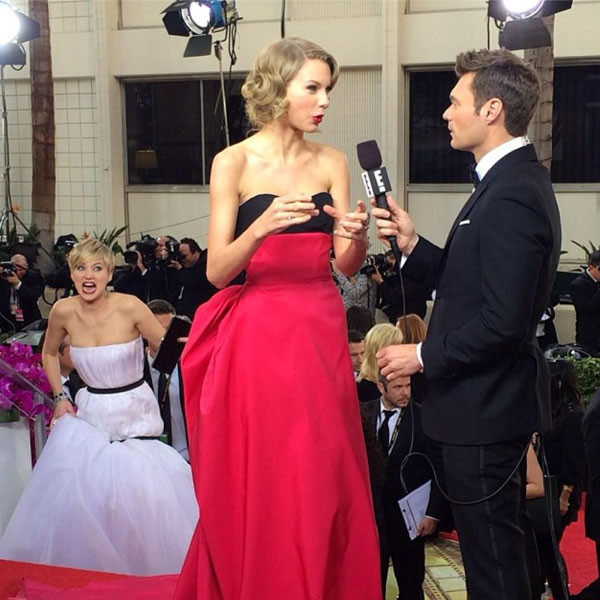 Then Jacqueline Bisset gave the world's longest and most incoherent acceptance speech in Golden Globes' history. And this says a lot, considering the amount of free-flowing champagne and lack of snacks at this thing.
She sure was dancing on the edge of, um, something.
Matt Damon was the world's most beautiful garbage man.
The Wolf of Wall Street's Margot Robbie stole the show (SMOKESHOW ALERT) during a teleprompter mishap.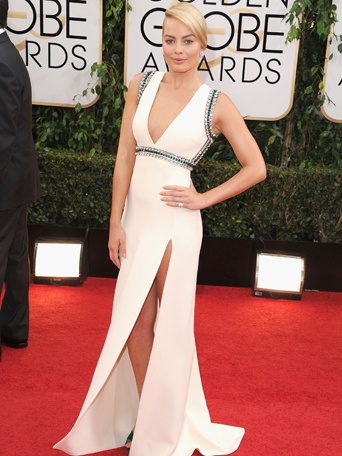 Ms. Robbie and her co-star Jonah Hill presented Bryan Cranston with the award for Best Actor in a TV Drama then immediately gave Mr. White (and the whole "Breaking Cast" cast and crew) the award for Best TV Drama. And Aaron Paul gave us what we all wanted.
Paula Patton wore a loofah. Way to go, girl.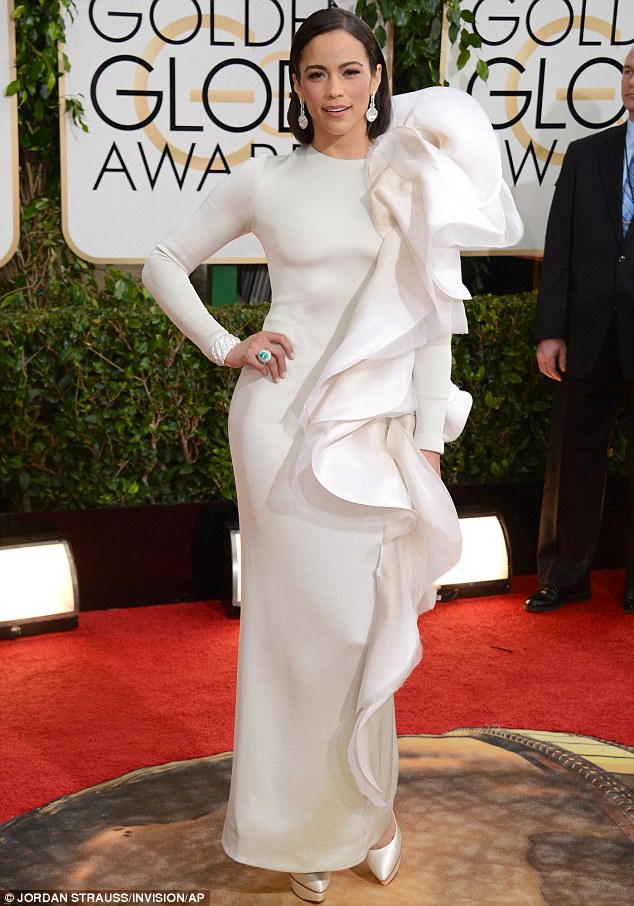 P. Diddy Ciroc'ed all over the Globes' stage and had a super awkward hug (run-in) with Bono. I have a feeling he took a couple pulls of whatever Ms. Bisset was drinking.
My favorite ginger beaut Amy Adams beat out Meryl Streep and JLD to win Best Actress in a Motion Picture (Comedy) for "American Hustle." And her speech was pretty much everything you'd expect an Amy Adams acceptance speech to be (see: adorable).
Our favorite funny girl LJD continued to be the best attendee of all time. And threw so much (fake) shade to her fellow actors and actresses in the room.
Amy Poehler dressed up as Randy, Tina Fey's son, aka Mr. Golden Globes.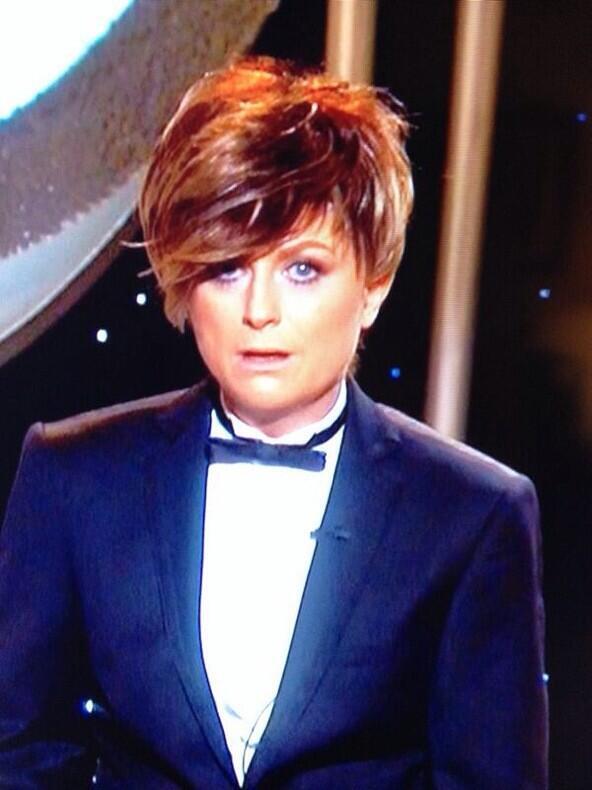 After a dead sprint to the stage, the stunning Robin Wright took home the award for Best Actress in a TV Drama for Netflix's original series "House of Cards." And since she didn't plug the show and I'm a huge fan, Season 2 starts on Feb. 14 (Happy Valentine's Day, lovers!). Who needs a fancy night out when you can have Kevin Spacey and political scandals, anyway?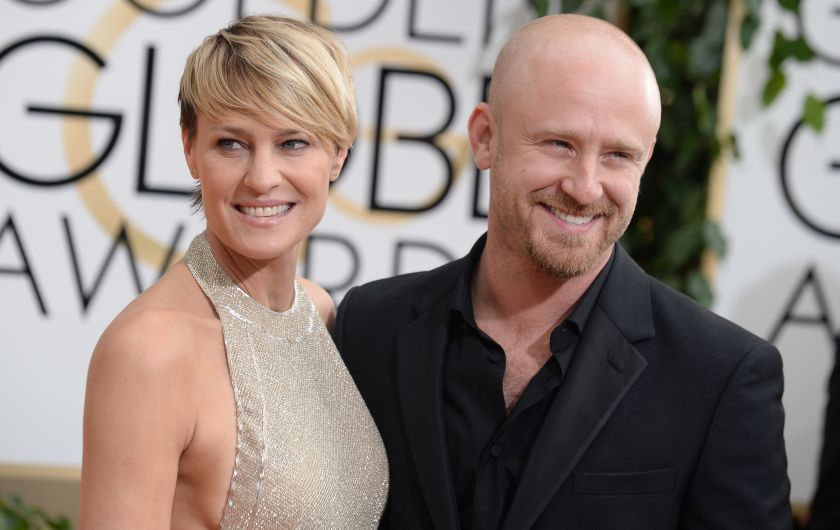 Jared Leto won Best Supporting Actor in a Motion Picture for his work in "Dallas Buyers Club" and didn't even get an up-do for the special night.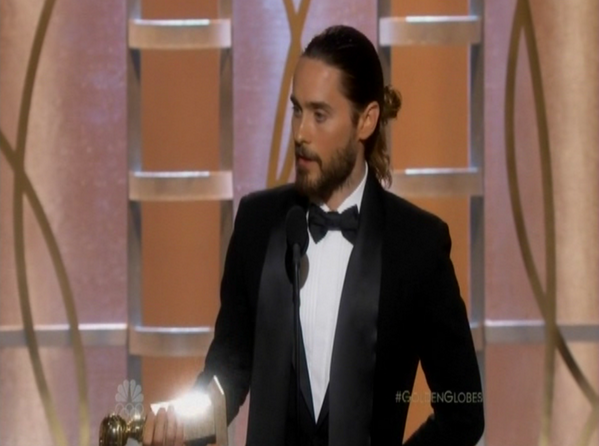 Emma Thompson, who ran and screamed down the red carpet (with Louboutins in hand) earlier in the day, once again ditched her shoes but found a martini – my kind of woman. She seriously said, "I present the nominees, well, not me the Voice of God, for Best Screenplay" then announced she didn't have the winner envelope. And you know why? Because you're the winner, Emma. You're all we needed.
Funny guy Andy Samberg (otherwise known as one-half of The Lonely Island) won Best Actor in a TV Comedy for the new "Brooklyn Nine-Nine." And although I'm a little sad Justin Timberlake didn't hop on stage for a reprise of "Dick in a Box," his acceptance speech was pretty cute.
THEN AMY POEHLER WON BEST ACTRESS IN A TV COMEDY FOR "PARKS AND RECREATION," AND EVERYTHING WAS RIGHT IN THE WORLD.
I hope she celebrates with a big plate of waffles.
Woody Allen, a no show, won this year's lifetime achievement award. Diane Keaton (and her tie) accepted the award on his behalf, then she got bleeped out for a solid 15 seconds and sang us a very Carrie-esque lullaby.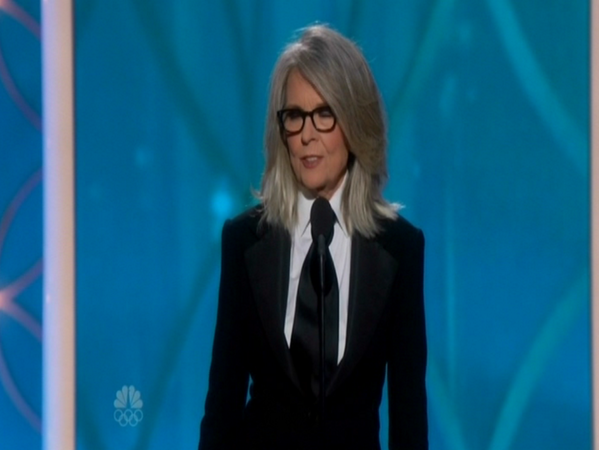 Then JLD (who really does deserves a Globe just for her crowd performance last night) ate a hot dog. And it looked like it was delicious.
The beautiful Leonardo DiCaprio took home the award for Best Actor in a Motion Picture (Comedy) for "The Wolf of Wall Street," and basically every female in the ballroom squealed and blushed and (probably) fainted.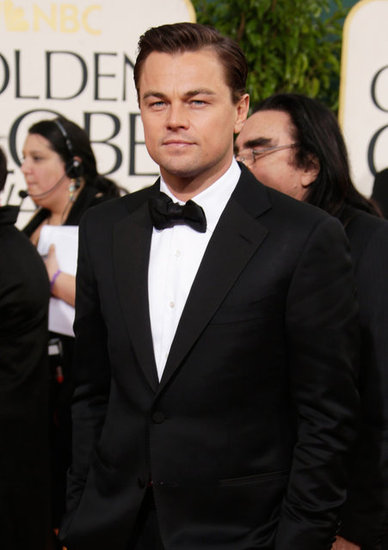 The cast of "American Hustle" won for Best Picture (Comedy), and I was personally happy to see that Bradley-Best-Smile-in-Hollywood-Cooper had ditched his character's permed hair and returned to his natural do.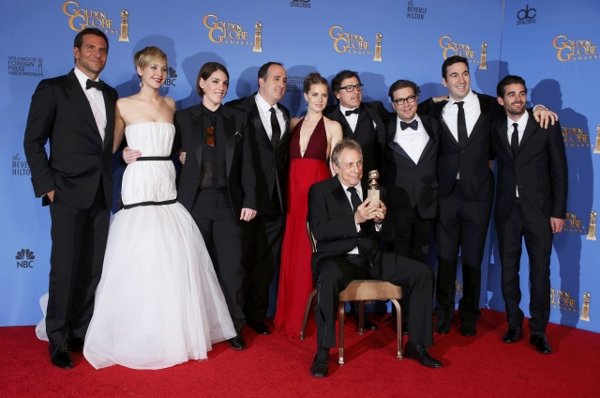 Ms. Fey then re-introduced Leo to the stage like this: "And now, like a supermodel's vagina, let's all give a warm welcome to Leonardo DiCaprio!" and the whole room loved it (duh).
No, really, she said that. On live TV.
Then everyone's favorite naked bongo player Matthew McConaughey accepted the award for Best Actor in a Motion Picture (Drama) for his outstanding work in "How to Lose a Guy in 10 Days." Wait, no, "Dallas Buyers Club." But not before he could give us all his signature "allllriiight alllriiight allllriiiiiiiighttt" cat call.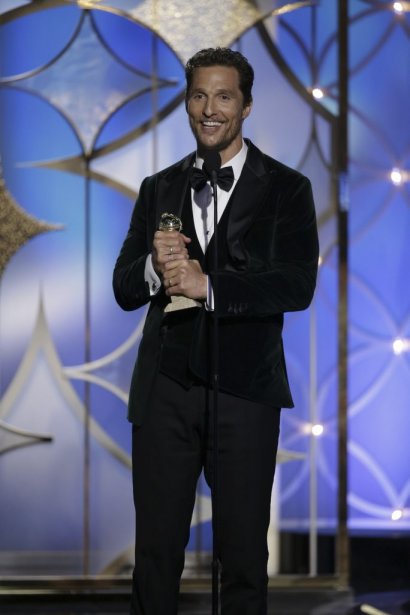 To end the night, "12 Years a Slave" won for Best Picture (Drama), and Fey/Poehler finished the show on time. Which really deserves an award itself.
And I, for one, am sad I have to wait another 364 days for the next Globes. I guess I'll just have to keep re-watching my girl Emma win the award for I Don't Give a Shit, Hold My Martini.
Check out the complete list of last night's winners here.