The landscape of the female sports fan has changed dramatically over the last ten years and continues to evolve every season. Females represent a significant amount of the football fanbase and because of this, there are numerous women writing about sports, making gameday clothes, creating fun ways to have a Superbowl party and so much more.
Which is why we decided to start featuring these women who are out there making changes in our football landscape. For the next couple weeks, we're going to be featuring some of the top talent in a female football fan's world.
Next up in our series is the always lovely Tamara with Blitz and Glam. She's a triple threat because she knows her stuff, dresses like a star and is absolutely beautiful. Check out her interview on how she became a fan of the game of football and why she decided to start Blitz and Glam!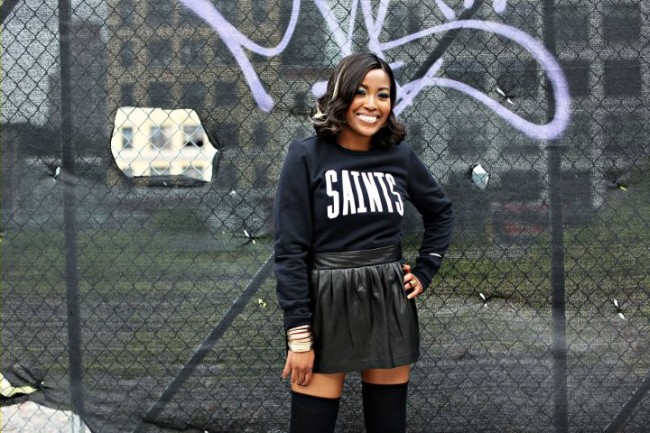 Tamara A. Marbury
Website: Blitz And Glam
Twitter: @BlitzAndGlam
Facebook: Blitz and Glam
Instagram: @blitzandglam
Pinterest: @blitzandglam

GuysGirl: What made you want to start up your own website?
Tamara: I love to write and I love football and fashion, so a mentor suggested that I start blogging.
How long have you been running it?
My blog launched in October 2010.
What's the best part about running your own sports website?
I get to be me. I get to write about what I want to write about. I wouldn't call my 9 to 5 job my passion, but running my blog – that's something that I'm passionate about.
Worst part?
The worst part is sometimes not having enough hours in the day to post as much as I would like.
Tailgating & Gameday
Do you tailgate regularly for football games?
I don't tailgate regularly because I live in the home of a division rival and I don't want to be seen tailgating with the rivals. (Just kidding. Kinda.)
What's your absolute favorite thing to make for a tailgate and/or Superbowl/Bowl game?
Rice Krispies treats. Gotta have dessert.
What does a typical gameday routine look like for you?  
If I'm going to a game or out to watch a game, then I've usually figured out what I'm going to wear days before. I like to get to the stadium early enough to not miss a thing and I like to stay until the very end. I'm not one of those people who leaves the game early.
Where do you usually watch your favorite team in action?
At home.
Gameday Outfits
Describe your typical outfit at a football game. Do you dress for comfort, style or both?
Both. I'm not a jersey and sneakers kind of girl. I always like to show my personal style (Game Day included) which I describe as a mix of Jackie Kennedy Onassis and Michelle Obama – stylish, classic and feminine.
When you coordinate an outfit for gameday, how long does it usually take?
It usually doesn't take too long, unless I'm planning to shop for something new. If I go to a game or go out to watch a game, I'm usually dressed in black and gold.
Do you paint your nails using your favorite team's colors? If so, do you paint them as normal or attempt nail art?  
I don't usually, but I did get them painted in a cool black and gold design by a professional for a photo shoot that I did for Nike and the NFL last season.
Where are you favorite places to get gameday clothes?
Nike and The NFL Store for team apparel.
What's your favorite thing to wear at a cold game?  
Gloves. I hate for my hands to be cold.
What's your favorite thing to rock at a hot game?
An off-the-shoulder shirt.
If you could only bring 3 things into a football game, what would they be and why?  
My iPhone so I can snap photos, Facebook, tweet, and Instagram during the game, money for food, and… it's a toss-up between hand sanitizer, hand lotion, and chapstick.
Where are some of your favorite places to get a good gameday outfit that won't break the bank?  
The Limited, LOFT, and Old Navy are a few places that I've picked up everyday black and gold pieces that ended up in a Game Day look.
The Game of Football
What do you think is the most difficult part about the game of football for a newcomer to grasp?  
Maybe the different positions and what they do.
What would you personally like to learn more about when it come to football?
The rules. I'm sure there are tons of rarely mentioned rules that I don't know.
Did you learn the game of football on your own or did someone else have a hand in helping you learn?
On my own.
Do you play fantasy football at all? If so, what do you like most about it?
Yes. I love fantasy football. It just adds another level of excitement to game day.
Are you part of any woman's fans clubs for your favorite team?
No.
The percentage of female fans of the NFL stands at 45%.  How do you think the NFL could grow this number?  
Just continue what they are doing. They've made huge leaps when it comes to women's fashion. It's no longer all jerseys and t-shirts. Teams also have events geared specifically for women.
Who are some women in sports broadcasting/writing that you look up to and why?
There isn't anyone in particular now that I would say that I look up to, but when I was younger, I would watch Willow Bay on NBA Inside Stuff and I wanted to be like her. Then it was Hannah Storm.
What's the biggest pet peeve you have about being a female sports fan?  
I don't like female sports fans who bully other female sports fans or those who are just learning the game. The ones who are always saying another woman is making all female sports fans look bad. Every fan isn't going to be the Super Fan, the one who knows every statistic, every rule, or can comment on every play. But that doesn't mean that she doesn't love her team or even love the game. There's room for women of all levels of football knowledge and fandom.
Huge thanks to Tamara for being a part of the GuysGirl Gameday Series. She has a great website over at Blitz and Glam where you can get a ton of tips for NFL style inspiration so be sure to check it out!