Whether you're new to college or just new to dating a diehard football fan, welcome to every American's favorite (and usually the drunkest) rite of passage: college football tailgating.
The single most important cliche to remember when preparing for your first tailgate: it's a marathon, not a sprint. No matter how you slice it, gameday is an all-day commitment. Even if it's a 1pm kickoff, expect to start tailgating by 9am and to keep going after the game is over. And if you win, be prepared to close down a bar.
It's easy to be intimidated by your first trip to the stadium parking lot. Football lingo, bare chested and body-painted fans, drinking all day… plus having to do it all in the elements (ugh). But don't worry. The key to a successful day of tailgating is knowing what to expect and planning accordingly. Especially for your first tailgate.
There's a time and place to wing it, but this day is so not it…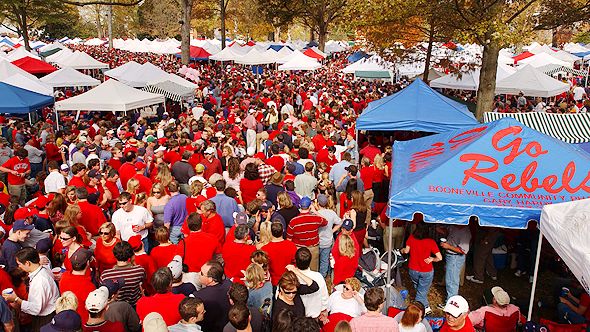 1. Eat breakfast. Even if it's early. I don't care if it's last night's pizza or one of those awful protein bars, eat something.
2. Remember: it's five o'clock somewhere, even if it's only 9 am at the stadium. If you haven't started drinking by the time you arrive, chances are that you're at least one mimosa or, God forbid, Bloody Mary behind (Bet you're glad you ate now, right?). But remember to pace yourself. Write it on your hand if you need to because the last thing you want is to end up being that girl. Or worse, miss the game.
3. Wear the right clothes. Do not – I repeat, DO NOT – show up in a pink t-shirt (unless pink is one of the school's colors, in which case you probably aren't going to a college football tailgate). Also, dress appropriately. It's a tailgate, not brunch with your girlfriends. Don't fight the weather. Anything below 60 degrees means that cute new tank top also needs a cute new sweater. No heels. Not only will your feet will hate you but so will a majority of your fellow female tailgaters. And absolutely no hair bows.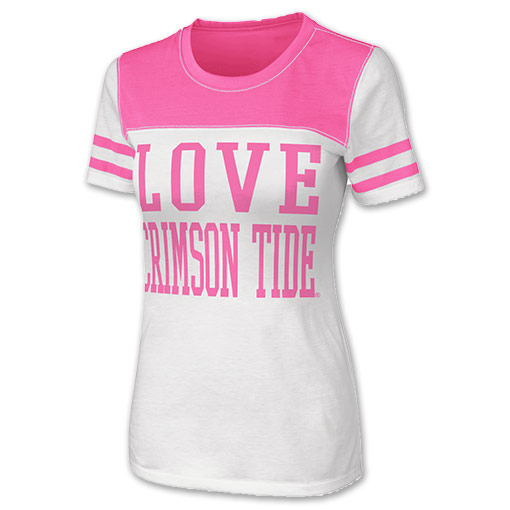 4. Avoid bringing a purse larger than a clutch (I promise you'll regret it) and make sure to put at least $50 cash in it.
5. If you're a graduate/above the age of 21, leave the face paint at home. Actually, even if you're in college, no face paint. Let the guys handle it.
6. Going along with #2, a small bladder is your best friend. I know it's hard, but do your best to take it easy on the liquids. Who wants to frequent a porta potty at all, let alone one with an inevitably long line? Not this girl. Speaking of porta potties, hand sanitizer is your second best friend.
7. Unless you're hosting the tailgate, no one really expects a girl – especially a first timer – to bring anything more than a store-bought cookie tray. Show up with a 24-pack of beer and you'll instantly make 15+ friends. Show up knowing anything about the opposing team's defensive line and you'll probably walk away with a proposal.
8. If you don't own a battery extender (I love you, Mophie), now's the time to invest because a plug-in charger won't do you much good outside. Having made this mistake myself more than a couple times, I can guarantee you'll need an extra boost come gametime. All of those Instagrams will put you at 9% faster than Chip Kelly's offense (Google it).
9. Know what type of tailgate crew you'll be with most of the day. You'll probably bounce around at some point but knowing your home base will help set your expectations:
–The "Adult" Tailgate: top-shelf alcohol, bottled beer, a veggie crudite, catered spread, probably a baby (or two), definitely some company shmoozing
–The "Guys Who Still Wish They Were in College" Tailgate: a mini-grill,  hodge podge of food (a la your office's holiday pot luck), canned beer, a washers setup and/or beer pong table, probably a keg, definitely a shotgunning session
–The "Parents of a Player" Tailgate: a flat-screen TV, full-size grill, school-themed lawn chairs/school-themed paper cups/school-themed everything, probably some pom poms, definitely a mom sporting a lapel pin of the player's face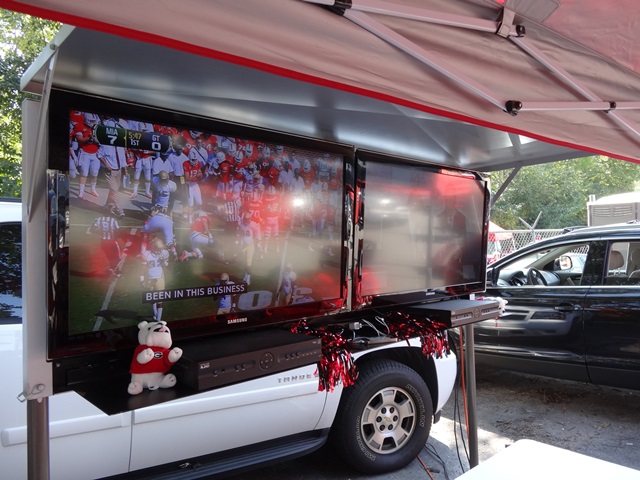 10. Actually go watch the game. And enjoy it! Just because you don't know what "3rd and Goal" means now doesn't mean you can't catch on with a little practice.
And who knows? Maybe you'll catch some beginner's luck and witness the best college football game of all time – in which case you better get used to tailgating.
Featured image via Boise State