The 50th Sports Illustrated Swimsuit edition went live on the web and hit newsstands February 18, featuring mega-babe models like Nina Agdal, Hannah Davis, Kate Upton and dozens of others.
While most of us would do close to anything to have a hot bod like the girls featured, one of this year's rookies is definitely standing out as the newest cool-girl crush for more than just her smokin' looks.
Hannah Ferguson is a 22-year old Texas native, whose two favorite hobbies include baking and gun shooting — can you say, "Guy's Girl"?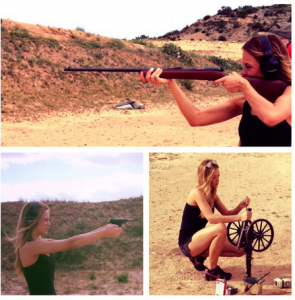 She's probably pretty kick-ass at shooting too since she's a military brat. Growing up, her mother was a drill instructor and her dad, a sniper, so I'm sure her dates were super comfortable picking her up.
According to her casting call interview [via SI Swim Daily] Hannah likes to watch basketball, and jams to Dr. Dre, Nuthin But A G Thang… could she be any cooler?
In her SI profile video, Hannah comments on her modeling abilities.
"I don't know if it's graceful or what, I don't really feel graceful."
But she certainly looks like she has a handle on her movements in her Sports Illustrated shots. Hannah is also one of the featured body painted models, fearlessly bearing it all.
Hey Hannah, can we hangout?