Welcome back to the first Lazlo's Clicker since Rob announced his return. If you're new to this series, Rob recaps television's best shows each week on what you may have missed. 
About 10 years ago, there was a trend of turning old TV shows into movies, which had mixed results for dramas, producing, at best, The Fugitive, and not so mixed results for sitcoms, producing throwaway titles like Bewitched, Starsky & Hutch and The Dukes of Hazzard.  
Yuck.
The trend has had better results in the other direction, producing classic sitcoms like M*A*S*H and The Odd Couple and better-than-its-predecessor dramas like Buffy The Vampire Slayer and Friday Night Lights.  The latest crop of movies-on-TV offerings have mixed results as well.
Fargo is excellent:  this season's new sitcoms not so much.
WHAT HAS MADE Fargo such a treat to watch is that it employs every single thing about the film version which made it special (with the singular exception of no Frances McDormand – oh well, you can't have everything) while not being a straight-up remake or reboot.
Consequently, you have a cast of quirky, interesting characters in a unique and discrete setting with the action revolving around a well-conceived crime plot.  Sound familiar?
Fargo, moreover, has been executed to perfection thus far.  The writing is smart and injected with healthy doses of black humor.  The casting is a thing of beauty:  Billy Bob Thornton is perfect as the villain (or anti-hero, take your pick), a creepy and funny cross between Anton Chigurh and Marc Maron.  Martin Freeman, similarly, seems like he was born to take over for William H. Macy's hapless victim.  Relative newcomer Allison Tolman gamely steps in for McDormand and capably gives us the viewer's perspective.
Fargo's Allison Tolman & Bob Odenkirk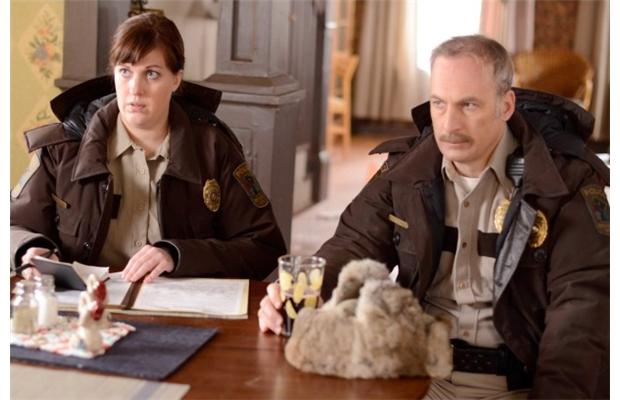 The FX channel ain't AMC, not yet, and Fargo, Louie and The Americans aren't better shows than The Walking Dead, Mad Men or Breaking Bad, but they're much better than Turn or Hell on Wheels and they are clearly of a character more in line with the former group than the latter.
Fargo is easily one of the best new shows of the year.  Just a few episodes in and already it's can't miss television.
A MUCH LESS favorable impression is left by this season's other big screen to small screen adaptations, About A Boy and Bad Teacher.
About A Boy is far less offensive of an effort.  The show has two rather major flaws that keep it from working.
First, the decision to essentially compress the movie into the half-hour pilot and then have all of the action pick up thereafter was a mistake.
Essentially, the show removes all of the interesting aspects of the plot of the film, in particular the way the friendship between Will and Marcus develops, and just starts running stock sitcom plots after all of the film developments have occurred.
This makes the sitcom far less interesting than the film because all of the rich conflict and emotion has been sucked out of the storyline.  That doesn't leave a whole lot for the talented cast (David Walton, Minnie Driver, Benjamin Stockham) to do.
The second flaw is a byproduct of the first.  By neutering the series at the outset, About A Boy is sickeningly sweet and sappy.
It's almost as if someone said, "Let's do a sitcom like Full House, only less edgy and dangerous."
About A Boy isn't unwatchable, but it is timid and unoriginal.
BY CONTRAST Bad Teacher is a veritable How-To manual on making a doomed sitcom that isn't funny.
Step 1:  adapt a film that basically sucked the first time around.
Bad Teacher the movie had only one redeeming quality and that was the killer supporting performance from Lucy Punch.
Why try to turn that stinker into this stinker?  Go figure.
Step 2:  replace the luminous Cameron Diaz with borderline B-lister Ari Graynor.
Even the wonderful Diaz couldn't save the role in the film, and Graynor, who was apparently hired only because she was a blonde with a hot body, can't save this role either.
Maybe it's that the role itself is of a shameless gold digger with no redeeming qualities, but something tells me that someone like Riki Lindhome could have made a much better go of it.  Then again, Lindhome wouldn't be caught dead on this show.  Never mind.
No need to be funny, just sit there and look hot:  Bad Teacher's Graynor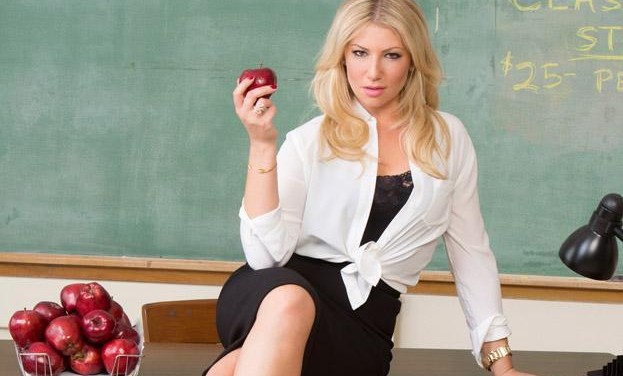 Step 3:  assemble a stellar cast of TV sitcom veterans and completely miscast them and waste their talents.  This is what makes Bad Teacher not just bad, but overtly offensive.
The biggest crime against TV humanity is taking legendary wisecracker Sara Gilbert and handing her the role of a sycophantic loser.  It is painful to watch.  Almost as bad is having Kristin Davis play a relatively heartless character.
Well, you can't say they were typecasting here.
David Alan Grier is wasted a straight man because, you know, you can't be bothered having a character who isn't just one thing.
What kind of show did you think you were watching anyway?  Nevermind, we're not watching anymore.
Quick Takes
CBS trying to shove Friends With Better Lives down our throats right when How I Met Your Mother came to an end was sort of like someone giving you a puppy at your beloved dog's funeral.  Too soon, CBS.
After sitting through what amounted to the red carpet preshow of the NFL draft, I'm convinced the league should just give in and next year have Kathy Griffin and Anderson Cooper greeting the draft prospects while Joan and Melissa Rivers make fun of what they're wearing.
Things we learned from watching TV this week:
1) The friendship to which we should all aspire is Patrick Stewart & Ian McKellan (Late Night With Seth Meyers).
2) Ruining someone's life does not count as exercise (The Big Bang Theory),
3) Chickens are dumb.  Chickens are stupid (Louie).
There are lots of finales going on but my very favorite this week was The Mindy Project's salute to An Affair To Remember, When Harry Met Sally, Sleepless In Seattle and any number of other romcoms you could think of.  The show handled Danny and Mindy's (Chris Messina, Mindy Kaling) on again off again romance expertly, and managed to tease it all the way into season 3 without yanking the rug out from under the audience.  Well done.
Looking Ahead
Once Upon A Time and Revenge air season finales on ABC on May 11.
The premiere of Rosemary's Baby airs on NBC on May 11.
The series premiere of Penny Dreadful airs on Showtime on May 11.
The Blacklist season finale airs on NBC on May 12.
The season finale of Glee airs on FOX on May 13.
The series premiere of Riot airs May 13 on FOX.
The season finale of Marvel's Agents of S.H.I.E.L.D. airs on ABC on May 13.
The Person of Interest season finale airs on CBS on May 13.
Arrow airs its season finale on The CW on May 14.
The season finale of Nashville airs May 14 on ABC.
The Big Bang Theory, The Millers and Elementary air season finales on CBS on May 15.
The season finale of Grey's Anatomy airs May 15 on ABC.  It will also be Sandra Oh's final appearance on the show.
The season finale of Grimm airs on May 16 on NBC.
TV's a big place and I haven't been to all of it yet.  Got a favorite show you'd like me to comment on?  Post a comment below, contact me on twitter @RobLazlo. or shoot me an email:  [email protected].  I welcome your input!