There are four, maybe even five or six teams in the West that are legitimate title contenders.
There's been a lot of shake up out west, and there are several teams fans can't wait to see take the floor.
Is Doc Rivers the answer for the Clippers?  Can Dwight Howard make the Rockets a true force?  Can anybody beat OKC?
The answers await…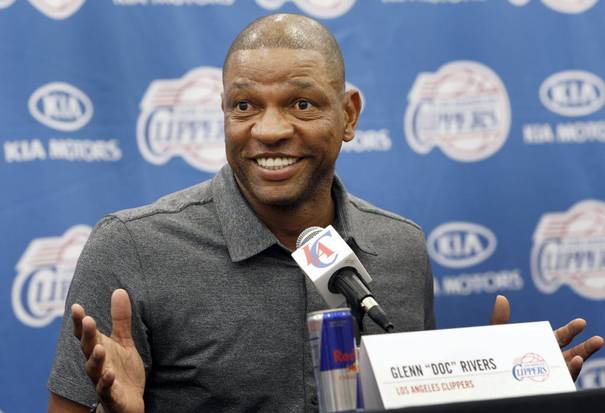 The Sure Things

Oklahoma City Thunder:  I don't care who added who where, Oklahoma City still has the best player in the NBA not named James, and as long as Kevin Durant is there, this team is a legit title contender.  Russell Westbrook needs to come back 100% from last year's injury of course, and the team could really use a lift from another player (Jeremy Lamb possibly/).  Up front, the Thunder continue boast size to die for, led by shotblocking maniac Serge Ibaka.  If you want to win the West, you need to find a way to beat these guys.
.
Los Angeles Clippers:  The biggest change for the Clippers this season is on the bench, in the guise of coach Doc Rivers.  But that's not the only difference.  The Clips add shooter JJ Redick at the two and uber role player Jared Dudley at the 3.  With superstars Chris Paul and Blake Griffin and defensive menace DeAndre Jordan, tell me this team isn't starting to look a bit like Rivers' Celtics in their heyday.  There's no debate about the best team in L.A. anymore.  This is it.
.
Houston Rockets:  This is the team EVERYONE wants to see.  You've got an explosive talent like James Harden in the backcourt, and now you've got the unstoppable Dwight Howard up front.  Harden was good enough to get this team into the playoffs alone, while Howard took a much less talented Magic team to the finals.  Together?  One question the Rockets will need to answer is whether a frontcourt of Howard and Omar Asik can co-exist.  If not, they'll have plenty of suitors for Asik, a tough, shotblocking, rebounding, defensive big man who can guard the 4 or 5.
.
1-2 Punch:  Houston's Harden & Howard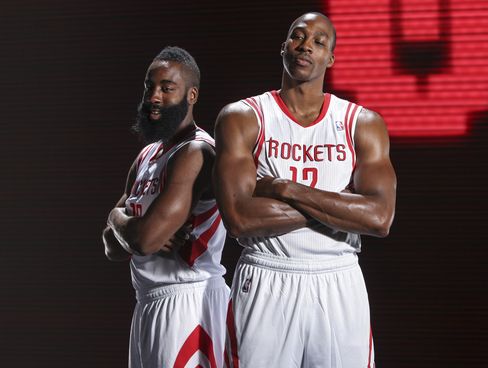 Golden State Warriors:  The Warriors could shoot and score with anyone last year.  Now they add defensive stopper Andre Iguodala, who can also add points, rebounding and assists.  It's a great fit.  A lack of athleticism up front could hold this team back, but they won't go down easy.
.
San Antonio Spurs:  Feel free to predict the Spurs' demise, but remember:  this team gave Miami absolutely everything it could handle.  Maybe they're too old to do it again, but I'll start betting against the Spurs when Gregg Popovich, Tim Duncan and Tony Parker give me even one reason to do so.
.
Memphis Grizzlies:  The gritty Grizzlies lack the star power to be a true title contender, but I can't imagine that this group won't once again be in the postseason and making someone's life miserable.  Michael Conley is a talented and underrated point guard, and the frontcourt duo of Marc Gasol and Zach Randolph tend to eat opposing bigmen alive.
.
Bubble Teams

Los Angeles Lakers:  For the first time in a very long time, you simply can't pencil in the Lakers as a postseason team.  Now, they'll probably make it, because Kobe is still an elite player and Steve Nash remains one of the true gold standards at point guard and Pau Gasol may sometimes be inconsistent but there's no denying his talent.  So the Lakers probably make the postseason and then. . .I have very little faith that this aging collection of poorly matched players will go very far, especially with Mike D'Antoni as their coach.
.
Denver Nuggets:  The loss of Andre Iguodala hurts a bit.  The loss of coach George Karl might hurt quite a bit more.  Denver still has a deep and talented group, but the Nuggets have lacked star power ever since the Carmelo trade and I wonder just how much of their success last year was due to coach of the year Karl's excellent leadership.
.
Minnesota Timberwolves:  New acquisition Kevin Martin should help stabilize the scoring for Minnesota, so is this finally the year when Kevin Love and Ricky Rubio put up wins in addition to great stats and highlights?  Fans in Minnesota have a right to feel a bit impatient.
Put up or shut up time for Rubio & Love?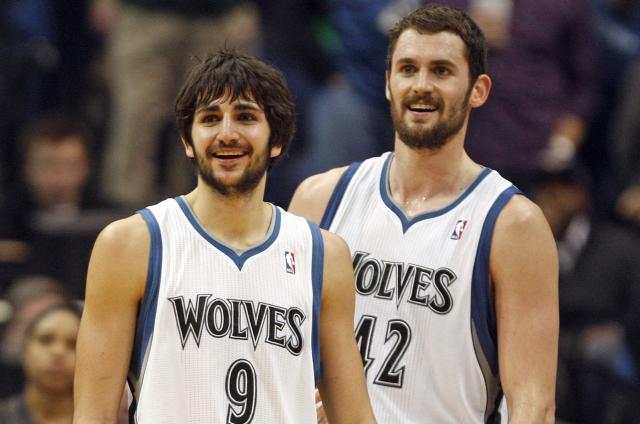 Dallas Mavericks:  The Mavs are in that limbo where they're not really good enough to contend but definitely not bad enough to tank.  Dirk Nowitzki remains an NBA treasure, but his salad days are behind him.  A new backcourt of Jose Calderon and Monta Ellis is intriguing, and perhaps this will be Ellis' chance to show that he can contribute to a winning team and not just score points.
Dark Horse
New Orleans Pelicans:  The addition of Jrue Holiday could wind up making the Pelicans something special.  Former #1 overall pick Anthony Davis has looked very good in the preseason, and the lineup includes a hell of a lot of talent, including Eric Gordon, Tyreke Evans and Ryan Anderson.  If Davis is ready to truly step up, expect the Pelicans to leapfrog some of the older, declining teams ahead of them.
Davis + Holiday = Scary future for other teams in the West?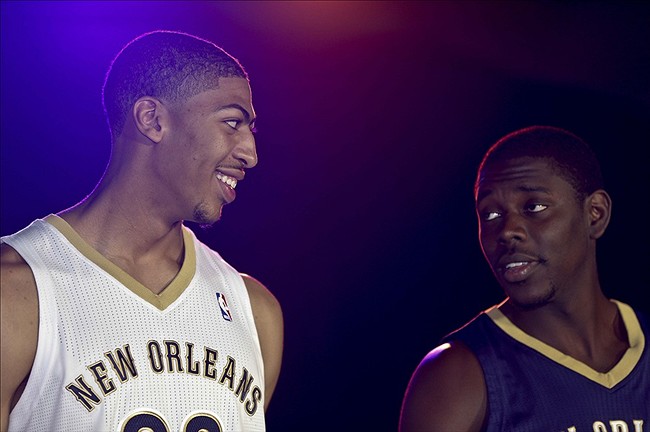 No Shot
Portland Trailblazers:  The Blazers can be fairly confident that Damian Lilliard is an explosive enough weapon for the backcourt, and that LaMarcus Aldridge is a talented enough big man for the frontcourt.  As for the rest…Portland is hoping to gain some stability up front with the acquisition of Robin Lopez.  Nicholas Batum is a solid 3, but the team needs more from the disappointing Thomas Robinson.  Another challenge:  there have been rumblings that Aldridge is sick of losing in Portland.  While he'd be a valuable trade commodity, that would be another step in the wrong direction for this franchise.
Utah Jazz:  The Jazz having the makings of a great frontcourt – 2 or 3 years from now.  They're also hoping Trey Burke will fill the pointguard void left from Deron Williams exit.  Bottom line for Utah is that they have a somewhat impressive collection of young talent, but now need to mold it into a team.  While they're doing that, expect plenty of losses.
Sacramento Kings:  The Kings enter yet another season loaded with question marks.  Greivis Vasquez was an eye-opening point guard in New Orleans, but can he do the same thing with the Kings?  Is this the year DeMarcus Cousins is actually good?  Can rookie Ben McLemore take over the scoring void left by Tyreke Evans?  This is a team that is still trying to find itself, and unless McLemore is a breakout superstar, they're still a ways from doing it.
How good is Ben McLemore?  Probably not THAT good.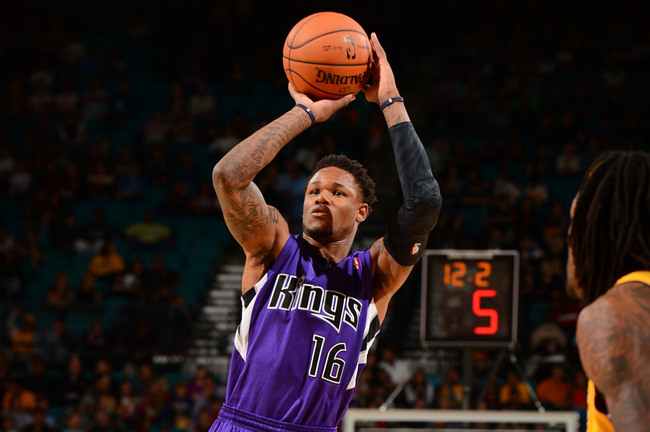 Phoenix Suns:  Gone from last year's worst in the West team:  everyone.  New to this year's soon to be worst in the West team:  everyone else.  Phoenix does not appear to have a cohesive rebuilding strategy right now, and I can't even tell you what to expect.  An offense built around Eric Bledsoe?  Yikes.