Are we looking at another championship for LeBron and the Heat?
That's a distinct possibility, and if anyone can beat Miami, is that team currently lodged in the NBA Eastern Conference?
There's been some shakeup around the league, so anything is possible...
The Sure Things

Miami Heat:  LeBron James is apparently not done getting better.  When he first arrived in Miami, there was the "big 3" of LeBron, Wade and Bosh.  Now it's LeBron and his supporting cast, and while Wade and Bosh may be on a slow decline, that is more than offset by James' continuing ascendance.  Miami, moreover, has gotten a bit deeper this season, and if a player like Greg Oden can stay healthy, he helps cure the Heat's one deficiency – size.  You can bet against the Heat if you want, but I'm expecting yet another title.
.
Chicago Bulls:  With Derrick Rose back, the Bulls are once again a legit contender, although I don't think they've got the juice to knock off the Heat.  Clearly, however, this squad, which won 45 games without their MVP contender can win quite a few more with him.  The Bulls' offense, moreover, needs to consciously avoid being one dimensional.  Using great defense to generate offense is all well and good, but you need to be able to score in big spots late in games.
.
Indiana Pacers:  This team took out Atlanta and the Knicks and then took Miami to a game 7 last year, so how did they do it?  They possess more toughness than any other team in the East, and for that reason, they're the one team that the Heat would probably prefer to avoid in the postseason.  In that sense, the Pacers are the heir apparent to the Celtics, even though the Nets wound up with all their old players.
.
Brooklyn Nets:   Nobody made more offseason than the Nets (in the East, at least), with the additions for former Celtics Kevin Garnett and Paul Pierce.  Do these two guys have enough left in the tank to make a difference?  I think they do.  The more problematic question is whether the Nets can capture enough chemistry with their new roster to make it work.  Remember, Miami's big 3 didn't win in their first season and the more applicable example of last year's Lakers was a disaster.   The Nets have too much talent not to make the playoffs, but not enough to go all the way.
Winning the Offseason:  New Nets Pierce, Garnett & Jason Terry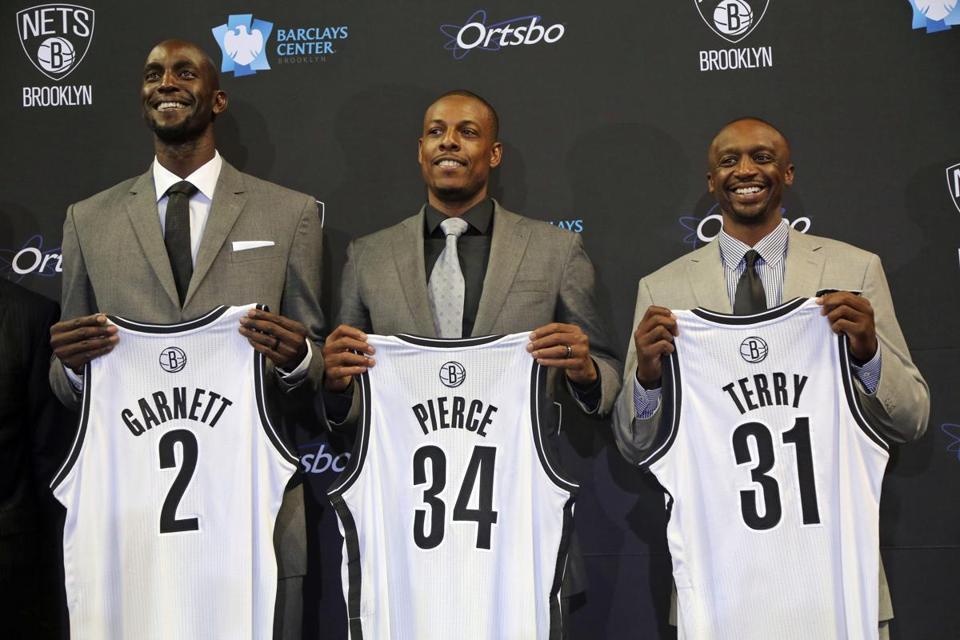 New York Knicks:  There's no way you can count out the New York Knicks in the East.  I like the addition of Andrea Bargnani, who is a better fit to play with Tyson Chandler and Carmelo Anthony and makes the Knicks less dependent on Amar'e Stoudamire.  The Knicks will have to play unselfish ball in order to take the next step.  Time will tell if they can.
.
Bubble Teams

Cleveland Cavaliers:  The Cavs are hoping they can escape the same fate that befell the last time to put a lot of stock in center Andrew Bynum, but even if Bynum once again misses the entire season with injury, Cleveland still has Kyrie Irving, #1 pick Anthony Bennett, gritty big man Anderson Varejao and will hope for improvement from Dion Waiters and Tristan Thompson.  Injuries could derail Cleveland, but when healthy they're easily good enough to make the playoffs in this conference.
Can Anthony Bennett be the next big thing for the Cavs?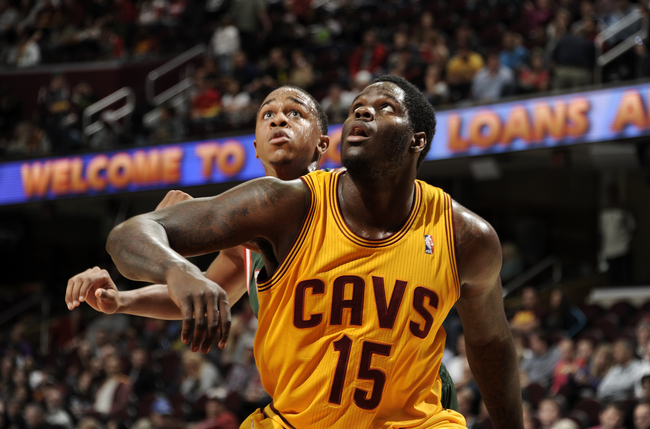 Toronto Raptors:  The Raptors boast an awful lot of athletic talent in the persons of Kyle Lowry, Demar Derozan and Rudy Gay.  Now, can they finally break the glass ceiling and make the playoffs?  There are several teams that are probably better than them top to bottom who will be gunning for those final couple of playoff spots, but the Raptors will be in the mix.
.
Washington Wizards:  This is a particularly intriguing team coming into the new season.  They have a super backcourt in John Wall & Bradley Beal.  They add Otto Porter in the draft, and Al Harrington for versatility in the post.  Washington has no excuse not to at least get the 8 seed this year.
.
Atlanta Hawks:  Will no Josh Smith mean no playoffs this year for the Hawks?  To be sure, this team lacks star power, but the frontcourt of Al Horford and Paul Millsap can certainly provide scoring.  This team may go as far as PG Jeff Teague's development.
.
The Dark Horse

Detroit Pistons:  I can't wait to see the Pistons this season.  The enormous frontcourt duo of Greg Monroe and Andre Drummond turns into an absolutely sick trio with the addition of Josh Smith.  Chauncey Billups adds veteran leadership.  Can newly added Brandon Jennings get his groove back with a change of scenery?  It wouldn't surprise me if Detroit has a strong year.
.
No Shot

Charlotte Bobcats:  Al Jefferson certainly makes the Bobcats better, but you know Charlotte:  two steps forward, two steps back.  Drafting Cody Zeller that high was a mistake, and top to bottom this team sorely lacks the talent to distinguish itself.  Time to get ready to screw up another lottery pick. . .
.
Boston Celtics:  The Celtics are in full rebuilding mode, although ironically, they still have Rajon Rondo, who was the first piece to get shopped once Boston decided to go for a re-do.  Boston will still be a tenacious defensive team, but they'll struggle to score points this year.  Don't be surprised if Rondo gets shipped out before the deadline.
Trade Bait:  Rajon Rondo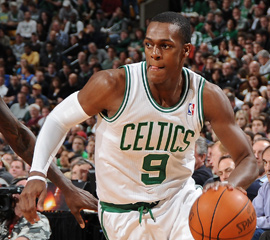 Milwaukee Bucks:  This team will feature an entirely new look backcourt of Brandon Knight and OJ Mayo, and will have a third new starter in Caron Butler.  Too many changes, not nearly enough of them upgrades, and a general lack of talent continues to doom Milwaukee to the nether regions of the conference.
.
Orlando Magic:  The addition of Victor Oladipo is a nice piece, but the Magic are still years away from contention.  In the meantime, they need to see if players like Nik Vucevic and Tobias Harris can be good on a halfway decent team, and not just good on a bad team.
.
Philadelphia 76ers:  Full tank mode it is!  The Sixers, not surprisingly, let walking health claim Andrew Bynum go but then traded their one good player, Jrue Holliday, for a first round pick.  They took Nerlens Noel, who won't be available to play until sometime in February or so.  In the meantime, rookie Michael Carter-Williams will try to learn to shoot, and the Sixers will shop Evan Turner, Thaddeus Young and Spencer Hawes HARD as they look to accumulate draft picks for next year.  This team could win single digit games.
.