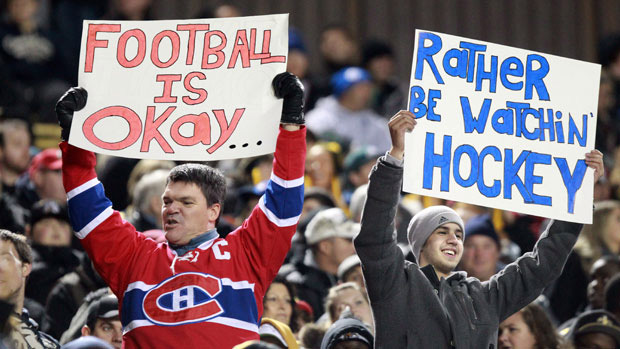 By now I'm sure you've heard the news that the NHL Lock-out has officially ended and the NHL season will commence on January 19th. There are many reactions out there to this news, but the main 2 are either intense or apathetic. A lot of fans are still (rightfully) angry about the lock-out. A lot of fans are (rightfully) just happy to have hockey back. And the vast majority of people, well they just don't care.
For those of you who already guzzle the hockey Kool-Aid, this article isn't so much for you as it is for our brethren who are either disenfranchised or disinterested in the NHL product (or hockey in general). I'm here to convince you that the NHL through their seemingly infinite boobery and idiocy managed to pull a Homer. 2013 might be the best year of professional hockey we've seen in a long time.
Shortened Schedule
The NHL season is traditionally 82 games in length. The same as basketball, about half as much as baseball and between 4 and 5 times longer than football. While for me no sport is as exciting to watch as hockey, in a 82 game season there are bound to be periods of let down, losing streaks and general malaise. It happens to even the best teams. Look at the past two Cup winners in LA and Boston. LA limped into the playoffs before exploding. Boston phoned it in for the middle part of their 2011-12 season before cranking it up for the playoff run.
Season length is used as a "war of attrition." These sports have their respective lengths to allow the cream of the crop to rise to the top. They allow for a bad game (or a few in the case of the longer seasons) without too much punishment. Hockey is a brutal war of attrition given the physical nature of the sport, so a lot of teams have their streaks and slumps. Well, with only 48 games scheduled this year there's no time for slumps.
Throw out the old adage "it's a marathon, not a sprint" because this season is not only a sprint. It's a mad dash. It's like that old commercial for Surge where guys are killing themselves and each other jumping over couches in a brick alleyway trying to get to the last can of mediocre citrus soda. In short: it's going to be freaking nuts.
Everyone's Got A Shot
With a few notable exceptions (Hi, Columbus!), just about every team has a chance to make the playoffs. The young teams that start strong (Oilers, Maple Leafs) might actually benefit from the shorter season. Perennial also-rans will have a chance to capture division titles (Sabres) if they can ride a hot goalie (which might still be the best sports double entendre). In short, if dominant teams stumble out of the blocks, this season could get really interesting really fast especially for franchises with young, hungry players.
Every Game Counts
"Every game counts" is a tired cliché and it is generally reserved for football with the short 16-game season. Well even though the NHL season will still have 3 times as many games as football, every game will count more for one simple reason: no inter-conference match-ups. So while we won't get to see the Bruins vs. the Blackhawks or the Red Wings vs. the Penguins or the Kings vs. Rangers; we will get to see an intense battle for conference positioning. Not to mention the talk that each team could play their divisional rivals 4 times. That's 16 of the 48 games right there, all of them HUGE difference makers in the divisional standings. And since the top seeds automatically go the divisional winners, it has massive playoff seeding implications.
Full Dance Cards
When you ramp up the intensity, when you make every game count and when you shorten a season like this, well… there's gonna be a few fights. The need for teams to get that morale booster or surge of energy could be vital to that team's success. So look for the enforcers to really up their game and down their adversaries. Expect this season to up the physical ante*.
*A few notes: homer announcers like Jack Edwards also make hockey fun. And Raffi Torres always deserves a good beating.
Names to Know, Guys to Watch
1. Ilya Bryzgalov – Goalies are by nature a crazy bunch, I speak from experience. But holy **** is a three-ring circus of crazy. From his existential musing on the universe from HBO's 24/7 to his always entertaining, smilie-face-laden Twitter account, Bryz never disappoints… except occasionally in net. The Philadelphia Flyers are the New York Jets of the NFL and Bryzgalov is Mark Sanchez, Tim Tebow and Rex Ryan all rolled into one big Russian package. Except, well, he's actually likeable.
2. Tuukka Rask – Another goalie. Tuukka (Pronounced like Two-Ka) is another goalie that even goalies think is a little out there. Sure, he's not ranting about politics on Facebook, skipping visits to the White House and mysteriously disappearing to an underground bunker in an undisclosed location – like his predecessor – but Rask is as ill-tempered as he is talented. Most goalies are level-headed. Other toss milk crates onto the ice and smash their sticks on the goal post after losing. Tuukka Rask is such an other. What will really make him interesting to watch is not whether or not he'll potentially take off his skate and try to stab somebody, but the fact that's he replacing arguably the most successful goalie in Bruins' history, on a Stanley Cup-caliber team, in a HUGE hockey market. So no pressure.
3. Edmonton's Young Guns – Taylor Hall (1st overall pick 2010, 21 years old); Ryan "The Nuge" Nuget-Hopkins (1st overall pick 2011, 19 years old); Nail Yakupov (1st overall pick 2012, 19 years old); and the old man of the bunch at 22 years old, Jordan Eberle (22nd overall pick 2008). If you're new to hockey and have to allegiances, might I suggest this team with a scary amount of young talent? Unfortunately, Edmonton's oldest player is their goaltender 40 year old Nikolai Khabibulin (Hobby-Boo-Lin) and they probably won't make the playoffs but watching these 4 kids grow might be enough to get you excited about hockey.
4. PK Subban – I hate PK Subban. But I'd hate him a lot less he wasn't one of the most gifted hockey players in the league… or playing for the Montreal Canadiens. Good news on that second front, though: Subban is an unrestricted free agent with no contract and despite the lockout is still not signed to the Habs or any other team. Subban (and goalie Carey Price) are about the only bright spot(s) in hockey's most storied (and arrogant) franchise and they're about to let PK take a walk because they don't want to pay him what he's asking. Much like Philadelphia placed an offer sheet out to Shea Weber, expect some team to drop one out to Subban. Possibly the Bruins. Not because they have the cap space to sign Subban (they don't), but because when it comes to NHL trolls the Bruins are one of the trolliest.
5. Tyler Seguin – This spot almost when to the emancipated Rick Nash who will be playing for a real NHL team for the first time this season after being held captive in Columbus. And it almost went to Ryan Suter/Zach Parise, the wonder-twins who packaged themselves to Minnesota. But Rick Nash is already a borderline superstar, and let's be honest no one is going to watch a Minnesota Wild game on purpose (kidding. See below). Seguin spent his lockout team trashing apartments and embarrassing the Swiss goalies of the Swiss National League. Despite playing in the Bruins "defense-first" system, Seguin is on the cusp of becoming a breakout star. Assuming, of course, his alarm clock is functioning properly.
Conclusion and Predictions
If you're a casual fan or new to hockey, this may be the best chance to dip your skate blade onto the ice and see if it's for you. The short schedule will require less of your time, and it will continue after the NFL playoffs are over into the winter dead-zone. The games will be more intense, if a little slow to start the season off due to the lack of a normal training camp, but should be exciting as hell from the starting bell to the final game.
I'm predicting either St. Louis or Minnesota out of the West. Both are talented young teams that match up physically and have solid goaltenders between the pipes. LA could benefit from the extended break. We saw the Bruins stumble out of the gate last year from their Cup hangover, but LA has had more time to rest and is in the best position to repeat than any other team in recent memory. Doesn't expect Detroit to emerge from the West this year. They'll make the playoffs (they always do), but their defense is shaky and Nicky Lidstrom isn't walking through that door.
Out of the East, I'm expecting the usual suspects. Namely: the Bruins and the Rangers. The Rangers have the most-talented (and prettiest) goalie in all the land in "King" Henrik Lundqvist. Henrik has had to shoulder a large workload that has hindered the Rangers from making the Cup, but with the short season and the way their young talent is continuously improving the Rangers are well-positioned. Oh yeah, and they are also the most philanthropic team in hockey, freeing Rick Nash from his hostage situation in Columbus.
But my overall (significantly biased) pick goes to the Bruins for 3 reasons: 1. They are the most physical team in the NHL. Period. 2. They had more players than any other team playing overseas (including my pick for this year's league winner of the Art Ross trophy, Tyler Seguin). 3. A hungry goaltender in Tuukka Rask who can shoulder a full workload and is itching to get out of the shadow of Tim Thomas. And since this is GuysGirl, I would like to introduce the uninitiated to Johnny Boychuk.
I could be right, I could be wrong, but either way I'm betting the house on an exciting NHL season.
Editors Note: This article was written by my good friend Vinny who talks hockey and anything else your little heart desires on Twitter. Highly suggest the follow @AntiHeroV