HIGHLIGHTS
ABC has been hyping Zero Hour for a while now, hailing it as Anthony Edwards' return to series television, and the next great TV thriller, and all assortment of other superlatives designed to assure you that this will be an edge of your seat, can't miss show. Sadly, this offering fell flat on its face, breaking nearly every rule of effective tension building as it tried to grab an audience in its premiere.
Hit the title/continue reading to read more. . .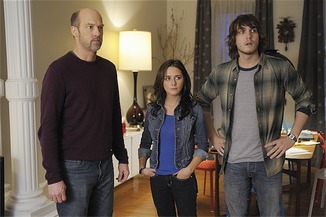 Zero Hour opens in 1938 Nazi Germany, as we see a group of Catholic clergy nervously securing something before the Nazis arrive. We see that they are successful just in the nick of time. Fast forward to the present, and Hank Galliston (Edwards), the editor of a myth-debunking magazine called Skeptic is antique shopping with his wife (Jacinda Barrett), the curator of an antique clock store. When she is kidnapped, Galliston mobilizes his team (Arron Martin, Rachel Lewis) to try to find out why. He also gets paid a visit from a particularly unprofessional FBI agent (Carmen Ejogo), who thinks Galliston knows more than he is telling.
While this may sound like a passable set up, Zero Hour fails because it mixes far too many elements into its story set up, with the result being a messy plot riddled with obvious holes. The implausible Indiana Jones meets Frantic meets the storyline from one of the old Wolfenstein games is convoluted and remote, and the characters have to keep reminding us that we are actually on to the biggest conspiracy story ever known. There's the other problem: the dialogue on this show is dreadful (in the opening, one of the priests actually refers to the super-secret something as "that thing in the basement"…really?), easily the "equal" of the poor forced plot development. Cramming too much information into its one hour, Zero Hour fails to create interest or tension, and abandons character development in favor of having characters instantly interact to forward the breakneck storyline ("Hi people I just met. Let me tell you about this 75 year old story I've kept secret from everyone up until now.)
Anthony Edwards waited 10 years to return to network series television. Apparently, he should have waited just a little more, as Zero Hour fails to hit any of the high marks it aims for.
FANS OF the NBC cult-comedy hit Community have been freaking out with worry that the show would lose its edge, its audience or its chemistry with the departure of creator Dan Harmon, but they needn't have worried. Community returned last week and has picked up its quirky referential style right where it left off.
This season will see further developments in the Britta/Troy (Gillian Jacobs, Donald Glover) romance, more character development for Jeff (Joel McHale), and an expanded role for cross-dressing Dean Pelton (Jim Rash). As usual, the hallmark of Community's humor is the outstanding comedic chemistry of the core cast, with everyone getting a chance to take the spotlight, and a consistently smart and funny script. The anticipated midseason departure of Chevy Chase doesn't figure to derail the show, but NBC's treatment of it might.
The Community gang celebrate Halloween in February


image source
For whatever reason, NBC has treated Community like a real red-headed stepchild, screwing around with its scheduling (this week it aired its Halloween episode. Thanks, NBC), and focusing its energies on far less worthy fare. Every midseason show NBC has introduced so far has fallen flat, and for good reason, as every single one of those shows was lousy. Christina Applegate just left one of NBC's modest hits, Up All Night, 30 Rock is gone, The Office is soon to follow, Whitney still sucks. Community may not be a ratings monster (going up against The Big Bang Theory doesn't help), but it has a loyal hardcore audience and it is consistently praised by critics as one of the best comedies on television. I would think NBC would have a vested interest in giving this show a little more support and seeing if it can't convert some more fans into its following.
TNT IS AIMING to score in the medical drama genre with its latest offering, Monday Mornings, and it would certainly seem to have pulled out all the stops to fill the void left by the likes of House. The show was created by David Kelley (Chicago Hope, Ally McBeal, The Practice), and has a powerhouse cast. In fact, the show is so good on paper, I find myself wondering why it isn't better on the screen.
The hospital on Monday Mornings is filled with House-like characters. There's acid-tongued chief of staff Harden Hooten (Alfred Molina), zen-like diagnostician Jorge Villanueva (Ving Rhames), star neurosurgeon Tyler Wilson (Jamie Bamber) and wildly unlikeable transplant surgeon Buck Tierney (Bill Irwin). Two other characters, however, seem to steal most of the scenes. Sarayu Rao plays Dr. Sydney Napur, a loquacious smarty-pants with a moribund love life, with a wisecracking aplomb reminiscent of Barbra Streisand in a '70s rom-com, while Keong Sim plays Dr. Sung Park, a brilliant brain surgeon with the healing powers of Jesus and the English skills of a bad extra in a Charlie Chan movie. While the scripting of Sim's character is borderline offensive, the actor imbues him with a dignity and assuredness of purpose that makes him one of my favorites.
Doc Drama: Sarayu Rao & Jennifer Finnigan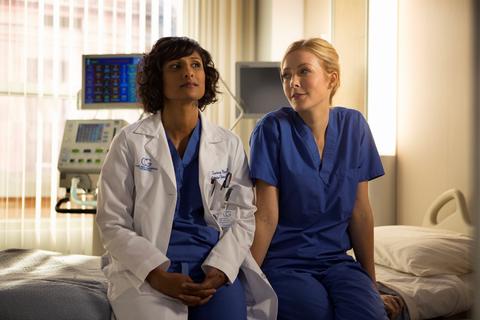 image source
With all that talent coming off the bench, and with Kelley at the helm, you'd think this show would be the second coming of ER, but it's been a bit uneven thus far, with too many of the characters coming across as not particularly believable or likeable. Still, Monday Mornings seems to know how to build a medical suspense story to a fine dramatic crescendo, and for the time being, at least, I'm willing to forgive some of the excesses to see if the show can't get more out of top notch talent like Rhames and Molina. Case-of-the-week medical stories will only carry a show so far: this show needs to make more of what it has to retain an audience.
QUICK TAKES
Let's give credit where it's due. Skyfall became the first Bond film to win a BAFTA last week, the very first one out of…how many Bond films? Over 30, right? In doing so, it beat out Les Miserables and Anna Karenina for best British film, so you can't say it didn't take out a couple of favorites in scoring the win. The current Bond team has resurrected and reinvigorated this franchise, and produced some of the best films in the long history of the franchise to boot.
Educational TV. Things we learned from watching TV this week: 1) Valentine's Day is the day you give chocolates to the one person you don't want to get fat (The Burn With Jeff Ross); 2) Gary Busey's wallpaper is a liar (Conan); 3) All dogs weighing less than 50 pounds are cats. And cats are pointless (Parks & Recreation).
The Walking Dead is well beyond a cult classic, or even just a hit. It's become an absolute phenomenon, with AMC now rerunning the entire series in black and white and having expanded Talking Dead to an hour (so that's one hour of Walking Dead followed by another hour of people talking about what they just watched lol). The midseason premiere this week also drew more than 12 million viewers, a record for the show, and set a record for ANY cable show in a particular demographic by drawing nearly 8 million viewers in the 18 to 49 demographic. Fans can't get enough of this show, and it's not hard to see why. The writing, performances and outstanding technical crew deliver a feature-length quality hour of television every week.
Looking Ahead
Kyle Maclachlan is back as The Captain on How I Met Your Mother on February 18 on CBS.
The series premiere of Cult airs on The CW on February 19.
The season premiere of Body of Proof airs on ABC on February 19.
The series premiere of Out There airs on IFC on February 22.
TV's a big place and I haven't been to all of it yet. Got a favorite show you'd like me to comment on? Post a comment below, contact me on twitter @RobLazlo. or shoot me an email: [email protected]. I welcome your input!