HIGHLIGHTS
This season of The Walking Dead has been building to a seemingly inevitable showdown between Rick's (Andrew Lincoln) group at the prison and the Governor's (David Morrissey) army at Woodbury. The finale then, both kept and broke that promise simultaneously, and, as always, kept The Walking Dead's body count climbing, reiterating the show's unofficial mantra, "no one is safe."
Hit the title/continue reading to read more. . .

The second half of The Walking Dead's third season has been a bit uneven. The high points (the Clear episode, which brought back Lennie James as Morgan; the reunion and subsequent tension between Darryl and Merle Dixon, played by Norman Reedus and Michael Rooker, respectively; the continued hardening of Carl, played brilliantly young Chandler Riggs) represented the best of what The Walking Dead could deliver. But the storyline for Michonne (Danai Gurira), after a promising start, really didn't go anywhere. Likewise the storyline for Tyreese (Chad Coleman), who, despite a prominent role in the graphic novels on which the show is based, has been in a holding pattern since being introduced.
Continuing the tradition of bucking its source materials storyline, The Walking Dead did not deliver a final showdown with The Governor, choosing instead to leave Morrissey's character out there for season 4. That's good news for season 4, but meant that the finale lacked what would have been a very satisfying closing.
Instead, Dead killed off Milton (Dallas Roberts) an ancillary but very interesting character, and Andrea (Laurie Holden), one of the original members of the group of survivors. This was done, again, contrary to the graphic novel canon.
Laurie Holden as Andrea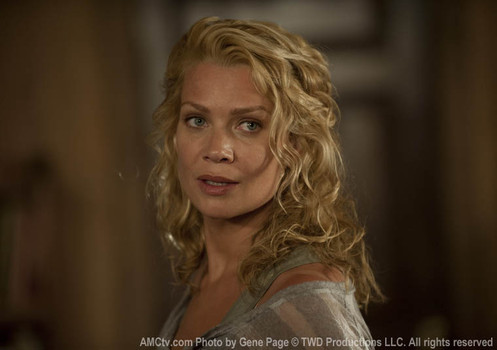 The season finale may not have packed the crescendo punch many viewers were hoping for, but it did set up promising and exciting prospects for season 4. There is little doubt this show will continue to be a phenomenon.
IT CERTAINLY FELT like a season premiere. After all, this week's Doctor Who represented a new beginning, introducing a new companion and a new grand and twisty storyline for the Doctor to unravel.
In reality, though, Doctor Who's return was only its midseason premiere, and new companion Clara (Jenna-Louise Coleman) is at the center of the mystery the Doctor (Matt Smith) must solve, thanks to some smart pre-story stories which showed us that Clara lived both in the Victorian past and the space-faring future. How that could be possible is where the remainder of Season 7 will take us.
Then there's the challenge for Coleman, who looks and sounds as if she was born to play the Doctor's companion. Replacing the wildly popular Karen Gillan as Amy, especially after the moving and emotional sendoff episode that ended the Doctor's travels with Amy and Rory (Arthur Darville) is no easy task, but Coleman has already created a uniquely non-Amy character: less fiery, more plucky, less emotional, more flirty, less intense, more cerebral. Coleman's on-screen chemistry with Smith is immediate and substantial.
Smith & Coleman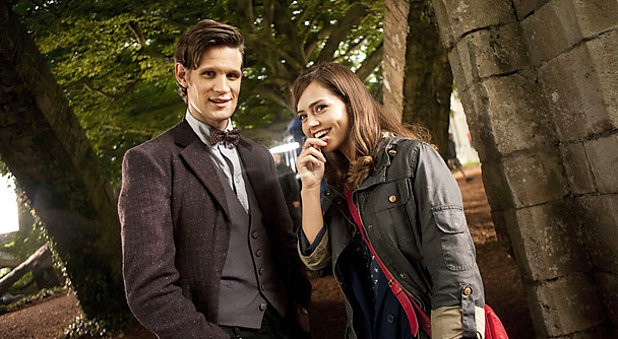 And, of course, there's that intriguing storyline, with Clara having already lived in two separate time periods and now existing in the present day. If past seasons are any indication, expect the Doctor to solve this one by the end of season 7, only to discover that its cause is a much larger problem and an even grander adventure for the Doctor and Clara to undertake in season 8.
QUICK TAKES
This season may well be remembered as one which featured a number of shows that unsuccessfully tried to feature same-sex couples in an unrealistic and over-the-top manner. No surprise that The New Normal and Partners won't be back. But Scandal, a show known for pushing the envelope and going over-the-top every chance it gets, also managed to feature a very believable and sober look at a same sex couple. Cyrus (Jeff Perry) and James (Dan Bucatinsky) are NOT young and flamboyant, in other words, they're not "TV gay." They are, however, a loving couple with real problems in their relationship, complicated by job pressures and the simple reality that love is difficult. Scandal may revel in its outrageous story developments, but the show resonates because of its characterizations, and these two are spot on.
Educational TV. Things we learned from watching TV this week: 1) Any man who has $500 million is good looking (Conan); 2) Preaching to the choir is challenging, because they can't hear you over all the singing (The Mindy Project); 3) Heidi Klum saved her son from drowning. Apparently she learned to swim when she was married to Seal (Chelsea Lately).
By now, you've heard that Jimmy Fallon will replace Jay Leno on The Tonight Show, ending months of speculation about the late night battlefield. Or has the speculation only begun? Where does Leno land? One possibility is CBS, where David Letterman may be considering retirement in 2014, when his contract is up. Another possibility is Fox, which might reconsider rejoining the late night war if it can land Leno, who remains the most popular late night host on television (although his demographic numbers among 18-34s are what got him replaced). Moreover, the list of potential replacements for Fallon is equally intriguing. SNL's Seth Meyers or The Soup's Joel McHale have both been mentioned. Naturally, Conan's name came up, although that one would be a shocker since he left that job rather than return to it. The most surprising name on the list, though, is Stephen Colbert (his contract is ALSO up in 2014), although it's hard to imagine him leaving the perfectly-formatted Colbert Report to settle in to a standard talk show format. Either way, stay tuned. Shake ups are coming.
All In With Chris Hayes debuted on MSNBC this week, and I was anxious to see if the host of the weekend show Up With Chris Hayes would keep his format in the more cookie-cutter environment of nightly cable news. Thankfully, he has. Hayes' show distinguishes itself by tackling more complex issues that aren't being talked about on other shows, and by assembling panels that include real experts on the subject matter and not just talking head opinion spewers. Hayes is unabashedly liberal, but his panels are usually balanced, and in any case the lack of purely political discussion in favor of real policy-wonk type conversations result in the show not looking or sounding like anything else on cable news on either the liberal or conservative side. I assure you, I mean that in the best way. I don't know if audiences will be willing to give a more substantive show that challenges them to think a chance, but let's hope they do. This is the kind of show that represents the unfulfilled promise of 24 hour cable news. I'll be rooting for it.
Looking Ahead
The season premiere of Mad Men airs on AMC on April 7.
The season finale of The Carrie Diaries airs on The CW on April 8.
The season finale of Being Human airs on Syfy on April 8.
The series premiere of Ready For Love airs on NBC on April 9.
The season finale of Cougar Town airs on TBS on April 9.
The series premiere of Da Vinci's Demons airs on Starz on April 12.
TV's a big place and I haven't been to all of it yet. Got a favorite show you'd like me to comment on? Post a comment below, contact me on twitter @RobLazlo. or shoot me an email: [email protected]. I welcome your input!