So what's with the latest season of True Blood? To listen to the chatter on the internet, you'd think the show had gone completely off the rails, but I don't see some massive drop in quality here. Are people just tired of the story?
Hit the title/continue reading to read more. . .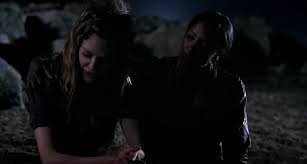 Season 6 begins right where Season 5 left off. Bill (Stephen Moyer) has consumed the blood of the first vampire Lilith, and has been imbued with superhuman, er supervampire type powers. He's also gone a bit cracked, lapsing into trances and openly stating he doesn't know what he is anymore. This has caused everyone but his progeny Jessica (Deborah Ann Woll) to back way off of him. The SuperBill storyline has been OK so far – the trancelike scenes with Lilith are way too long, but it has given Woll a chance to really shine.
Much more interesting is the development of the Tara (Rutina Wesley) and Pam (Kristin Bauer von Straten) relationship, and these two have become the most interesting characters on the show (save for Nelsan Ellis' ongoing brilliant portrayal of Lafayette, who steals every scene he's in). Sadly, the same cannot be said for the lead character of the show, Sookie (Anna Paquin), whose latest romance with a fellow half fairy has not resonated at all with an audience that's used to Sookie cozying up with vampires and werewolves.
Season 6 also introduces two new characters. Rutger Hauer is having some obvious fun playing Sookie and Jason's (Ryan Kwanten) bizarre fairy godfather Niall, while Arliss Howard has been set up as an ambiguous Season 6 villain, the sleazy Governor Burrell.
Rutger Hauer rockin' the crazy hair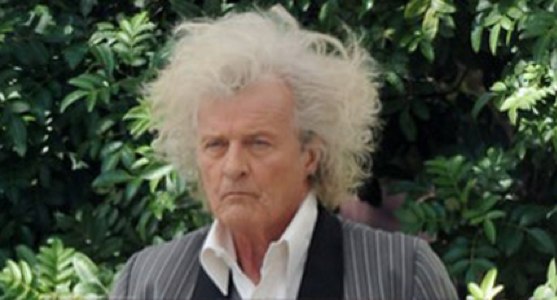 It's true that True Blood Season 6 isn't a whole lot like vintage True Blood Season 2 or 3, but the show hasn't lost its sense of humor or sense of fun, it's simply channeling it in a different way. Moreover, many of the characters have grown immensely from their more stock origins in the early years. I admit I am not enamored of the two storylines headlining the show – Bill's and Sookie's – but the season is early, and all of the rest of the plotlines are humming along nicely. True Blood is still well worth your viewing time.
THERE'S LITTLE DOUBT that the just concluded Season 6 of Mad Men took the show in as dark a direction as we've seen, but in true Mad Men style, the season ended on a note that was simultaneously crushing and momentously uplifting in the same breath.
Season 6 both wrapped (and set up for next season) it's three big story arcs. First there was Pete Campbell (Vincent Kartheiser). Pete was been on a downward spiral all year, and the final episode saw him learning that his mother had been murdered (in a great twist, Mad Men managed to turn this into a brilliant bit of black comedy and Pete and his brother commiserate). Pete is now truly a man without a country. He's been boxed out at work, his home life is non-existent. But as his estranged wife Trudy (Alison Brie) put it, he's now finally "free."
The ongoing flirtation between Ted (Kevin Rahm) and Peggy (Elisabeth Moss) was finally consummated, and we've seen Peggy now come full circle. Ted, of course, could not bring himself to leave his wife, so he's leaving New York altogether to get away from Peggy, whom he can't resist. The final scene of Peggy had her sauntering into Don's office and chilling in his chair Mad Men opening style. With Ted bound for California and Don on the outs (more on that later), Peggy appears to be poised to make the full climb of the corporate ladder. All it cost her was her soul.
As iconic as it gets: Peggy as the new Don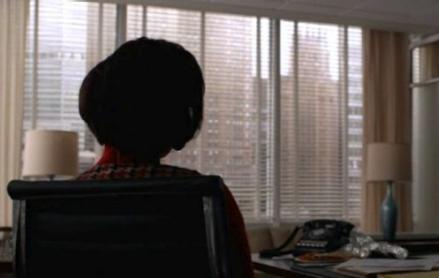 Finally, there's Don Draper (Jon Hamm). He truly hit rock bottom this week (and this season). His marriage to Megan (Jessica Pare) is on life support. He wound up in the drunk tank after slugging a minister. The partners had an intervention-style meeting and told him he was "on leave." On his way out the door, he met his replacement. And, of course, he's still dealing with his daughter Sally (Kiernan Shipka) having seen him for what he is, in flagrante delicto with Sylvia Rosen (Linda Cardellini). Where was there left for Don to go but to the truth. Mad Men's awesome final scene had Don taking his kids to the dilapidated former whore house where he grew up as Dick Whitman. As Judy Collins' Both Sides Now filled the speakers, Don and Sally exchanged a look that drew goosebumps.
The look that framed a season: Hamm & Shipka's wordless masterpiece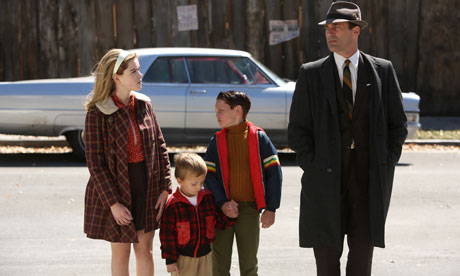 There's just one season of Mad Men left. I suspect Season 7 will skip ahead in time a bit. . .to the '70s or just before it maybe? About the only thing show creator Matthew Weiner has promised is that the show won't end with Don falling out a window (as is depicted in the opening credits). Where this show end is anyone's guess, but it's not speculation to already know that once all is said and done, Mad Men's place as one of the greatest television shows ever is secure.
BY NOW, EVERYONE knows the phrase "Jumping the Shark" and maybe most have also heard of "Growing The Beard", but I think we need a lot more phrases to describe what happens on our favorite TV shows. Here are some suggestions (along with the original two which started it all):
Jumping The Shark
Refers to: The moment when a TV show gets bad or ridiculous
Named For: The episode of Happy Days when Fonzi goes water skiing and (you guessed it) jumps over a shark
Example: Roseanne Jumped The Shark in that last season where they won the lottery
The scene that started it all: Fonzi (Henry Winkler) on water skis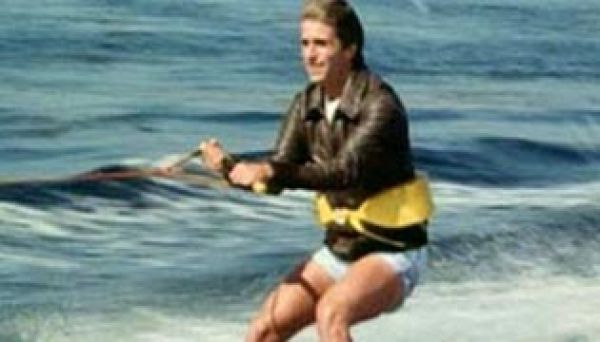 Growing the Beard
Refers to: The moment when a TV show really comes into its own
Named For: Jonathan Frakes' Commander William Riker showing up on Season 2 of Star Trek The Next Generation with a full beard
Example: Parenthood Grew The Beard this season with the storyline about Kristina's (Monica Potter) cancer battle
Putting on the Hat
Refers to: A character embracing his or her dark nature
Named For: Walter White's (Bryan Cranston) signature black porkpie hat, which he wears to embody his personna as drug mastermind Heisenberg on Breaking Bad.
Example: On Dexter, Deborah Morgan (Jennifer Carpenter) Put On The Hat when she shot LaGuerta.
Yeah, you bad now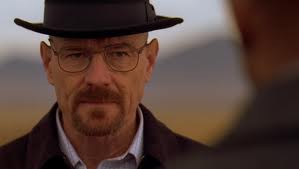 Moving to Los Angeles:
Refers to: A major upheaval in setting, format or cast
Named For: When Laverne and Shirley moved from Milwaukee to Los Angeles in Season 6
Example: Is Grey's Anatomy Moving To Los Angeles with that plane crash episode?
Introducing Randy:
Refers To: Replacing a major character with a lame-oid and/or trying to keep a show going after all the best characters leave
Named For: Randy (Josh Meyers) on That '70s Show. Really, Foreman & Kelso leave and you give us this guy?
Example: Body of Proof tried bringing in a new cop/boyfriend character, but Introducing Randy is not going to save that show.
Munching:
Refers To: A character showing up on another show or shows
Named For: Richard Belzer's ubiqitious Detective John Munch, who has appeared on nine different television shows
Example: CSI and CSI New York were Munching this week
Dancing With The Midget:
Refers To: When a show just goes over the top with its imagery, mythology or symbolism
Named For: Twin Peaks, and one of its signature images in the muddled and confusing Season 2.
Examples: Bringing Starbuck back on BSG was Dancing With the Midget. Lost Danced with the Midget for the last 9 episodes of its run.
Shit just got weird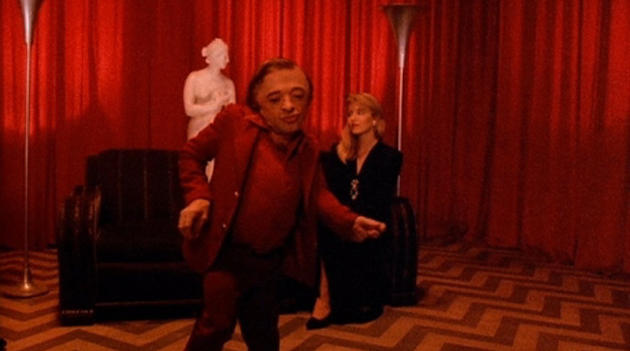 QUICK TAKES
What was your favorite gross-out TV moment of the week? Linden & Holder find a severed finger on The Killing, a cow get cut neatly in half on Under The Dome or Bill telekinetically doing a mouth to mouth blood feeding on True Blood?
Reality Check: America's Got Talent revamped its judging panel in the absence of Sharon Osbourne, adding another spot, and balancing out Howard Stern and Howie Mandel with the serious Heidi Klum and the enthusiastic Mel B. Bottom line, of course, is that on this show, more than any other reality competition, the judging panel isn't that vital. The show works because it's largely immune to the personality of its panel and relies instead on the variety and occasional absurdity of the talent on display. America's Got Talent remains the heir apparent to the old Ed Sullivan Show, and is the only place you can see animal acts, daredevils, magicians, stand up comics, and unicyclists spinning plates on sticks along with the singing and dancing.
Has there been a more contrived reality show than ABC's Whodunit. I thought perhaps the show would assemble a group of ordinary people and ask them to watch a dramatization of a mystery and then ask them (and the audience) to solve it. Instead, it's an elaborate haunted house game with numerous Survivor-like asides. Been there, done that.
Educational TV. Things we learned from watching TV this week: 1) The Portugese Language sounds like a dog being raped by a bagpipe (The Colbert Report); 2) Scalia is the Supreme Court Justice whose name most sounds like a GI Joe villain (The Daily Show); 3) Creepy Ass Crackers are racist but delicious (Real Time With Bill Maher).
So You Think You Can Dance is just a dance show right? They come out, they dance. Like singing, only with your feet, right? Wrong. The show found a completely new and original way to open its first live show of the season, presenting a brilliantly choreographed routine to Herb Alpert's version of Puttin On The Ritz that took place entirely backstage (and in the dressing room, control room, cafeteria, etc.) and even featured cameos from Exec Producer Nigel Lythgoe, judge Mary Murphy and choreographers Jason Gilkison and Tabitha and Napoleon D'umo. I daresay it was the very best and most original large group routine the show has ever done.
Looking Ahead
Dexter returns to Showtime on June 30, 2013.
The series premiere of Ray Donovan airs on Showtime on June 30, 2013.
The season finale of The Goodwin Games airs on Fox on July 1, 2013.
The series premiere of Siberia airs on NBC on July 1, 2013.
The season finale of Inside Amy Schumer airs on Comedy Central on July 2, 2013.
BBC America will run a Star Trek The Next Generation marathon on July 4, 2013.
SyFy will run a Twilight Zone marathon on July 4, 2013.
USA will run an NCIS marathon on July 4, 2013.
TV's a big place and I haven't been to all of it yet. Got a favorite show you'd like me to comment on? Post a comment below, contact me on twitter @RobLazlo. or shoot me an email: [email protected]. I welcome your input!