HIGHLIGHTS
Seth MacFarlane takes over hosting duties for the Academy Awards this year, leading to speculation that this will either be funny, entertaining and great or a complete disaster. MacFarlane's appearance on Saturday Night Live this season went exceedingly well, however, so I'm guessing he does a fine job as Oscar host. Of course, the real speculation on Oscar night focuses on who will be the winners, so here's my handicap on the top categories.
Hit the title/continue reading to read more. . .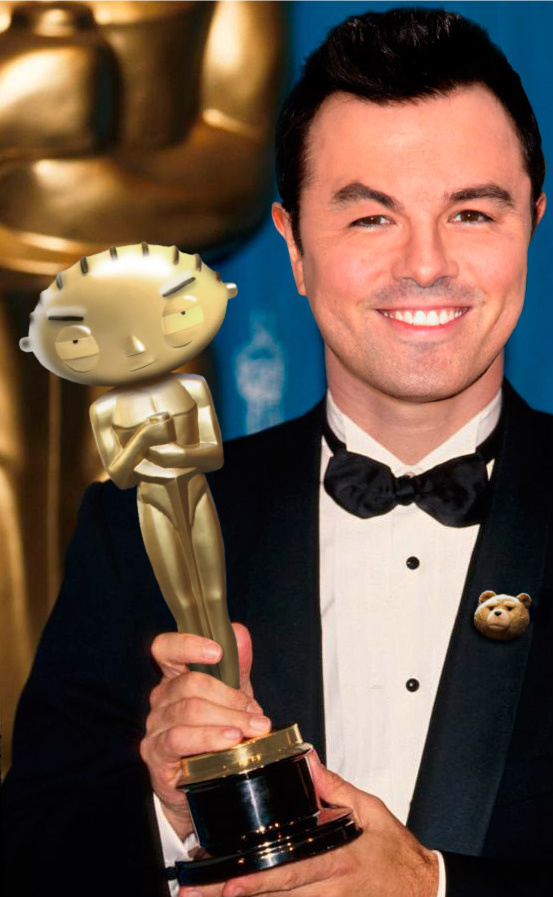 image source
BEST SUPPORTING ACTRESS
The Favorite: Anne Hathaway, Les Miserables
The Challenger: Sally Field, Lincoln
The Dark Horse: Helen Hunt, The Sessions
The Field: Amy Adams, The Master; Jacki Weaver, Silver Linings Playbook
Almost every major category is loaded this year, there's a reason you keep hearing industry people talk about what a watershed year this was for pictures. Just look at Best Supporting Actress, where in any other year, Hathaway, Field or Hunt's performances would likely make them a shoo-in. Instead, this is a tough race to call, and while Anne Hathaway's heart wrenching performance puts her at the top of the board, both Field and Hunt have won the hardware in the past and could do so again.
And the winner is. . .Anne Hatahaway
BEST SUPPORTING ACTOR
The Favorite: Tommy Lee Jones, Lincoln
The Challenger: Robert DeNiro, Silver Linings Playbook
The Dark Horse: Christoph Waltz, Django Unchained
The Field: Philip Seymour Hoffman, The Master; Alan Arkin, Argo
This race is just as tough to call as the last one. While everyone was talking about Jones' performance after seeing Lincoln, there has been a groundswell for everything Silver Linings Playbook recently and DeNiro has moved steadily up people's radar. I have a theory, however, about Christoph Waltz, who already won one statue working for Quentin Tarantino and might just win another one here.
And the winner is. . .Christoph Waltz
BEST ACTOR
The Favorite: Daniel Day-Lewis, Lincoln
The Challenger: Hugh Jackman, Les Miserables
The Dark Horse: Bradley Cooper, Silver Linings Playbook
The Field: Joaquin Phoenix, The Master; Denzel Washington, Flight
This is the one category where there's really no mystery. Day-Lewis will become the first actor in history to win three Best Actor awards for bringing President Lincoln to life. Tough break for Hugh Jackman, who gave the performance of a lifetime in Les Miserables, but I can't see anyone winning but Daniel Day-Lewis.
And the winner is. . .Daniel Day-Lewis
BEST ACTRESS
The Favorite: Jennifer Lawrence, Silver Linings Playbook
The Challenger: Jessica Chastain, Zero Dark Thirty
The Dark Horse: Quvenzhane Wallis, Beasts of the Southern Wild
The Field: Naomi Watts, The Impossible; Emmaneulle Riva, Amour
What a great field of performances this is. Any one of these actresses is a deserving winner, but I'm going with Jennifer Lawrence here, who has really taken awards season by storm. On the plus side, this will be one of the more anticipated acceptance speeches, as the goofy girl-next-door will likely be beside herself if she wins.
And the winner is. . .Jennifer Lawrence
BEST DIRECTOR
The Favorite: Steven Spielberg, Lincoln
The Challenger: Ang Lee, Life of Pi
The Dark Horse: David O. Russell, Silver Linings Playbook
The Field: Benh Zeitlin, Beasts of the Southern Wild; Michael Haneke, Amour
The story in this category so far has been the snub of Ben Aflleck for Argo, but the race shapes up to a good three-way between Spielberg, Lee and Russell, all of whom made very different films. My sentiment goes with Ang Lee here, who created something unlike anything anyone's ever seen before.
And the winner is. . .Ang Lee
BEST PICTURE
The Favorite: Lincoln
The Challengers: Silver Linings Playbook, Argo
The Dark Horse: Les Miserables
The Field: Life of Pi, Beasts of the Southern Wild, Zero Dark Thirty, Django Unchained, Amour
I find this to be the toughest race of all to handicap, and I just don't know which film among the top 3 is going to come out on top. When in doubt, go with momentum, so I think Silver Linings Playbook, which seems to have generated the most buzz recently is going to be the winner.
And the winner is. . .Silver Linings Playbook
QUICK TAKES
Hats off to Person of Interest. It takes guts to have an episode that's completely out of your wheelhouse, and this week's, which featured 30 minutes plus with no Finch and Reese, was thrilling and riveting, thanks to great guest performances from favorite villain Amy Acker and an ass-kicking Sarah Shahi. I'm hoping Person Of Interest stays true to form and brings her back at a later date.
Reality Check: In keeping with Comedy Central's new policy of having a plethora of stand up comics do their own weekly shows, Anthony Jeselnik headlines The Jeselnik Offensive. The problem with this show is that is really just The Burn, and Jeselnik's deadpan shock-comic delivery doesn't work in the format the way Jeff Ross' x-rated Catskills comic routine does. I could have picked a better headliner for this effort, and a change in format is definitely in order.
Hooray for anti-heroes. Banshee, Arrow and The Americans all feature different types of bad guys as good guys leads, but all with stellar results. Arrow's scored a renewal from the notoriously tightfisted CW, and with its political thriller plot and cross-cut of action sequences and family at home scenes, The Americans has been drawing comparisons to Homeland and The Sopranos. Check out these shows, if you haven't done so already.
Educational TV. Things we learned from watching TV this week: 1) Steve Harvey is the black Ryan Seacrest (Chelsea Lately); 2) Hipsters love '90s trivia more than they love pretending not to love anything (2 Broke Girls); 3) People who buy things are suckers (Parks and Recreation).
New sitcoms have been dropping like flies, but one unlikely survivor this season is ABC's The Neighbors, a show which has been pilloried by most critics, but which has seen an increase in viewers. The show is sometimes called a throwback sitcom, which I think means that it's a comedy show that actually tries to be funny, but in any case, this show did not deserve the derision heaped upon it in the past and consistently draws laughs, which, as I always say, ought to be the first goal of any comedy.
Looking Ahead
The 85th Academy Awards airs on ABC on February 24.
Burning Love, the web-based spoof of reality dating shows, comes to TV, premiering on E! on February 25.
Robot Combat League premieres on Syfy on February 26.
The series premiere of Golden Boy airs on CBS on February 26.
The series premiere of Nathan For You airs on Comedy Central on February 28.
The season finale of Portlandia airs on IFC on March 1.
TV's a big place and I haven't been to all of it yet. Got a favorite show you'd like me to comment on? Post a comment below, contact me on twitter @RobLazlo. or shoot me an email: [email protected]. I welcome your input!