HIGHLIGHTS
Fans of AMC's Breaking Bad were clearly the target market for Sundance Channel's Rectify, since the two shows share a production team and Sundance even runs BB reruns after first-run episodes of Rectify, but anyone tuning in in the hopes of reliving Bad's edgy, intense drama was likely disappointed. Rectify is a very different show, and it is not Breaking Bad, but that doesn't mean it has nothing to offer, either.
Hit the title/continue reading to read more. . .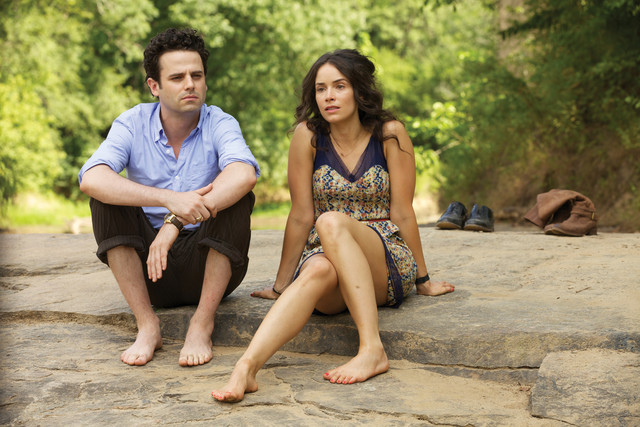 Rectify's story opens with the release of Daniel Holden (Aden Young) from prison, where he was on death row awaiting execution for the murder of his girlfriend years earlier. New DNA evidence, however, has served to overturn his conviction. In a nice twist, though, the evidence doesn't prove his innocence, it just adds enough doubt to the proofs adduced at trial to get him out of jail. He returns to his small town Georgia home facing the uncertainty of being retried, and possibly convicted again, and a town full of denizens who are split on his fate: Half the town want to string him up for being a killer; the other half feel vindicated in never having believed that he did it.
Young's performance as Daniel is remarkable, as he says little but conveys volumes through an unforgettable stare that is an expert combination of apprehension, bewilderment and regret. Equally good is Abigail Spencer as Daniel's sister Amantha. Amantha is one of those seemingly implacable Steel Magnolia types at first. It takes three hours for her to appear vulnerable, but the wait is worth it. Watching her slow unraveling is breathtaking.
Aden Young as Daniel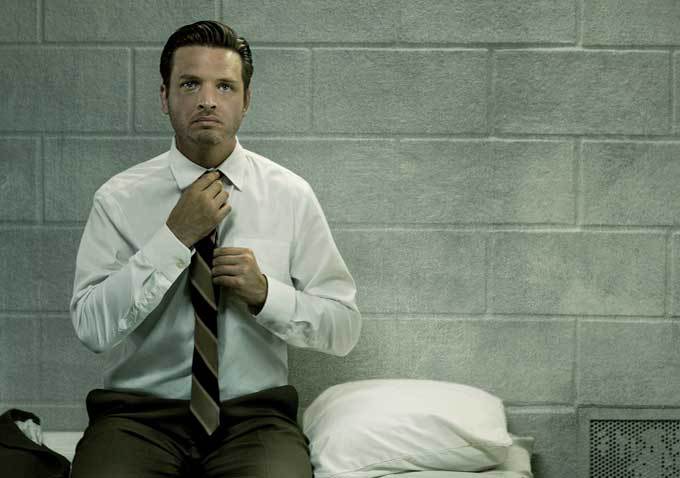 image source
Art imitates life, and life is messy. So, too, are Rectify's storylines which leave unresolved threads hanging around for weeks instead of wrapping things up in a convenient, comfortable package. Rectify is risk-taking storytelling, with flawed characters and a protagonist who very well might be a murderer. This isn't Breaking Bad, but maybe that's a good thing. I'd rather see a completely original show exploring new territory than a copycat effort, even a good one. No show is ever going to duplicate Breaking Bad. Rectify is smart not to try.
ARE YOU READY for yet another cookie cutter family sitcom? I didn't think so. Coming on the heels of How To Live With Your Parents, ABC unveils the B-roster version with Family Tools.
Loveable loser Jack Shea (Kyle Bornheimer) returns home to take over the family business from his distant father (J.K. Simmons), who reluctantly hands over the reigns at the urging of his sassy sister (Leah Remini). Luckily Jack has an upbeat right hand man (Edi Gathegi) to rely on. If this all sounds like Ben from Ben and Kate takes over the business from his dad Red Foreman, whose sister is the wife from King of Queens, it's because there's no originality to the writing or storytelling here.
Family Tools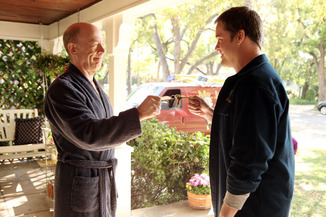 image source
I applaud the casting of J.K. Simmons and Leah Remini in a sitcom, but why in the world make them ancillary characters. I'd be far more interested in a show focused on those two, without the hipster doofuses, but sadly, ABC has shown a real aversion to highlighting its more veteran stars (How To Live Your Parents puts Brad Garrett and Elizabeth Perkins in secondary roles, but at least they have Sarah Chalke as the headliner). The bottom line is that it's time for someone to come up with something new sitcom-wise. Can we declare the era of the Modern Family clone dead once and for all? Please?!
QUICK TAKES
This week's comedy MVP goes to The Big Bang Theory's Simon Helberg, who showed off some impressive impressions of Nicolas Cage, Christopher Walken, Al Pacino and co-star Kunal Nayyar. Well done. Hilariously well done.
Educational TV. Things we learned from watching TV this week: 1) New York exists outside the mind of Billy Joel (Saturday Night Live); 2) A girl with glasses should know better than to dance on the stripper pole (The Mindy Project); 3) The first rule of Book Club: Don't Read Fight Club (The Colbert Report).
This week saw the airing of the season finale of Community, and it's up in the air whether that episode, which returned to a number of fan-favorite Community themes like alternate timelines and paintball (as an aside, Alison Brie's Evil Annie is the hottest transformation since Alyson Hannigan's Vampire Willow on Buffy), would also serve as the series ender. It's true that this has been an uneven season for Community, but I'm hoping the show comes back. The new showrunners got a raw deal with a truncated season and uncertainty, and it would be nice to see what they can do with this great cast with a full season's security in hand.
OK, so Norman Bates is learning about taxidermy. How much better did the odds just get that the series finale of Bates Motel will feature a stuffed Vera Farmiga?
Looking Ahead
Kristen Wiig returns to host Saturday Night Live on NBC on May 11.
Once Upon A Time and Revenge air season finales on ABC on May 12.
The series premiere of Family Tree airs on HBO on May 12.
The season finale of American Dad airs on FOX on May 12.
How I Met Your Mother and 2 Broke Girls air season finales on CBS on May 13.
The season premiere of So You Think You Can Dance airs on FOX on May 14.
The season finale of NCIS airs on CBS on May 14.
The season finales of New Girl and The Mindy Project air on FOX on May 14.
The season finales of Arrow and Supernatural air on The CW on May 15.
The Big Bang Theory and Elementary air season finales on CBS on May 16.
The season finale of Scandal airs on ABC on May 16.
A new American Idol is named on FOX on May 16.
The season finales of The Vampire Diaries and Beauty and the Beast air on The CW on May 16.
The series finale of The Office airs on NBC on May 16.
The season finale of Nikita airs on The CW on May 17.
TV's a big place and I haven't been to all of it yet. Got a favorite show you'd like me to comment on? Post a comment below, contact me on twitter @RobLazlo. or shoot me an
email: [email protected]. I welcome your input!