There have been big changes at Nurse Jackie in the offseason, and not necessarily for the better. Most significantly, we reluctantly bid farewell to Eve Best, who played Dr. Eleanor O'Hara, one of the show's funniest and most interest characters, and, not insignficantly, Jackie's (Edie Falco) closest confidant.
Hit the title/continue reading to read more. . .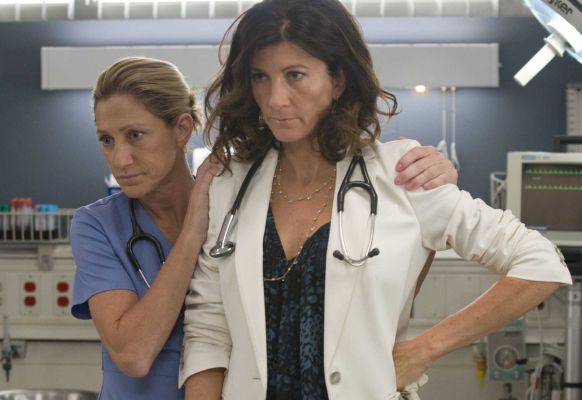 Best's departure may be unwelcome, but it fits the Season 5 theme of the increasing isolation Jackie is experiencing. Zoey (Merritt Weaver) has moved out of Jackie's house and gotten her own apartment, ex-husband Kevin (Dominic Fumosa) is aggressively hostile; ex-lover Eddie (Paul Schulze) is passive-aggressively hostile.
While Edie Falco is more than up to the challenge of continuing to make Jackie's struggles with her personal demons simultaneously hilarious and gut-wrenching, the show itself seems to be suffering from a malaise. The introduction of two new characters has done little to cure it. Morris Chestnut's military super-doc Ike Prentiss is a too perfect cross between Hawkeye Pierce and House, M.D., while Betty Gilpin's Dr. Carrie Roman is similarly too stereotypical and a completely over the top slacker. How did she ever get through medical school?
Nurse Jackie has always excelled at pathos, and perhaps the spike in its misery index is building to a mid-season crescendo that will prove cathartic, but for now, only Falco seems up to the challenge the show has set for itself. The writing staff simply does not.
BACK FOR AN abbreviated final run, Showtime's cancer victim comedy-drama The Big C returns with four double-length (one hour) episodes to finish the sage of Cathy Jamieson (Laura Linney). Season 1 of The Big C was about Cathy wanting to die. Season 2 was about Cathy fighting to live. Season 3 wasn't about anything, and the show devolved into a horrible mish-mash of out of character disjointed story lines that left its future in question.
Thankfully, The Big C appears to have its sense of gallows humor back, and has its characters acting more like the ones in the first two seasons that we came to care about.
Laura Linney and Gabriel Basso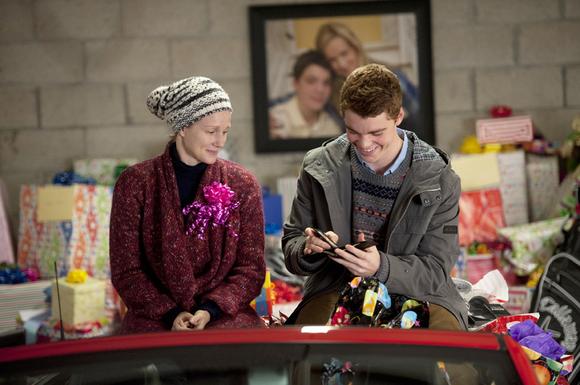 To be sure, The Big C always faced the challenge of how it would end – either with an overly sentimental miraculous recovery or an overly dark death for its main character. The show appears to be bravely steering toward the latter option, although it remains to be seen how close to that particular finish line The Big C wishes to get. In the meantime, Season 4 (subtitled Hereafter) has rediscovered not only Cathy's humor but also her heart, and the season premiere featured both finely tuned comedic moments and truly heart breaking scenes, in particular Cathy's talks with her son Adam (Gabriel Basso).
There are only a few more hours of The Big C left to enjoy, but it is heartening to know that the show, however it chooses to end, is going to go out with a ton of class.
QUICK TAKES
Last week, Game of Thrones delivered the jarring action and majestic cinematography that makes it like no other show on television. This week, it did that other thing it's great at, namely, terse, dramatic, eyepopping intense character interactions that stay with you just as long as the brilliant visuals. My personal favorite this week was Jaime Lannister's (Nikolaj Coster-Waldau) stirring, cathartic emotional monologue about the last days of the Mad King while Lady Brienne (Gwendoline Christie) listened in horror and amazement. Season 3 was billed as the mother of all seasons for GoT. They haven't disappointed yet.
Reality Check: I liked, didn't love, Inside Amy Schumer, Comedy Central's latest edgy stand-up vehicle. Schumer is pretty funny, which is to say she's about as funny Anthony Jeselnik, a little less so than Jeff Ross and a lot more so than Russell Brand, but I will say that at least Schumer's show is a combination of talk, standup and sketch comedy, and not just a rehash of the identical formulae used in The Burn and The Jeselnik Offensive. I see potential.
A pair of finales this week highlighted the differences between the shows airing them. The Following went completely over the top, as it has been all season, leaving viewers numb to the mayhem. By contrast, The Americans smoldered right up until it caught fire in its penultimate sequence. For an aperitif, the show provided a shifting montage to Peter Gabriel's hypnotic Games Without Frontiers, and left us with some answers, more questions (what the hell was Paige looking for in that basement?!) and a can't-wait-til-next-season sense of anticipation.
Educational TV. Things we learned from watching TV this week: Congress (n). Bunch of useless f*cktards who couldn't solve a problem if it was eating them alive, anus first (The Daily Show); 2) It takes 8 minutes to have sex in a tree (Parks & Recreation); 3) If you ignore syphilis, it will eventually destroy the part of your brain that minds that you got syphilis (The Colbert Report).
Looking for one of those great, subtle hidden performances from a supporting character? Check out Bates Motel's Olivia Cooke as Emma Decody, the teen with CF, a short life expectancy and an unrequited love for Norman Bates (Freddie Highmore). It would be too easy to play this character as pathetic, or overly plucky. Instead, Cooke hits the sweet spot. Emma is broken, and while she's not exactly hopeful or even necessarily courageous, she lives in the moment because that's what she has. It takes a lot to stand out in a scene with Vera Farmiga, who's generating well deserved emmy buzz for this show, but Olivia and Norma's back and forth this week was an even match.
Sitcoms don't usually feature cliffhanger endings, but Parks & Rec executed a nifty one in this week's season finale, having Diane Lewis (Lucy Lawless) burst into Ron's (Nick Offerman) office needing to "talk," thus solving they mystery of who had a positive pregnancy test.
Looking Ahead
The season finale of Hart of Dixie airs on May 7 on The CW.
The season finale of Two and a Half Men airs on CBS on May 9.
The season finale of Glee airs on Fox on May 9.
Community airs its season finale on May 9 on NBC.
The season finale of Person of Interest airs on CBS on May 9.
The season finale of Vegas airs on CBS on May 10.
The season finale of Touch airs on Fox on May 10.
TV's a big place and I haven't been to all of it yet. Got a favorite show you'd like me to comment on? Post a comment below, contact me on twitter @RobLazlo. or shoot me an email: [email protected]. I welcome your input!