ABC's Motive tries to present its format as something novel, and while the show is not a traditional whodunit, its howcatchum storylines are hardly new – Columbo always began every episode showing you the crime and the perpetrator.  The fun was in watching Lt. Columbo (Peter Falk) figure it out.
Hit the title/continue reading to read more. . .
Fun, however, is sorely missing from Motive, a rather tired police procedural that doesn't use its twist at the beginning of each show to any particular purpose.  The motive for the crime that we see at the beginning has little to do with solving it, nor is there anything interesting or novel about the procedural aspects of the police work.
Columbo had a quirky, unforgettable genius of a lead character to draw audiences in.  Motive has Detective Angie Flynn (Kristin Lehman), who is supposed to be hard-boiled and tough but is written as just bitchy, despite Lehman's best efforts to make the character likeable.
I hate to bother you, but why did you think you could do a show like this without me. . .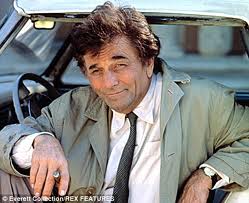 Motive suffers from a plethora of poor storytelling.  The writing is flat.  It would seem that every show will have the cops focusing on the wrong suspect before they figure out the right one.  I'm guessing this summer replacement will disappear come fall.
NBC IS LOOKING for breakout shows to be part of its fall lineup.  Save Me won't be one of them.
When we meet Beth Harper (Anne Heche) she has an insane drunken look in her eyes and is holding a hammer, considering bashing her husband's skull in.  Instead, she stuffs her face with a sandwich the size of my leg and chokes to death (almost).  Give the casting department credit.  If there's an actress who can sell a crazy, scary, unglued lunatic, it's Anne Heche.  Beth's husband (Tom Landes) and daughter (Madison Davenport) can't stand her.  Five minutes in, the audience agrees with them.
Anne Heche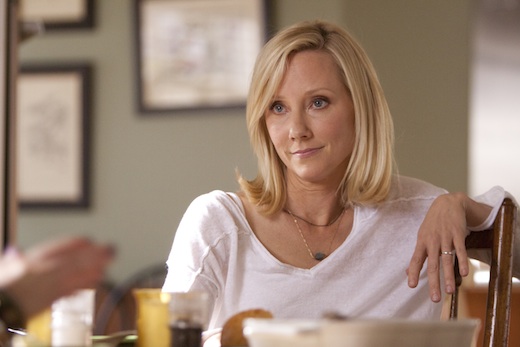 The show attempts to pose the question (perhaps unintentionally), "What if the world's MOST unlikeable person could suddenly talk to God."  The predictable answer is that imbuing a borderline maniac with religious fervor doesn't up her favorables much.
Save Me?  Save yourself.  Skip this show.
More Finales:
Doctor Who – never to be outdone, Doctor Who's season finale explained how Clara (Jenna-Louise Coleman), the "impossible girl," was possible, bringing back fan favorite River Song (Alex Kingston) to do so.  But the even bigger surprise?  Heavyweight John Hurt will join the show when it returns in November as a future version of the Doctor himself!  Dammit, why can't I time travel to the future and watch those episodes right now?!
Saturday Night Live – like last year's tribute to Kristen Wiig, this year's SNL finale featured the last show for two great, GREAT performers, Bill Hader and Fred Armisen.  Hader got to play Stefon one final time, in a goofy The Graduate-inspired segment during Weekend Update, but the most poignant moment was the show's final sketch, when Armisen reprised indie rocker Ian Rubbish and sang his goodbye to the cast, crew and audience, and was joined by a number of guests (including Portlandia co-star Carrie Brownstein).  It was a more understated send off than Wiig's last year, but no less moving.
Nashville – this show has been a truly great musical soapy ride, all of the things Smash never managed, but I do have a real qualm about how Maddie (Lennon Stella) found her DNA test.  "Oh, here's this devastating piece of information no one must ever know.  I think I'll keep it in a shoebox in an unlocked closet where literally anyone could find it."   C'mon, now!  That aside, Nashville did a great job of bringing it's three major storylines and several ancillary ones to a head all at the same time in the finale.  Juliette's (Hayden Pannettiere) melancholy, defiant closing song, Nothing In This World Will Ever Break My Heart Again, was also the perfect closing theme (Kudos to Panettiere for a pitch perfect rendition as well).  Unlike some of its more interesting characters, this well-oiled machine of a show is the exact opposite of a hot mess.
QUICK TAKES
The Big C ended its four-episode closing season with a poignant goodbye to Cathy Jamison (Laura Linney).  This show was always a long-shot to last, but it accomplished much in its run, exploring the uncomfortable issues of illness, health care and dying in a comedy-drama format.  TV needs more shows like this one, that push the envelope and make us think about things we might otherwise be content to ignore.
Educational TV.  Things we learned from watching TV this week:  1)  Smoking crack is the beloved national pastime of Canada (The Daily Show); 2) If you think you're about to die, make sure you tell someone to erase the history on your computer (How To Live With Your Parents For The Rest Of Your Life); 3)  Your office stapler is a Buddhist.  In its next life it hopes to be a fax machine (The Colbert Report)
You can always tell when a show has gotten real comfortable with itself, such as this week's Grimm finale which teased viewers with "C'mon, you knew this was coming" beneath the words "To Be Continued" at the conclusion of its cliffhanger finale.  Grimm has managed to stay fresh and fun,however, and certainly beat the odds and became a hit despite running on Friday nights until it finally got moved to Tuesday.  I'm looking forward to more fun in Season 3.
Looking Ahead
The series finale of Smash airs on May 26 on NBC.
The premiere of Behind the Candelabra airs on HBO on May 26.
The season premiere of The Bachelorette airs on ABC on May 27.
The season premiere of Longmire airs on A&E on May 27.
The series premiere of Brooklyn DA airs on May 28 on CBS.
The series finale of Body of Proof airs on May 28 on ABC.
TV's a big place and I haven't been to all of it yet.  Got a favorite show you'd like me to comment on?   Post a comment below, contact me on twitter @RobLazlo. or shoot me an email:  [email protected].  I welcome your input!