HIGHLIGHTS
Back after what always seems like an interminable wait, Mad Men has returned for its sixth season, and wasted no time in answering a couple of questions that had fans chomping at the bit during the offseason.
Hit the title/continue reading to read more. . .
First, we saw a return for January Jones' Betty Draper in the opener, and while it is not clear whether Betty's story will only intermittently resume (as it did in Season 5), there was a clear set up for future conflicts between Betty and Sally (Kiernan Shipka), as the latter approaches young adulthood. These two characters' stories, in many ways, will be Mad Men's ultimate comment on the passage of the United States from the naivete of the 1950's to the pain and awakening of the late 1960's.
In addition, fans (me included) were relieved to see that Peggy Olsen's (Elisabeth Moss) departure from Cooper, Sterling did not mean her departure from the show. Instead, Peggy is now doing Don's job at a rival agency, and is dealing with the resentment women in power continue to feel right up until the present day.
Roger Sterling (John Slattery) is continuing his exploration of his existential crisis, this time through psychotherapy instead of LSD, but with no less hilarious results, as Slattery continues to show as much comedic as any member of this gloriously talented cast. On the flip side, Pete (Vincent Kartheiser) finally crosses the line in his descent and exploration of debauchery, and Trudy (Allison Brie) throws him out of the house.
The other major cliffhanger of Season 5 was whether Don (Jon Hamm) would remain faithful to Megan (Jessica Pare), and as usual, Mad Men stunned us with the answer. Of course, Don faltered, but in a deviation from his usual pattern, he's sleeping with the wife of a friend and neighbor (played by Linda Cardellini in a surprising but inspired piece of casting), and watching the two couples bond while Don and his ingenue protect their secrets have provided some of the most intensely dramatic moments of the season thus far, made no less so by the outstanding chemistry between Hamm and Cardellini, and Cardellini and Pare. Only Mad Men could introduce a character in Season 6 and leave you wondering, after just a few episodes, how the show got on without her before.
Hamm & Cardellini in a surreptitious moment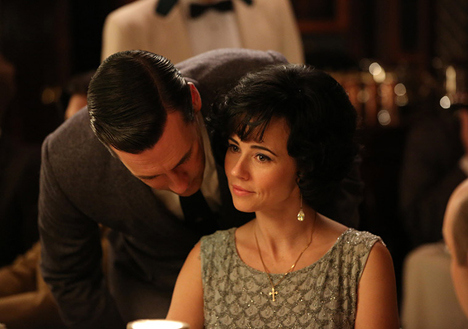 Show runner Matthew Weiner has already let us know that this is the penultimate season of Mad Men, so while the end may still seem a long way away, it is definitely on the horizon. Mad Men has cemented itself as one of the finest dramas ever to air on television, so sit back and enjoy this fantastic program while you still can.
THE BIGGEST CHALLENGE facing Hannibal, NBC's creepy atmospheric Hannibal Lecter origin story, is how to make characters and material that have already been portrayed in multiple films seem fresh and interesting. On that count, Hannibal passes with flying colors.
Set in the period of time just before the films Manhunter and Red Dragon, Hannibal shows the introduction of FBI profiler Will Graham (Hugh Dancy) and the not-yet-infamous Hannibal Lecter (Mads Mikkelsen). Graham isn't talking to Lecter as a consultant, however, he's ordered by his boss Jack Crawford (Laurence Fishburne, taking up the role previously played by Dennis Farina, Harvey Keitel and Scott Glenn) to visit Lecter as a shrink. Dancy's Graham is fragile, teetering and damaged, and in that sense more closely resembles William Peterson's portrayal of the character in Manhunter and far less Ed Norton's characterization in the more story-driven Red Dragon. He's simultaneously drawn to and repulsed by the evil he emphatically perceives. His colleague Dr. Alana Bloom (Caroline Dhavernas) tries to protect him, Crawford needs him to be quasi-functional, and Lecter seems fascinated by him, constantly pushing him to explore the depths of his attraction to the dark side.
Hugh Dancy and Mads Mikkelsen
The freedom granted by weekly series television allows Hannibal to expand the character universe, and sleazy crime reporter Freddie Lounds, given only passing attention when previously played by Stephen Lang and Phillip Seymour Hoffman, is reimagined more manipulatively and slimey than ever in the person of Lara Jean Chorostecki, who plays a wonderful foil to Graham and also, quite surprisingly, to Lecter. Hetienne Park also breathes life into the character of Beverly Katz, a lab geek who seems to be the only one not walking on eggshells around Will Graham.
Of course, the biggest challenge of Hannibal is for Mikkelsen, trying to reinvent the role made famous by Anthony Hopkins. Hannibal is smartly written however, and Mikkelsen makes excellent choices as Lecter, and the show and actor take full advantage of the fact that this is NOT the full-blown crazy Hannibal Lecter who is already in prison in films like Red Dragon and Silence of the Lambs. In fact, the plot has been quite coy around the point of whether Lecter is already a monster in lambs' clothing (pun intended…sorry) or whether he is merely a fascinated acolyte of the world of serial killers, waiting for his chance to self-initiate.
However it plays out, Hannibal works as a prequel and an origin story, but more importantly, it works as a stand-alone suspense thriller drama, less over-the-top than The Following, but filled with moody, uncomfortable sequences and always colored over by the pallor of our knowledge of just who this character is and what he will become. This show takes on a difficult challenge and produces a brilliant result.
QUICK TAKES
Fans of Louis CK's dark comedy meets arthouse project meets standup routine meets defies description sitcom Louie will have to wait until next year to see new episodes, but you can get your CK-fix this month if you check out the comic's latest HBO special, Oh My God, which premiered this week. The comic is at the top of his game, and Oh My God is loaded with hilarious bits that should tide you over.
Educational TV. Things we learned from watching TV this week: 1) Uzbekistan is between Turkey and Icouldgiveafukistan (Veep); 2) Twitter is the best way to share stupidity with the world (The Daily Show); 3) Ozzy Osbourne isn't any easier to understand now that he's sober (Chelsea Lately).
This week's best use of a celebrity AND a pop song in the same commercial: the Toyota Rav 4 spots which feature The Big Bang Theory's Kaley Cuoco as a wish-granting genie and close with Skee Lo's classic rap I Wish.
Reality Check: I was hoping VH1's Off Pitch would be a show that explored the hyper-competitive world of college show choirs, which spawned the book and movie Pitch Perfect. Instead, this is a straight reality show, following one group of singers/Glee-fans from Wisconsin. Fill in the blank petty conflicts and cliched reality TV "suspense" ensue. Skip this one.
Margo Martindale won an Emmy for her work on Justified. She's bringing the same intensity to The Americans, and the tense chemistry in her scenes with Keri Russell are among the best moments of the show each week. Just another reason to watch this show, one of the best to debut this season.
Looking Ahead
All The President's Men Revisited airs on Discovery on April 21.
Rectify debuts on Sundance channel on April 22.
The series premiere of Knife Fight airs on Esquire on April 23.
The season finale of Happy Endings airs on ABC on April 26.
TV's a big place and I haven't been to all of it yet. Got a favorite show you'd like me to comment on? Post a comment below, contact me on twitter @RobLazlo. or shoot me an email: [email protected]. I welcome your input!