It's not too late to catch up on Longmire, A&E's truly outstanding modern day western which just began it's second season.  Every aspect of this show is unique and the overall experience of watching it is transformative.
Hit the title/continue reading to read more. . .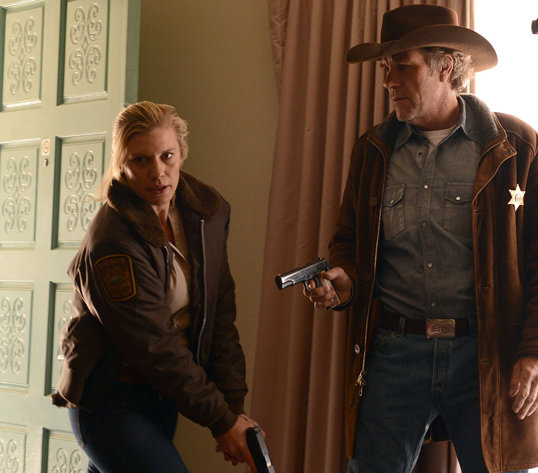 The Season 2 opener saw the increasingly conflicted Sheriff Walt Longmire (Robert Taylor) continuing to battle the demons of his recent past (the apt title of this episode:  Unquiet Mind) and continuing to isolate himself from those closest to him, his deputy, Philadelphia transplant Victoria Moretti (Katee Sackhoff, in a role as intense as her run as Starbuck on BSG but with a much more compassionate side) and his confidant and liaison to the Native American community Henry Standing Bear (Lou Diamond Phillips).
Longmire's clever plotlines are outpaced by its heavy character interactions, and the result is an engrossing and intelligent drama that you will have you invested if you choose to give it a chance.
I sang the praises of Longmire last season when it debuted and I'll do so here again.  This modern Western/Mystery/Police Procedural is a thoroughly entertaining and quality drama.  In a summer wasteland of reruns, it's a breath of fresh Wyoming air.
REMEMBER BREWSTER'S MILLIONS, that Richard Pryor comedy where he inherits millions of dollars but there's a catch before he can get the money?  That essential plotline is the basis for the new FOX comedy Goodwin Games.
The funniest moments of Brewster's Millions featured a cackling Hume Cronyn on videotape, explaining the bizarre provisions of his estate to a befuddled Pryor, and similarly, some of the best early moments of The Goodwin Games feature a deceased patriarch (Beau Bridges) sending his ne'er do well tribe of kids on a wild goose chase.
The Goodwin Games loses some of its juice when it turns to the kids, overachieving type A Henry (Scott Foley), party/mean girl Chloe (Becki Newton) and infantile slacker Jimmy (T.J. Miller).
The Clan Goodwin:  Foley, Newton & Miller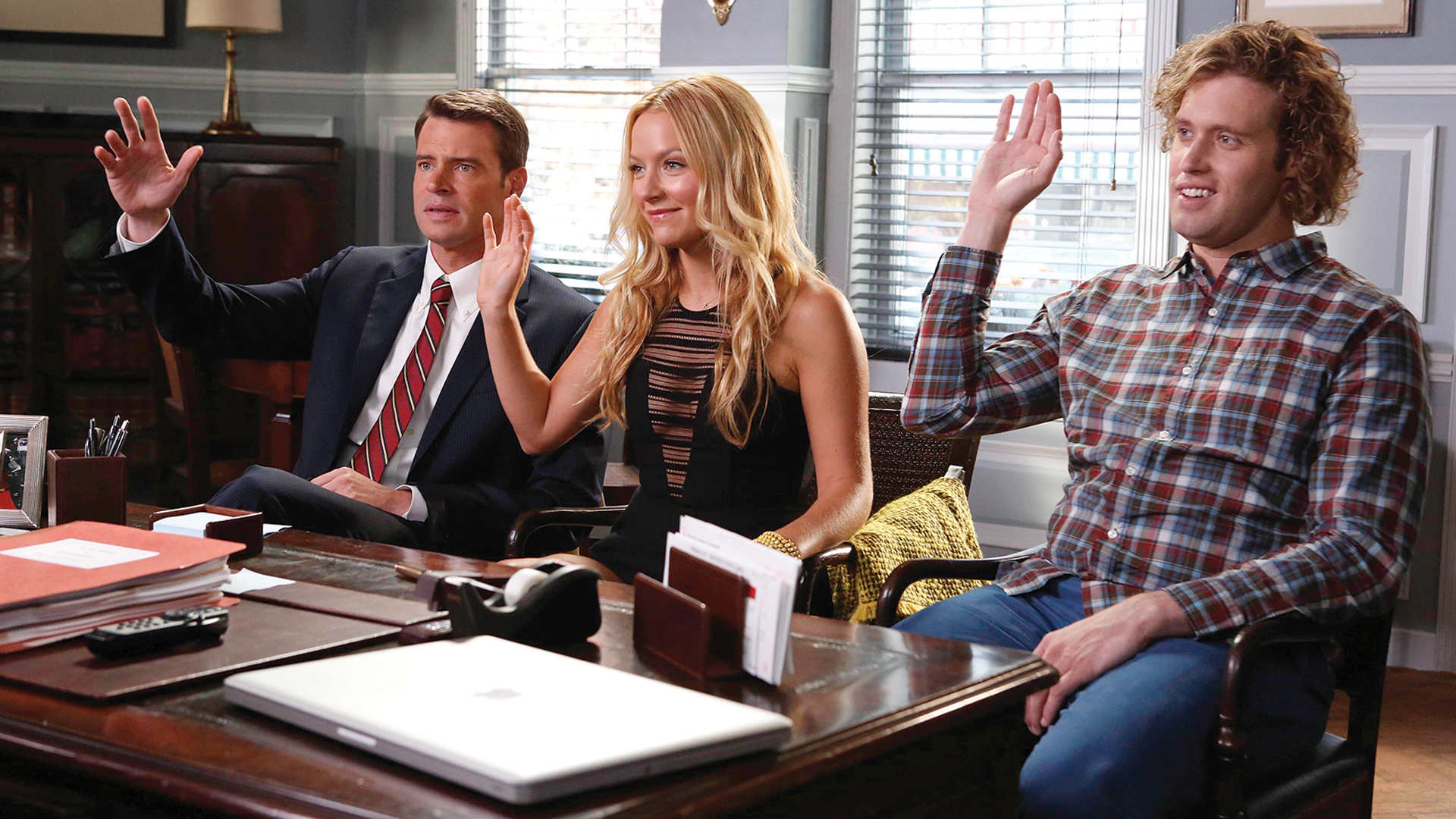 Part of the problem is the characters are drawn so stereotypically:  Henry is arrogant and insensitive, Chloe is vacuous and egocentric, Jimmy is completely directionless.  The plot requires that these characters would need some redemption, but they've been drawn way over to one side, and it makes it difficult to laugh with them instead of at them or to be particularly invested in their family bond.
Despite the shortcomings, The Goodwin Games shows some promise, and I'm willing to give the show its summer run to win me over.  Brewster's Millions fizzled somewhat down the stretch: this show will need to avoid that pothole if it's going to survive.
QUICK TAKES
One final salute to Smash, the show with so much potential that was consistently disappointing.  For a show many will remember as not that great, it's two-hour finale was basically everything its series run wasn't.  It even featured one of the show's best (and only good) cover songs, an ensemble performance of Queen's Under Pressure, and a big musical send off by Megan Hilty and Katharine McPhee.  If only the rest of the show had been this good.
Despite low ratings, NBC is taking a chance on Hannibal, renewing the psychological drama for a second season.  I'm glad to see NBC giving a quality show a chance to gain an audience, and if you're not watching Hannibal yet, now is the time to start, as the show grows more suspenseful and twisted every week.
What's the best talk show you've ever seen?  The Tonight Show?  Oprah?  The View?  All wrong.  Bravo Channel's ageless Inside the Actor's Studio celebrated its 250th episode with a special retrospective showing the many great moments and guests from the past 20 years.  James Lipton, thy name is perfection.
Looking Ahead
Wizards vs. Aliens airs its series premiere on The Hub Network on June 1.
The Killing airs its season premiere on AMC on June 2.
Mistresses airs its series premiere on ABC on June 3.
The season finale of Revolution airs on NBC on June 3.
The Secret Life of the American Teenager airs its series finale on ABC Family on June 3.
The season premiere of America's Got Talent airs on NBC on June 4.
Graceland airs its series debut on USA on June 6.
TV's a big place and I haven't been to all of it yet.  Got a favorite show you'd like me to comment on?  Post a comment below, contact me on twitter @RobLazlo. or shoot me an email: [email protected].  I welcome your input!