HIGHLIGHTS
Once thought to be the redheaded stepchild of the NBC lineup, and supposedly buried on Friday night, Grimm has returned for its midseason run of first run episodes and is no longer the little show left out in the cold. For one thing, NBC is in so much trouble over all, that having a solid performer in any time slot is a plus. For another, Grimm has actually become a buzzy show that generating a bigger and bigger following.
Hit the title/continue reading to read more. . .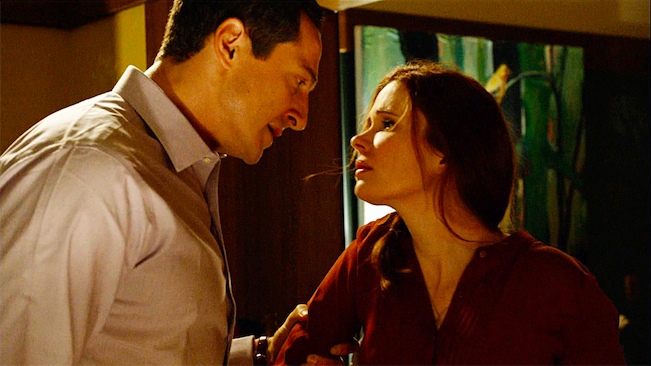 There are any number of reasons Grimm has been able to exceed expectations. Friday night is not necessarily the TV wasteland it's long been thought to be, and other networks might be well advised to try some original scripted programming. But more than that, Grimm has emerged as a truly unique show: a weekly monster movie fright fest that has also crafted a powerful collection of interconnected story threads around a core of characters. It's a show that has developed a mythology without taking itself too seriously.
The midseason episodes have continued the unexpected story turn of Juliette (the remarkable Bitsie Tulloch), her loss of memory and separation from Nick (David Guintoli), and her most unwanted supernatural attraction to Renard (Sasha Roiz). At the same time, it brought the Nick and Renard storyline to a head by having each of them reveal their true identities to each other (well, Renard revealed to Nick that he already knew he was a Grimm). The show also picked up the Monroe (Silas Weir-Mitchell) and Rosalee (Bree Turner) romance and has created a welcome new storyline for treacherous Adalind (Claire Coffee). Plenty to follow, and again, all connected by a common mythology.
Then there's the monsters. While not necessarily long on gore, Grimm continues to deliver reasonably good scares for a weekly TV show, and while there may be less overt violence than a show like, say, The Following, the Grimm collection of baddies are typically pretty gross (like this week's eye-sucking human black-fly). Yeah, I know. Awesome.
Grimm: the grosser the better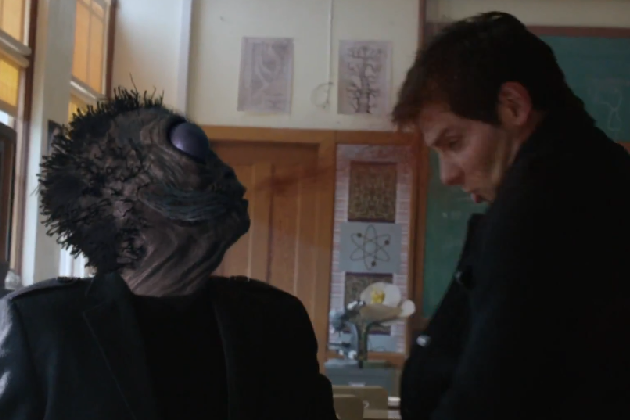 Grimm hasn't quite developed what anyone would call a cult following, but on a network that famously came in 5th place in a four network race, Grimm's decent ratings have virtually guaranteed that it will be back for another season of thrills, scares and an ever more complex unfolding mystery. Who says there's no good TV on Friday?
JANE CAMPION, writer/director and daughter of New Zealand, has long been known for atmospheric, tonally charged dramas (this is the woman whose "comedy," Holy Smoke, was about a woman being deprogrammed after joining a religious cult). Fitting perfectly with her modus operandi is Sundance Channel's mini-series, Top of the Lake.
Top of the Lake focuses on Tsui (Jacqueline Joe), a 12 year old girl and the daughter of a local criminal (Peter Mullan), who is discovered to be pregnant. She then disappears. Called in to assist with the investigation is Robin Griffin (Elisabeth Moss), a big city police detective who has returned to her small town roots to visit her ailing mother.
The New Zealand lake-scape is nothing short of gorgeous, and the contrast between the manifestation of man's unspeakable evils in a land so blessed by God is unmistakeable. Adding a zen feminist wildcard is GJ (Holly Hunter), who runs a minimalist retreat for damaged women. In Jane Campion's world, Hunter is the closest thing you'll find here to comic relief.
Top of the Lake: come for the views, stay for the evil
Top of the Lake has a pacing and feel very much like AMC's The Killing, and if you were able to get invested in that show's gloomy mystery, this miniseries is right up your alley. Moss and Hunter's performances are award-worthy, moreover, and it is great to see Elisabeth Moss shining at the top of a cast instead of simply standing in an ensemble like she does on Mad Men.
QUICK TAKES
Banshee aired its season finale last week, wrapping up a very successful debut by getting renewed for a second go round on Cinemax. The action- and sex-heavy crime drama is very over the top at times, but the underlying story is simply fascinating, and is sold well by a strong ensemble. I'm happy to see this show come back for another run.
ESPN may have made its finest 30 For 30 film ever. Survive and Advance, about the 1983 North Carolina State Wolfpack team (and their coach, Jim Valvano) that won the national championship, was awe-inspiring, spine-tingling and tear-jerking all at the same time. Don't miss this one.
Educational TV. Things we learned from watching TV this week: 1) In Florida, all bad ideas are legal (Jimmy Kimmel Live); 2) Kid Rock has an older brother: Adult Rock (Conan); 3) Becoming a bran muffin is the highest honor flour can achieve (Parks & Recreation).
This week's best use of a celebrity in a commercial: Dwayne Johnson's "Out of Milk" spot, where he avoids getting sidetracked solving a variety of ills (cat stuck in a tree, bank robbing clowns, lion holding people hostage in a car) so he can pick up a gallon of 2% for some kids waiting to have their cereal. It's a funny spot, and Johnson's campy stoic glare is in perfect form for it.
Here's a vote for another "guilty pleasures" episode of Glee next season. The collection of songs from artists like WHam, Barry Manilow and The Spice Girls was pure cannon fodder for Glee's talented collection, and the show wisely went with overplayed songs that were old enough that they haven't been overplayed in quite a while.
Looking Ahead
Phil Spector airs on HBO on March 24.
The Voice returns to NBC with new cast members Shakira and Usher on March 25.
Revolution returns to NBC on March 25.
The season finale of The Neighbors airs on ABC on March 27.
Raising Hope airs a one-hour season finale on FOX on March 28.
TV's a big place and I haven't been to all of it yet. Got a favorite show you'd like me to comment on? Post a comment below, contact me on twitter @RobLazlo. or shoot me an email: [email protected]. I welcome your input!