HIGHLIGHTS
CBS, long the haven of the police procedural (the genre which is the sometimes bane of my existence) introduces another in Golden Boy, although this time, there's a twist. Because of the flashback/flash forward nature of the show, the procedural stories themselves are always part of the bigger picture, the grand story of the show, and the result is a promising crime drama with a unique story to tell.
Hit the title/continue reading to read more. . .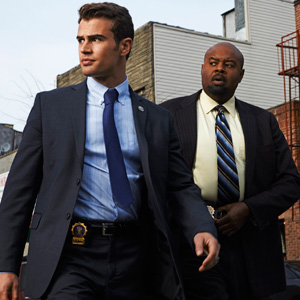 image source
Golden Boy's titular character is Walter William Clark, Jr. (Theo James), whom we first meet simultaneously as a patrol cop involved in a deadly shootout and (seven years later) as the youngest police commissioner in the history of New York City, being interviewed about his rise to power. We learn that the highly publicized shootout led to his posting as a homicide detective, and from there Golden Boy's set up is complete. Clark quickly encounters friction from the top brass, slowly bonds with his war-weary partner Don Owen (Chi McBride, perfectly cast), learns to be wary of hyper-competitive alternate golden boy Christian Arroyo (Kevin Alejandro) and cagily befriends Arroyo's partner Deb McKenzie (Bonnie Somerville) in order to guard his flank.
Consequently, Golden Boy's procedural crime stories revolve around the push and pull between these characters and Clark's efforts to keep his younger sister (Stella Maeve) out of trouble. The story is told in the seven years' past, with the flash forward portions (to Clark as commission) serving as framing for each story.
The format works, well. The cast is very strong, and Chi McBride, as always, is magnetic during his screen time. Despite having just premiered, this show is already "on the bubble," but here's hoping CBS keeps it around. It's well written and strongly performed, and while we already know the ultimate ending, finding out how we get there has proven to be an interesting ride.
UPON HEARING THE premise for Red Widow (innocent housewife must enter underworld husband's life of crime to pay off his debt to a crime boss), I thought it would probably be almost as bad as Fox's similarly premised (and already canceled) offering The Mob Doctor. 40 minutes in to a nearly unwatchable premiere, I was thinking I might be right, but Red Widow managed to pick up the pace and hold my interest heading into its second hour, leaving me thinking there's hope for this show after all.
Radha Mitchell plays Marta Walraven, the widow in question, and provides the right mix of suburban innocence, rookie unease and desperate determination to sell the character as believable. It helps to have Oz's Lee Tergesen around as her weaselly business partner and ER's Goran Visnjic and the crime boss pulling her strings. The scenes of her balancing family life need work to keep up with the much more interesting forays into the criminal underworld.
Visnjic & Mitchell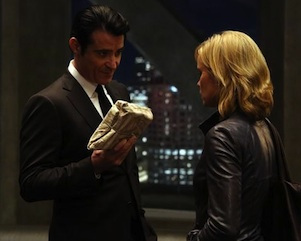 image source
Red Widow's uneven pacing may be its downfall as this is another show that has an early hook hanging over it, but dramas frequently hit their stride several episodes in, and if the show can utilize the cast, its strongest asset, then it may have life beyond its midseason run.
QUICK TAKES
Upcoming shows Bates Motel & Hannibal bring legendary big screen villains Norman Bates and Hannibal Lecter to serial television. If this works, think of the potential. What about a prequel focusing on a younger version of Alex Forrest (Fatal Attraction) as she struggles to work her way up the corporate ladder? How about a period piece set in the 1970s focusing on Dr. Christian Szell, the creepy, nazi in hiding, vicious dentist played by Laurence Olivier in Marathon Man. Think about a creepy hospital drama set in Silver Creek, Colorado, the town that's home, of course, to Annie Wilkes (Misery). Or, my personal favorite, a show that features the devil (take your pick, my personal favorites are Louis Cypher from Angelheart, John Milton from The Devil's Advocate or Lucifer from The Prophecy) as the main character/anti-hero wandering the US and interacting with humanity in unexpected ways.
Filling in for Chris Matthews on Hardball at the end of last week, Michael Smerconish advocated that Supreme Court proceedings be televised. I'm with him on this, and while I realize most people wouldn't understand what they were seeing (hell, most people wouldn't even watch it), I believe it would further our democracy to be able to view these proceedings on C-Span or C-Span 2, even in tape-delayed form. SCOTUS has been instrumental in implementing some of the most groundbreaking and life-defining laws in our country: Brown v. Board of Ed.; Miranda v. Arizona; Roe v. Wade; Bush v. Gore; Citizen's United. With so much at stake, the public should have a chance to see how those laws come about, if they want to take the time to watch and learn.
As you may have heard, Jon Stewart will be taking a four month hiatus from The Daily Show this summer to try his hand at directing. John Oliver will host the show in his absence.
Educational TV. Things we learned from watching TV this week: 1) No one lives in the Pacific Ocean. Or Canada. (The Daily Show); 2) Rush hour must be the best time to drive. It's so popular! (The Neighbors); 3) Fresh zombies run faster and smell better than stale zombies (Conan).
Switched At Birth aired its Uprising episode this week, performed entirely in sign language save the opening scene and final line. It may have seemed like a bit of a gimmick, but in reality it was a compelling and unique hour of television. Special mention goes to the cast, whose performances were captivating and made the episode unforgettable and riveting. Moreover, fans of the show tuned in in large numbers for the episode, and I can't imagine they were in any way dismayed at the lack of oral dialogue, and instead were drawn in to the storyline just as much as they would have been (if not more) had the episode been just another "talkie."
Hurray for The Americans! FX's '80s spy thriller has been renewed for a second season.
Looking Ahead
Justin Timberlake serves double duty on Saturday Night Live, hosting and as musical guest, on NBC on March 9.
The season finale of The Bachelor airs on ABC on March 11.
Dallas says a final goodbye to Larry Hagman in an episode depicting JR's funeral on TNT on March 11.
The series premiere of Preachers' Daughters airs on Lifetime on March 12.
The Neighbors airs a Broadway-themed episode with music from Oscar-winner Alan Menken on ABC on March 13.
The season premiere of Braxton Family Values airs on WETv on March 14.
TV's a big place and I haven't been to all of it yet. Got a favorite show you'd like me to comment on? Post a comment below, contact me on twitter @RobLazlo. or shoot me an email: [email protected]. I welcome your input!