HIGHLIGHTS
Unless you've been living under a rock, you've probably heard that season 3 of HBO's Game of Thrones, which debuted last week, was the season fans and showrunners had looking towards since the show began. That's with good reason, as fans of the book series already know that book 3 (which will form the basis of season 3 and part of season 4) was the most bone jarring, knuckle clenching installment of the series. I won't be sharing any book spoilers, but I'll just tell you, get ready for something special.
Hit the title/continue reading to read more. . .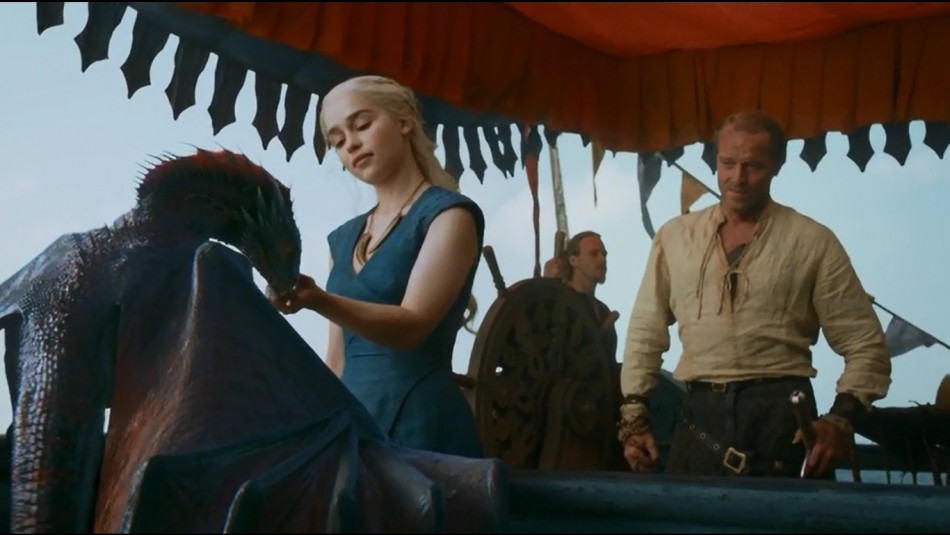 GOT's huge array of characters and settings naturally means that not all storylines can be advanced in any given week, and after the premiere, fans were dismayed that some of their favorites appeared to be absent (although by the end of episode 2 all parties had made an appearance). The main stories in season 3 figure to be Daenerys' (Emilia Clarke) continuing effort to assemble an army to return to Westeros, Jon Snow's (Kit Harrington) "undercover" mission with the wildings, Robb's (Richard Madden) war against the Lannisters, and the never-ending political jockeying going on at King's Landing.
Two significant new characters have been introduced. Diana Rigg is outstanding as the cagey Lady Olenna Tyrell, who has taken a liking to hapless Sansa (Sophie Turner), who certainly needs a friend. Ciaran Hinds has been introduced as Mance Rayder, the leader of the wildings whom Jon Snow has now joined.
Once again, I don't want to give away any upcoming plot points. Just sit back and get ready to be dazzled for one hour every week.
IF YOU HAVE Brad Garrett, Sarah Chalke and Elizabeth Perkins all on the same show, it would be hard for it not to be pretty funny, and How To Live With Your Parents (For The Rest Of Your Life) is pretty funny in places, but you can't help but feel like there a whole lot of comedic talent not being asked to do very much on this hit or miss sitcom.
Chalke plays Polly, a divorced mom who, for economic reasons, is forced to move back in with her parents (Perkins & Garrett) along with her daughter (Rachel Eggleston). The simple premise lends itself to the usual family sitcom plot stories – there is no new ground to be covered here. The characters feel like typical sitcom caricatures, and the writing is unchallenging.
Chalke, Garrett & Perkins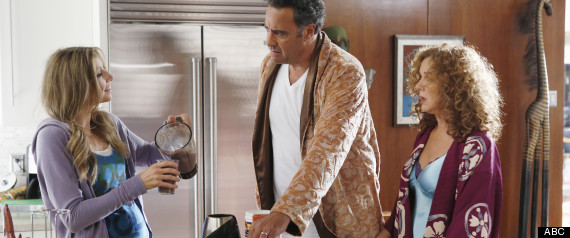 That said, the show does manage to deliver a few laughs every week, thanks to a stellar cast that knows how to be funny. But the laughs are always interchangeable gags, and while the show has funny moments, it would be hard to call it a funny show. I suspect this one won't be back.
READY FOR YOUR next viewing obsession? Trust me, you have GOT to check out Orphan Black on BBC America. This twisty, stylish thriller takes a great original premise and runs with it.
In the opening, Sarah (Tatiana Maslany) is waiting on a subway platform. She sees another woman visibly upset and watches surreptitiously. As she approaches, she sees that the woman is her identical twin. Before she can speak, the woman jumps in front of an oncoming train. Sarah grabs the lady's purse and decides that her life looks rather cushy and assumes her identity. Before long, she realizes that they weren't twins, they were clones, and there are a lot more. And someone is killing them off.
To make this unusual story work requires some stalwart work from the actress playing all the clones, who include a punky English girl, a suburban soccer mom, a mysterious German woman and a science geek (and counting), and Maslany makes the most of her breakout role. Credit goes to the visual effects people too, as the scenes where the clones interact with each other are both seamless and compelling.
Three Tatiana Maslanys at once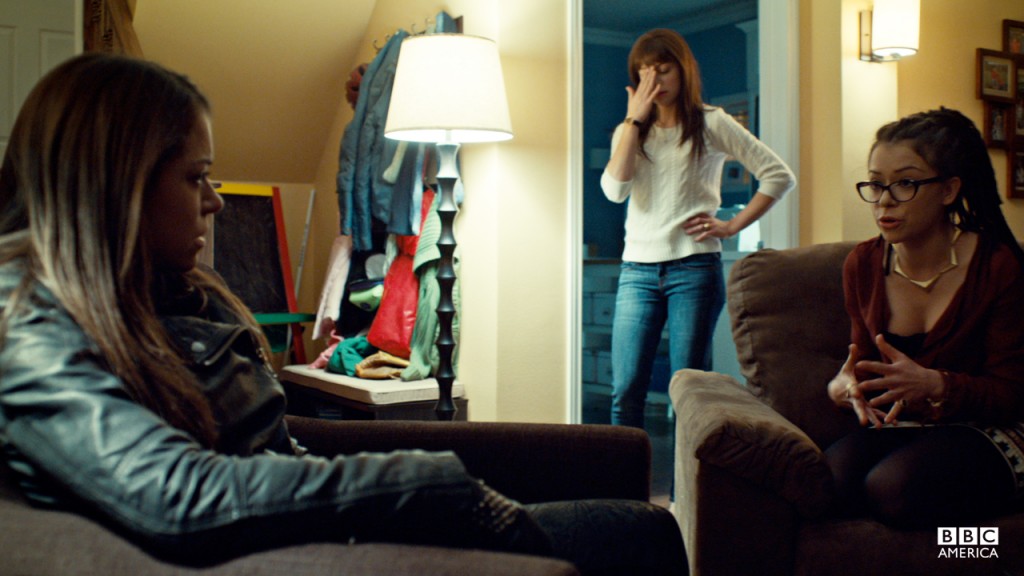 As Sarah's foster brother and confidant Felix, Jordan Gavaris exudes cockney aplomb and provides some comic relief. But the real show is Maslany, spying on herself, arguing with herself, gameplanning with several of her other selves…you get the idea. Orphan Black is a buzzy show that is smartly written, well acted and overall very well made. It is a perfect follow for Doctor Who on Saturdays, and well worth a look.
QUICK TAKES
In the good news/bad news category, two of my favorite new comedies of the year, Fox's The Mindy Project which has been getting steadily better and funnier all year, and ABC's The Neighbors, which has overcome initial rejection by the critics to score solid ratings, are both looking very good for renewal, two of the only comedies to earn that distinction. On the bad news front, however, The CW's The Carrie Diaries and CBS' Golden Boy, both of which feature superior ensemble casts, are in real peril of being one and dones.
Educational TV. Things we learned from watching TV this week: 1) A basement without a roof is a hole (Saturday Night Live); 2) Scientists have discovered a tarantula that's the size of a human face. Um, make that a screaming human face (The Colbert Report); 3) Edie Falco has never seen Nurse Jackie; she can't afford Showtime (The Daily Show); 4) You know what's a cool name for a dog? Bark Obama (Parks and Recreation).
More good news, in the wake of a thrilling season finale, Syfy's Being Human was almost immediately picked for renewal for season 4. This wonderfully original drama has completely come into its own and is one of the network's signature hits.
Looking Ahead
The season premiere of Nurse Jackie airs on Showtime on April 14.
The season finale of Dallas airs on TNT on April 15.
The series premiere of Defiance airs on Syfy on April 16.
The season premiere of Awkward airs on MTV on April 16.
The season finale of Suburgatory airs on ABC on April 17.
The series premiere of Off Pitch airs on VH1 on April 17.
TV's a big place and I haven't been to all of it yet. Got a favorite show you'd like me to comment on? Post a comment below, contact me on twitter @RobLazlo. or shoot me an email: [email protected]. I welcome your input!