HIGHLIGHTS
I was prepared not to like Deception, NBC's new thriller, all the way back in the summer when I read a synopsis of the show and quickly concluded that this would be a Revenge knock off.  NBC's promos for the show didn't do much to convince me otherwise, but since Revenge itself has gone off the rails in season 2, maybe this would be a good substitute.
Hit the title/continue reading to read more. . .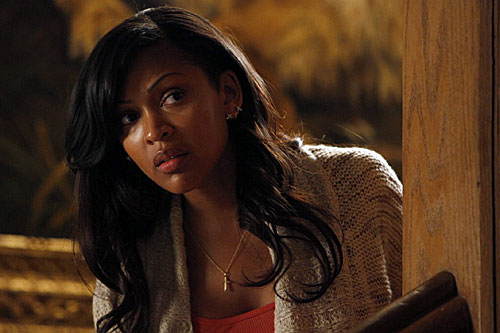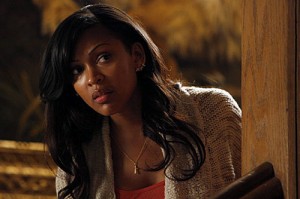 Right off the bat, however, Deception turned me off, as the show's opening was a primer in how NOT to introduce your characters and set up your basic plot.  The forced and disjointed action was so clumsily thrown together that I felt like it would have had better dramatic effect if the showrunners had simply gone on camera and explained what they wanted us to know rather than sit through the opening sequences.  That hamfisted treatment by the show wound up giving us too much too soon, before we might actually care about any of these people or what was happening, but maybe it was just as well.
The very Revenge-esque plot introduces us to the wealthy Bowers family, owners of a pharmaceutical empire, who are brought together following the death of their daughter, Vivian, seemingly from a drug overdose.  We learn that Vivian's childhood friend Joanna (Meagan Good) is now a police officer, and she attends the funeral at the behest of her former lover and FBI agent Will (Laz Alonso), who's been investigating the family.  She almost immediately encounters Edward (Tate Donovan), with whom she had a "thing" and is eventually offered a job by family patriarch Robert (Victor Garber).
A few obvious problems, of course, are that this isn't just a Revenge-esque plot, it's practically the plot of Revenge, at least on the surface.  Deception also crams far too much information and story into its set up, revealing a myriad of subplots and inter-relationships that might have worked as surprise reveals later on, but instead just serve to pile on the TMI overload.
The bottom line is that Deception offers too little suspense and too little drama to have us overlook numerous plotholes.  How contrived is this:  a secretive family of multi-millionaires invites someone they haven't seen in 15 years to come stay with them and then give her a job, without even bothering to check out her story of what she's been doing for the last 15 years (in other words, no one ran a background check to find that she's a cop?!).  NEXT!
AFTER THE success Syfy scored with Lost Girl, an unusual Canadian import about a succubus, it's picked up another show from Canada, Continuum, an unusual and original import about a cop from 65 years in the future (Rachel Nichols) who gets stranded in 2012  during a botched prison break by a group of terrorists.
Continuum offers an interesting dichotomy in its set up.  The terrorists who escape to the past are remorseless killers:  in the opening, we see them orchestrate a bombing that kills tens of thousands of people.  But the establishment they were rebelling against could hardly be portrayed as the "good guys."  Continuum's dystopian future has corporations running the world a la Rollerball, with personal freedoms all having been set aside.  Kiera Cameron (Nichols), consequently, represents the enforcement arm of a totalitarian and immoral government.
When the terrorists arrive in present day Vancouver, they set out to try to change the future by continuing their rampage.  Cameron, while pursuing them, winds up in contact with a young computer genius (Erik Knudsen), who in her future is the founder of the corporation that runs it all.
Nichols as Kiera Cameron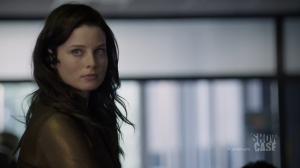 image source
Continuum features some cool, but not overblown futuristic technology, and plenty of grey area to explore as the story moves forward.  Along with Lost Girl and Being Human, Syfy now has a three-hour Monday night lineup of quality television it can offer, and I can't remember the last time Syfy channel managed that.
I'VE FOUND the sleeper gem of the season!  It's Cinemax's Banshee, from executive producer Alan Ball (True Blood).
Antony Starr plays a master thief whom we meet as he is being released from prison.  He's being pursued by thugs who work for the gangster he crossed years earlier, and he's also intent on tracking down his old lover and partner (Ivana Milicevic) who has the millions in loot they stole back in the day.  His search leads him to Banshee, Pennsylvania, where he learns that the loot is gone, and the girl is living under the assumed name of Carrie Hopewell with her children and husband, who also happens to be the local D.A.
With nowhere else to go, and in an interesting twist that doesn't come off as contrived, he winds up assuming the identity of Lucas Hood, an Oregon lawman who has been hired to come to Banshee to serve as the Sheriff, but is murdered before he ever meets anyone in town.
Banshee works on a number of levels, and it successfully combines elements of several styles and genres to create a unique setting.  The show winds up being part crime drama, part thriller, part small-town drama and part action drama, and it does so seamlessly.  There are a number of very good performances here as well, including Frankie Faison and Hoon Lee as Hood's trusted confidants, and veteran Danish actor Ulrich Thomsen who plays the local Amish boy gone bad. . .big time creepy organized crime lord bad.
I have extremely high hopes for Banshee, as I have completely enjoyed its opening episodes.  Banshee has featured some very cool visuals, and I'm hoping the showrunners remain mindful that the show needs to BE good, not just look and sound good consistently to hold viewers.  So far, so good.
QUICK TAKES
Ask most people, and they'll tell you the Golden Globes is the most entertaining of the awards shows.  This week's show was no exception, and here are some of my favorite highlights.
Adele giving a completely endearing fish-out-of-water acceptance speech for her award winning song in Skyfall.
Will Ferrell & Kristin Wiig, who were hilarious as they were making up the plots to the movies they were presenting.
Jennifer Lawrence thanking Harvey Weinstein for "killing whoever you had to kill" to get her the win for Silver Linings Playbook.
Ben Affleck's obvious shock and surprise at winning Best Director for Argo (and his wife Jennifer Garner subsequently thanking George Clooney, explaining that her husband had forgotten to thank his producer).
Finally, there were co-hosts Tina Fey and Amy Poehler, who were amazing.  My favorite lines:  "Life of Pi, which is what I call the six weeks after I squeeze out of this dress" and "Oh my God, that was Hillary Clinton's husband!"
Educational TV.  Things we learned from watching TV this week: 1) You can sell firearms to someone who's drunk and on drugs, just make sure they don't drive a car (The Daily Show); 2) Shredded wheat is healthy and it tastes…enough (The Mindy Project); 3) Lay off the big banks.  They haven't destroyed the world's economy in over four years now.  (The Colbert Report).
Here's a funny trend:  the proliferation of stand-up comic talk shows.  Kathy Griffin, Russell Brand, Jeff Ross, W. Kamau Bell and Whitney Cummings have all secured their own shows, and there's also Key & Peele's sketch show, which is now joined by Nick Kroll's sketch show.  These cable outlet shows are cheap and easy to produce, and since they run just once a week, it is relatively easy for the comics to keep the material fresh.  Expect them to hang around for a while.
Looking Ahead
Ripper Street debts on BBC America on January 19.
Jennifer Lawrence hosts Saturday Night Live on NBC on January 19.
The Following airs its series premiere on Fox on January 21.
The Taste debuts on ABC on January 22.
The season finale of Parenthood airs on NBC on January 22.
The season finale of American Horror Story: Asylum airs on FX on January 23.
The series finale of The Last Resort airs on ABC on January 24.
TV's a big place and I haven't been to all of it yet.  Got a favorite show you'd like me to comment on?  Post a comment below, contact me on twitter @RobLazlo. or shoot me an email:  [email protected].  I welcome your input!