It is remarkable how Burn Notice, now in it's seventh season, has still managed to remain fresh. The easy chemistry among the various cast members and inventive story lines that keep the action sequences from being "just stuff we've seen before" is a big part of that, and as Burn Notice moves forward with its seventh season, the show continues to find new ways to keep viewers happy.
Hit the title/continue reading to read more. . .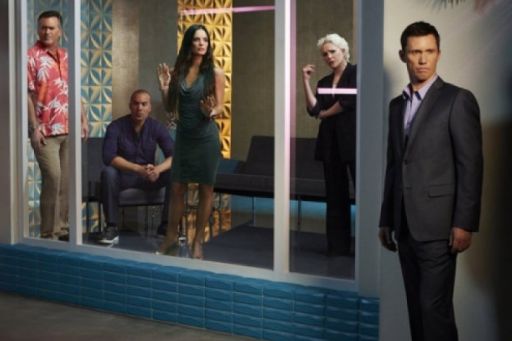 Season 7 flashes forward from the end of Season 6. Michael Westen (Jeffrey Donovan) has cut a deal with the CIA to get his friends and mother released from the government internment camp where they were being held, but it requires him to disappear, cutting off all ties to the people he is trying to protect.
Heroes' Adrian Pasdar joins the cast in Season 7 as the target Michael needs to get close to (if he fails, everyone goes back into custody), and does a good job of portraying a morally ambiguous character whose importance to the CIA is not necessarily clear.
Season 7 also featured the show's 100th episode, which included several moving scenes portraying Michael & Fiona's (Gabrielle Anwar) first meeting years ago in Ireland, and a subsequent goodbye kiss which truly stung.
Burn Notice is sometimes overlooked as a true quality show, but ask yourself how many weekly action/dramas make it through seven seasons. If you're wondering, classic shows in the genre like The Rockford Files, Alias, The Six Million Dollar Man & Quantum Leap all fall short of that mark. There's a reason Burn Notice has lasted so long – it deserves to.
TO MAKE A successful soapy teen drama, like Switched At Birth, The Secret Life of the American Teenager, Gossip Girl or Pretty Little Liars, you need to have a story premise that will hold interest, smart dialogue that sounds like actual people speak, and a cast capable of pulling it off. At first blush, I didn't think ABC Family's newest attempt, Twisted was going to make the cut, but first impressions aren't always right.
This show's admittedly inventive premise does draw you in: teen Danny Desai (Avan Jogia) strangled his aunt with a jump rope when he was 11. Now he returns to his hometown after 5 years in juvenile detention, where he attempts to reconnect with Jo (Maddie Hasson) and Lacie (Kylie Bunberry), the two best friends he left behind, stigmatized by his inexplicable crime. Adding fuel to the fire is the fact that Jo's father (Sam Robards) is the chief of police who put Danny away five years ago, and Jo and Lacie have since drifted apart. When another student is murdered shortly after Danny's return, everyone is on freak-out alert.
Ex-Friends: Hasson, Jogia & Bunberry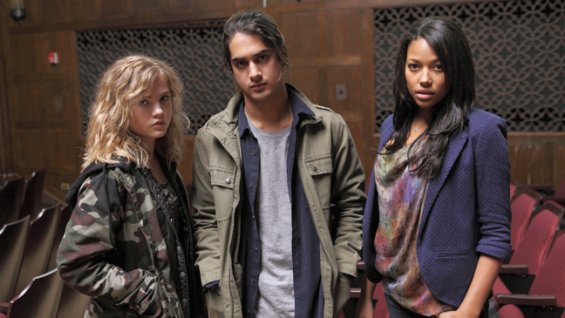 While the set up works, and the show does do a good job of slowly deepening the mystery surrounding its characters, the writing and character development struggles to maintain a sense of reality. After five years in detention and having committed a murder, you'd expect Danny to be all Logan Lerman in The Perks of Being a Wallflower. Instead, he's all Judd Nelson in The Breakfast Club, a flippant rebel with a cool haircut.
In this way, Twisted occasionally draws laughs where it doesn't try to, and while that may increase the watchability of the show, it does strain the viewer's sense of suspended disbelief. Perhaps the perfect character to illustrate this dichotomy is Danny's mother. Watching bat-shit crazy Denise Richards trying to act like a normal alpha mom with a murderer son creates a nearly perfect portrait of unhinged suburbia. I can't imagine this is an intentional result of casting, just like I'm sure this show isn't trying to be as funny as it sometimes is, but the result, if not can't miss TV, is at least eminently watchable. I'll stick with this one for a while and see where it goes.
IT'S A LITTLE HARD, for me anyway, to understand how TNT's Falling Skies has stuck around as long it has when the show really is such a hot mess. It's straight forward alien invasion story is a lot less interesting premise than canceled shows like Terra Nova or even The Last Resort. Yet, Falling Skies plods forward in its storyline, with plot points occasionally borrowed from pioneering shows like V or War Of The Worlds.
First the mundane complaints. The characters make far too many obvious moves, and are so myopic they resist change even when it is patently obvious to everyone that they are stepping in it. You know there's a problem with your characters when the most interesting parts of every episode are the action sequences when a few of them invariably get killed off. Noah Wyle's Tom Mason is one of the least charismatic leaders on television. No wonder half the troops talk about fragging him. When Mason suggests to his aide (Gloria Reuben), who is clearly the most organized and capable person on the show, that she should serve as his Vice-President, she acts shocked, as if the decimated remains of humanity are still crawling with ambitious administrators.
Then there's the ridiculous: Will Patton spits out so many salt of the earth colloquialisms I expect his character to carry around a spittoon to accentuate each kernel of wisdom with a pitooey. Naturally, Tom Mason and his girlfriend (Moon Bloodgood) have a romance that leads to having a baby. Also naturally, the baby is like alien-possessed or something. Consequently, we get creepy sequences of the Wonder Baby 9000 laughing, talking, crib-jumping, hiding under the bed (all at a few weeks old), and making huge black creepy alien eyes to accentuate cut scenes.
What a cute baby? May I test him for alien DNA?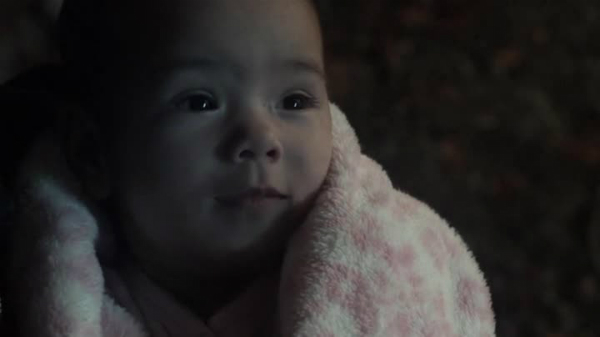 Finally, there's Hal Mason (Drew Roy). Poor guy. He ran into his super alien ex-girlfriend (Jessy Schram) and she brain raped him and now he's paralyzed. Despite this, his current, much hotter human girlfriend with the questionable past (Sarah Carter) has stuck with him, but she's getting a little tired of his whole spiel. You know, paralyzed and wheelchair bound by day, but able to sleepwalk around to meet up with his super alien ex-girlfriend at night to get marching orders and suck face.
Maybe I'm too hard on Falling Skies, but the show has truly jumped the rails for me. While its realism and characterizations have gone backwards, the show has tried to make up for it by broadening the story, introducing a new race of aliens (their leader's voice is an absolutely perfect blend of Darth Vader and Lama Su from Attack Of The Clones, so go figure) and increasingly complex technology. It doesn't fill the void. Falling Skies? I'm guessing Falling Ratings will eventually be a more accurate description.
QUICK TAKES
In a moving opening segment, Stephen Colbert broke character to open The Colbert Report to offer a heartfelt tribute to his mother, who passed away at the age of 92 this week. Despite the somber tone and subject matter, Colbert still drew some good natured laughs recalling some anecdotes his mom left him with. In the best tribute of all, Colbert told his audience that if you like his show, and you like him, then the person you should thank is his mom, to whom he owes it all.
Reality Check: Combine 1 vs. 100, The Voice and Deal or No Deal and you have NBC's rather wrongheaded mishmash The Winner Is. The show is a souped-up singing competition in which contestants go head to head with each other singing pop songs for a large "expert" panel who vote, after which money is offered to stay in the game or leave. If it all sounds incredibly gimmicky, you're right. If it sounds like the singing is probably only first-round audition quality, you're also right. This show ain't gonna get NBC out of last place.
In a quiet scheduling move, Syfy Channel has begun airing season 2 of Continuum, its imported Canadian time-travel drama, on Friday nights. They should have brought the show back with a little more fanfare, as Season 2 is thus far a lot more inventive and intriguing than Season 1. Time travel shows can get kind of mind-bendy (ask anyone who's still trying to figure out what happened on Fringe), but Continuum has done a good job of setting up its pieces in plain view, giving the viewer several clear possibilities of what may happen next and what the consequences may be.
Educational TV. Things we learned from watching TV this week: 1) When you stick Mr. Happy inside someone's hoo-ha without a raincoat on, babies come out (True Blood); 2) "Cran-Prune" sounds like a glass of diarrhea (Mad Men); 3) Sebastian DeLaCruz has been invited to the NBA finals two more times than Carmelo Anthony (Totally Biased With W. Kamau Bell).
RIP James Gandolfini, who passed away at the far too young age of 51 this week. Gandolfini didn't invent the anti-hero, but he did create the prototype for anti-hero television, and without Tony Soprano, you wouldn't have a Walter White, Dexter Morgan or Vic Mackey. Although he was best known for playing a violent, dangerous criminal, Gandolfini was, in person, a mild-mannered and gentle man, loved and respected by the people he worked with. He will be missed, but never forgotten.
Television would never be the same. . .
Looking Ahead
The season finale of Mad Men airs on AMC on June 23.
Copper returns to BBC America on June 23.
The series premiere of Crossing Lines airs on NBC on June 23.
The season premiere of Drop Dead Diva airs on Lifetime on June 23.
The series premiere of Whodunit airs on ABC on June 23.
The series premiere of Devious Maids airs on Lifetime on June 23.
The series premiere of Under The Dome airs on CBS on June 24.
Catfish returns to MTV on June 25.
The season premiere of Big Brother airs on CBS on June 26.
TV's a big place and I haven't been to all of it yet. Got a favorite show you'd like me to comment on? Post a comment below, contact me on twitter @RobLazlo. or shoot me an email: [email protected]. I welcome your input!