HIGHLIGHTS
There's a certain conceit to Bates Motel. Since this is a show about the relationship between the infamous Norman Bates and his equally infamous mother, of Psycho fame, we all know how it ends…eventually. Then again, nobody seemed to mind that when they were watching Titanic, and the fun of Bates Motel (and the creepiness, tension, drama and overall excellence) is, indeed, the journey.
Hit the title/continue reading to read more. . .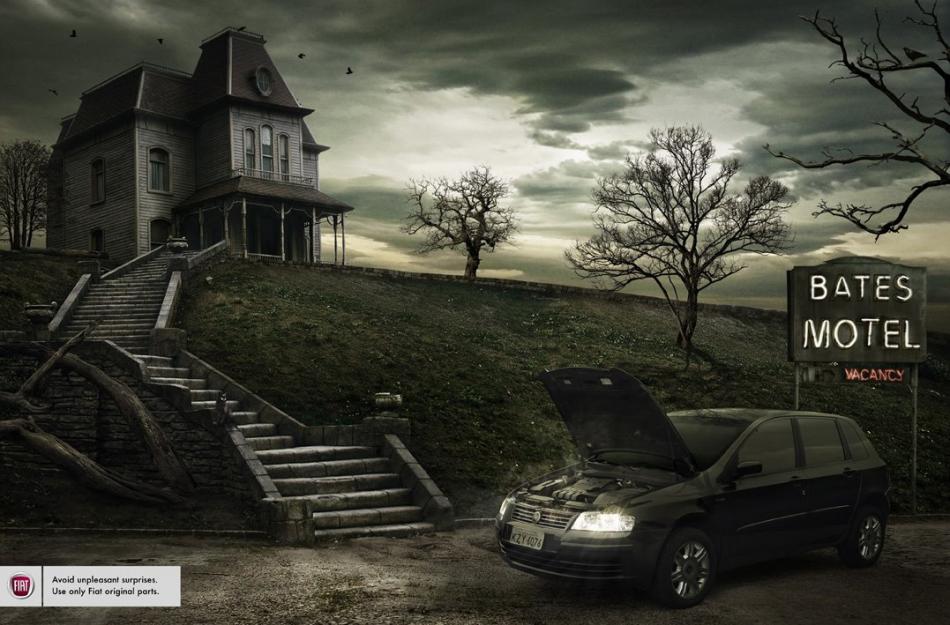 A&E's prequel drama is fueled by the chemistry between its leads. Teenage Norman Bates (Freddie Highmore) is softspoken, a little shy, somewhat innocent and fidgety. It's a brilliant characterization. Even better is mom Norma (Vera Farmiga), who is purposeful, mistrustful and a little smothering. Again, we know how this ends, and there is an unsettling squirminess to the way these characters move through their scenes, so apparently normal on the surface.
Highmore & Farmiga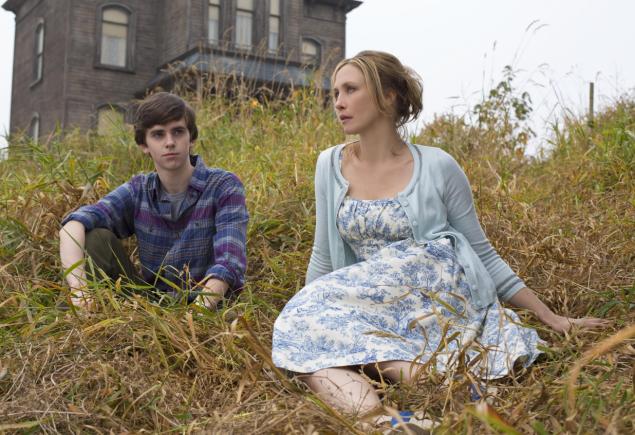 That alone would be enough to create atmosphere, but the show has also elected to have the locale (White Pine Bay, Oregon) be a sort of depository of untoward characters and goings on, hinting that maybe Norma and Norman's ultimate fate may have been the product of the town and not the other way around.
None of this would work without the sizzling, brilliant chemistry between Farmiga and Highmore, whose scenes together leap off the screen and seize you by the scruff of the neck, making you watch, daring you to look away. It's these two fine actors' work that elevate this show from being just another origin story to something truly special, a weekly celebration of inappropriate closeness and inevitability. Go ahead, try to look away.
IT WOULD SEEM that one of the easiest ways to reinvigorate your talent competition show would be to change your lineup of celebrity judges (or coaches or mentors or whatever), but doing so is not without risk. American Idol isn't the same without crazy Paula and nasty Simon, so when The Voice announced that Usher and Shakira would be replacing crazy Cee Lo Green and ultimate diva Christina Aguilera, it remained to be seen if the show would still work.
The show began its season with its traditional performance by the four coaches, and they were duly impressive, playing their own instruments on a cover of The Beatles' Come Together (even Shakira played the blues harp). From there it was on to the blind auditions, with the famous spinning chairs. How would the new judges fit in?
The new lineup belts out a rock classic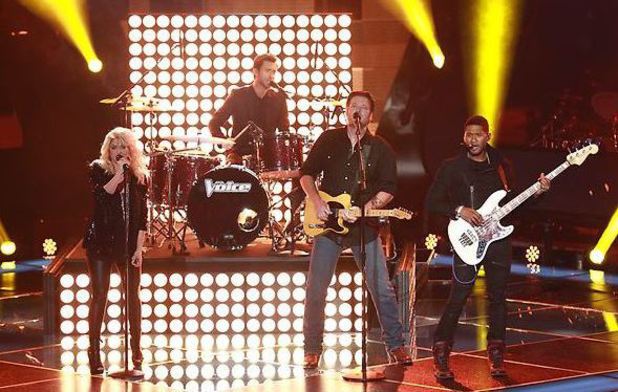 Usher comes across as slick and competitive. He's a bit duplicative of Adam Levine, but Cee Lo's outrageous insanity had started to wear thin anyway (what animal was he going to bring with him this season? An iguana?). More eye-opening is Shakira, who is energetic, smart and very likeable.
The verdict? The Voice remains the cream of the talent competition crop, as Idol continues its tired descent into irrelevance. The Voice is more authentic, less contrived, still fresh, still original and the most entertaining. Even without Cee Le and his Iguana.
QUICK TAKES
What's better than a Doctor Who alum like John Barrowman on your show? How about two Doctor Who alums? Arrow has now added Alex Kingston in a recurring role, while Barrowman continue to lurk in the shadows as the dark archer. Arrow has made other smart casting moves too, like keeping Emily Bett Rickards around for an expanded role as smart and funny Felicity Smoak. No wonder it's The CW's biggest hit of the season.
Educational TV. Things we learned from watching TV this week: 1) That look you got after watching the first two seasons of Game of Thrones in one sitting? Nerd glaze. (The Daily Show); 2) The Statue of Liberty looks like Tilda Swinton (The Mindy Project); 3) Skim milk is gay (The Colbert Report).
Give The Neighbors credit for this week's most tongue in cheek humor, as the show's season finale made numerous renewal jokes. The Neighbors has performed well for ABC, and probably gets a Season 2, but it was fun to watch them drop thinly veiled hints that they want to come back all the same.
LOOKING AHEAD
Orphan Black airs its series premiere on BBC America on March 30.
Doctor Who returns to BBC America on March 30.
The season premiere of Game of Thrones airs on HBO on March 31.
The season finale of The Walking Dead airs on AMC on March 31.
The series premiere of All In With Chris Hayes airs on MSNBC on April 1.
The series premiere of Ready For Love airs on NBC on April 2.
The season finale of Justified airs on FX on April 2.
The series premiere of How To Live With Your Parents For The Rest Of Your Life airs on ABC on April 3.
Rogue airs its series premiere on DirectTV on April 3.
The series premiere of Spies of Warsaw airs on BBC America on April 3.
The series premiere of Hannibal airs on NBC on April 4.
The series premiere of Vice airs on HBO on April 5.
TV's a big place and I haven't been to all of it yet. Got a favorite show you'd like me to comment on? Post a comment below, contact me on twitter @RobLazlo. or shoot me an email: [email protected]. I welcome your input!