So it's come to this. Sports and concerts have raised their prices so much that we are forced to hide our booze in the one place security won't want to check. Individual tampons.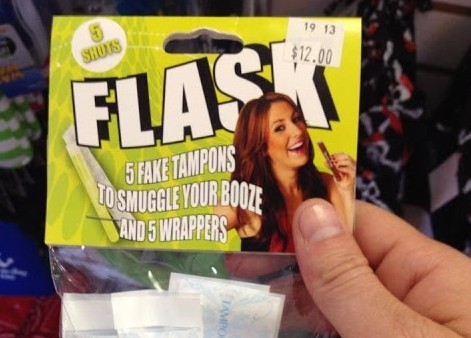 The website Smuggle Your Booze lists the product as follows:
THE UNTOUCHABLE!  Guys won't even look at a tampon much less handle it at security.

WOMEN – You know you gotta have it!  The tampon shot holder will never be questioned at your venue.

*Easy fill, leak proof cap fits 1 shot of your choice.
Throw in your purse or pocket for a quick shot whenever and wherever you want it.
Simply slip our leak proof booze tube (test tube) in this sleeve, peel the adhesive strip and you are ready to go!!
Comes in box of 4 reusable tubes and 8 one use tampon wrappers.
Is it bad that my only concern is that there aren't enough of them?
The same site also lists "Booby Bags" that allow you to fill small ziplock type bags, shove them in your bra for an "instant boob job".
Isn't this country great?